Published March 1, 2022
Giving Voice to Major Taylor
No audio recordings of Marshall "Major" Taylor are known to exist, so no one can be sure what he sounded like.
Karen Brown Donovan, his great-granddaughter, has a hunch, though. And when she heard Indianapolis voice actor Dominique Shelby speak, she knew Shelby should be the one to portray her great-grandfather, the world champion cyclist, in the Indiana State Museum's new exhibit "Major Taylor: Fastest Cyclist in the World."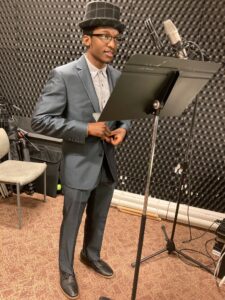 "Dominique Shelby's way of ending his sentences reminded me a great deal of the way my father spoke," Donovan told museum staffers who have created the exhibit, which runs from March 5 to Oct. 23. "I also think he was very convincing as a proud young father who missed his daughter."
Shelby will be heard reading excerpts from letters and postcards Taylor sent to family during his European comeback tour in 1909.
"It doesn't get to a point where he's spilling his heart out in the excerpts they gave me, but there is a lot of sentiment," he said.
Shelby recorded his part at the Indiana State Museum in mid-February. Beforehand, he worked with a voice coach, Milicent Wright, who instructed him to "take the words off the page and lift them up so the patrons stop and go, 'Ooh, what is this?' And afterwards, they're able to tell you something they learned from the letter."
"You're capturing the true sentiment – emotions – of the letter," she told him. "Of the man. Of the time. Of his situation. That's it! Bravo."
Shelby received some training and advice, too, from his wife, Latrice Young, who has been a voice actor for years, working on audiobooks and other projects. Sometimes, when her projects call for a male voice, she has enlisted Shelby's help.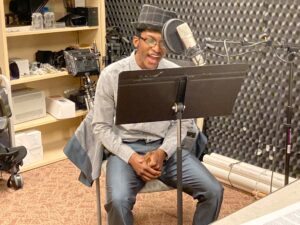 "I've been complimented on my voice before," he said, "but it was nothing I thought to put on the microphone."
When Young saw a notice on Facebook that the museum was looking for someone with "a resonant, professional tone," she suggested that he audition.
"I've seen her do voice acting for so long and saw how powerful it was and how it brings stories to life," he said. "So I kept that possibility in my head."
Major Taylor is the first solo project for Shelby, who just left his job as a UPS supervisor to nurture his artistic side. He went into the job knowing a little about Major Taylor – mostly stories his mom would tell when they'd drive past the Major Taylor Velodrome at Marian University when he was young.
When he was hired to be the voice of Major Taylor "that's when I learned a lot. Like one time he won a race and one of the people he beat choked him out on the track. That specific occurrence lit the fire under me to understand just how important a figure he was and just what it meant to be successful in a hostile environment or at a time when you're not widely accepted."
Shelby said he's honored to be Major Taylor's voice – and to have the endorsement from Taylor's great-granddaughter.
"It's hard to explain how that made me feel," he said, "but it's kind of like when you get a compliment out of nowhere that really hits home. It just put that warm feeling inside of me. Because you never know how you'll touch somebody. I'm just glad I could make that much of an impact and lend my voice to a project like this and do the story justice."