Experience the magic of the holidays
Discover a redesigned Santa's Front Yard with a variety of family-friendly activities, explore our brand-new Reindeer Barn where Santa's team will help you learn some interesting reindeer facts or take a ride through a winter wonderland on the Santa Claus Express train.

ALL ABOARD FOR CELEBRATION CROSSING FUN!
We've been busy planning some extra special things to do this holiday season during Celebration Crossing! Best of all, they're included with your admission to the Indiana State Museum in downtown Indianapolis. Start planning your celebration today.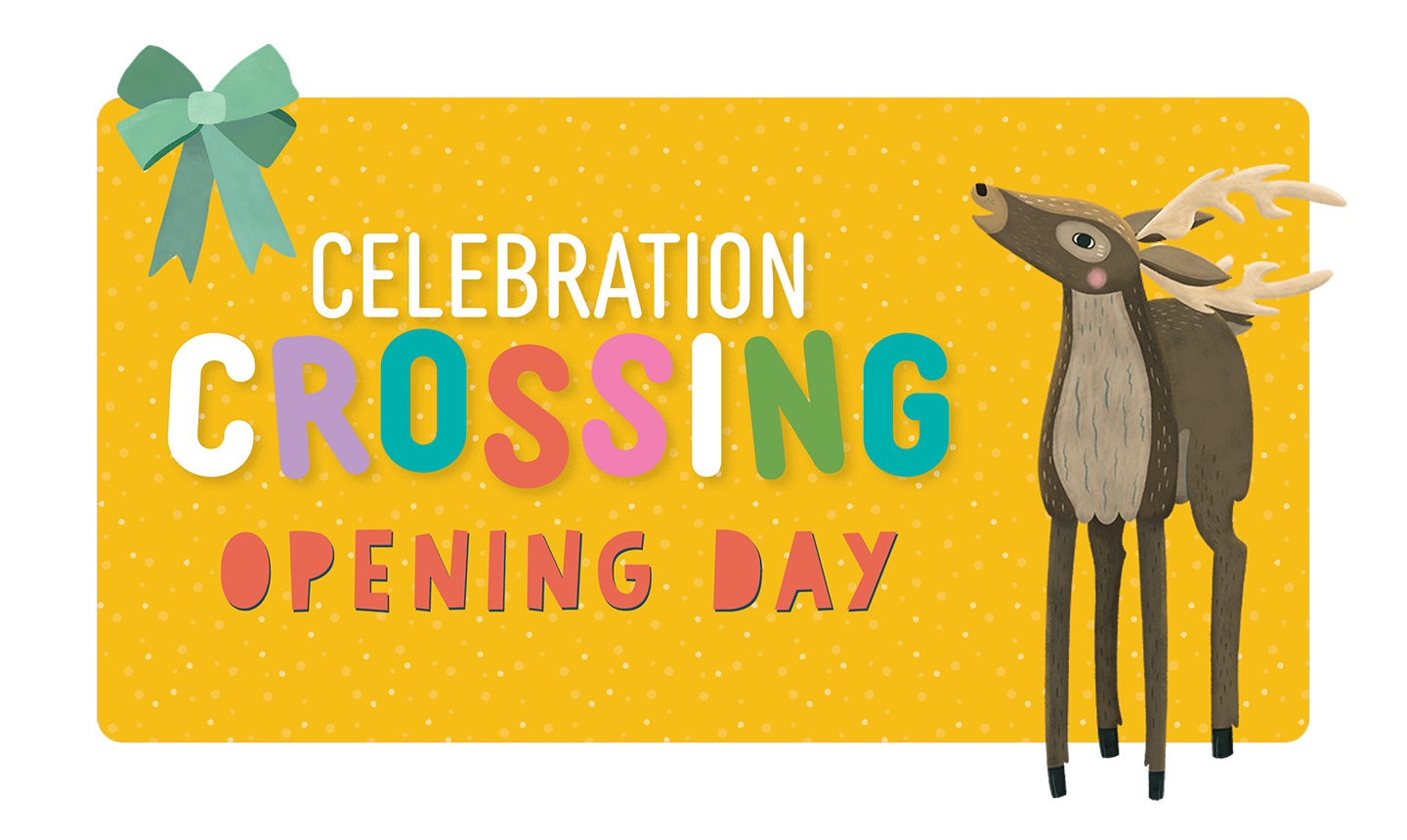 OPENING DAY IS FRIDAY, NOV. 27
Kick off the holiday season and celebrate the opening of Celebration Crossing at the Indiana State Museum. Marvel at thousands of twinkling lights as Santa lights the 92 County Tree and the rest of the festive décor throughout the Great Hall for the first time this year at 11 a.m. Write your letter to Santa in Santa's Front Yard and be one of the first to greet the jolly elf in his sleigh, then learn about stops on Santa's annual trip around the world in our NEW Reindeer Barn.
MAGICAL MORNINGS
Friday mornings: 9 – 10 a.m. on Dec. 4, 11, 18 and Jan. 1
Bring your little one to experience holiday magic during this special early opening event just for our youngest visitors. Talk with Santa (from a safe distance), engage with two interactive story times with North Pole elves and explore the redesigned Santa's Front Yard and NEW Reindeer Barn. Here, you'll learn about these amazing wintery animals and the little ones can groom a stuffed reindeer. Be sure to make time for a ride on the Santa Claus Express train. Recommended for children ages 8 and younger.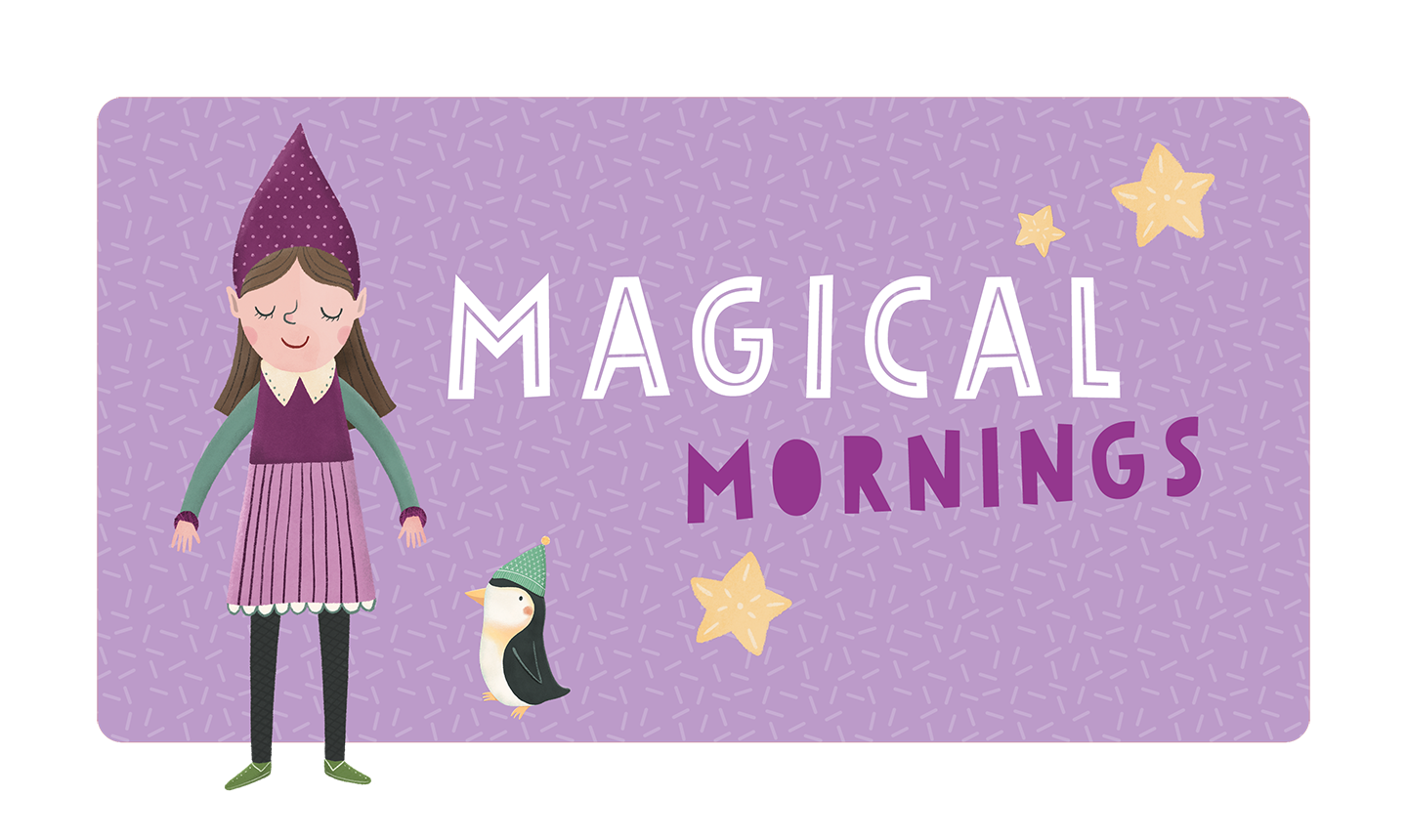 VISIT WITH SANTA
Fridays, Saturdays and Sundays through Christmas Eve!
Share your wish-list items and visit with Santa (from a safe distance) in his sleigh. Create your own festive photo op on Wednesdays and Thursdays. Your safety is our priority! Follow the link below to learn more about our new safety protocols.
Know before you go
VIRTUAL HOLIDAY SOUNDS
Hear the sounds of the season virtually! In lieu of in-person musical performances this year, listen in online as school and community choirs, bands, and ensembles share winter-themed musical selections. Would you like to submit a performance? We invite you and your students to record a winter-themed song being sung. As long as the video meets requirements, we will share your video with the public to enjoy during Celebration Crossing festivities.
Submit application
EXPLORE OUR NEW REINDEER BARN!
All aboard the Santa Claus express for a trip to the North Pole and holiday fun in Santa's Front Yard! And don't miss our new Reindeer Barn where you can learn all about Rudolph and his famous friends as they get ready to take flight on Christmas Eve. Your little ones can even groom a stuffed reindeer!
Don't miss these special events!
We're here to help you maximize the merry and restore your holiday spirit this season. Hop in your sleigh and head our way to create some new holiday traditions at the Indiana State Museum in downtown Indianapolis. From one-of-a-kind lunch and breakfast buffets to festive workshops and pajama parties, we've got you covered.
Know before you go
All visitors 2 and older are required to wear masks even when having their photo taken and visiting with Santa.
All museum staff and Santa are also required to wear masks at all times.
Families will interact with the photographer from a safe distance and all point of sale staff will be behind plexiglass shields.
Queue lines will be socially distanced and only one family will be in the Santa visit area at a time.
Visits with Santa will be socially distanced.
Props used in the winter wonderland photo op will be cleaned after every use.
Santa will be seated in a sleigh with a decorative barrier to maintain at least 6 feet for social distancing between him and his visitors.
For additional information on how the museum is addressing safe visits during COVID-19, see the COVID-19 Safety section on our website here.

Visit with Santa

Enjoy a (socially distanced) visit and have your photo taken with Santa only on Fridays, Saturdays and Sundays plus Christmas Eve.

Family photo

Create your festive photo in our winter wonderland display on Wednesdays and Thursdays.
Purchased photos will be printed for pickup by the visitor directly rather than handed from staff to visitor.  Digital copies delivered by email are also available for purchase and families may choose to take their own photos.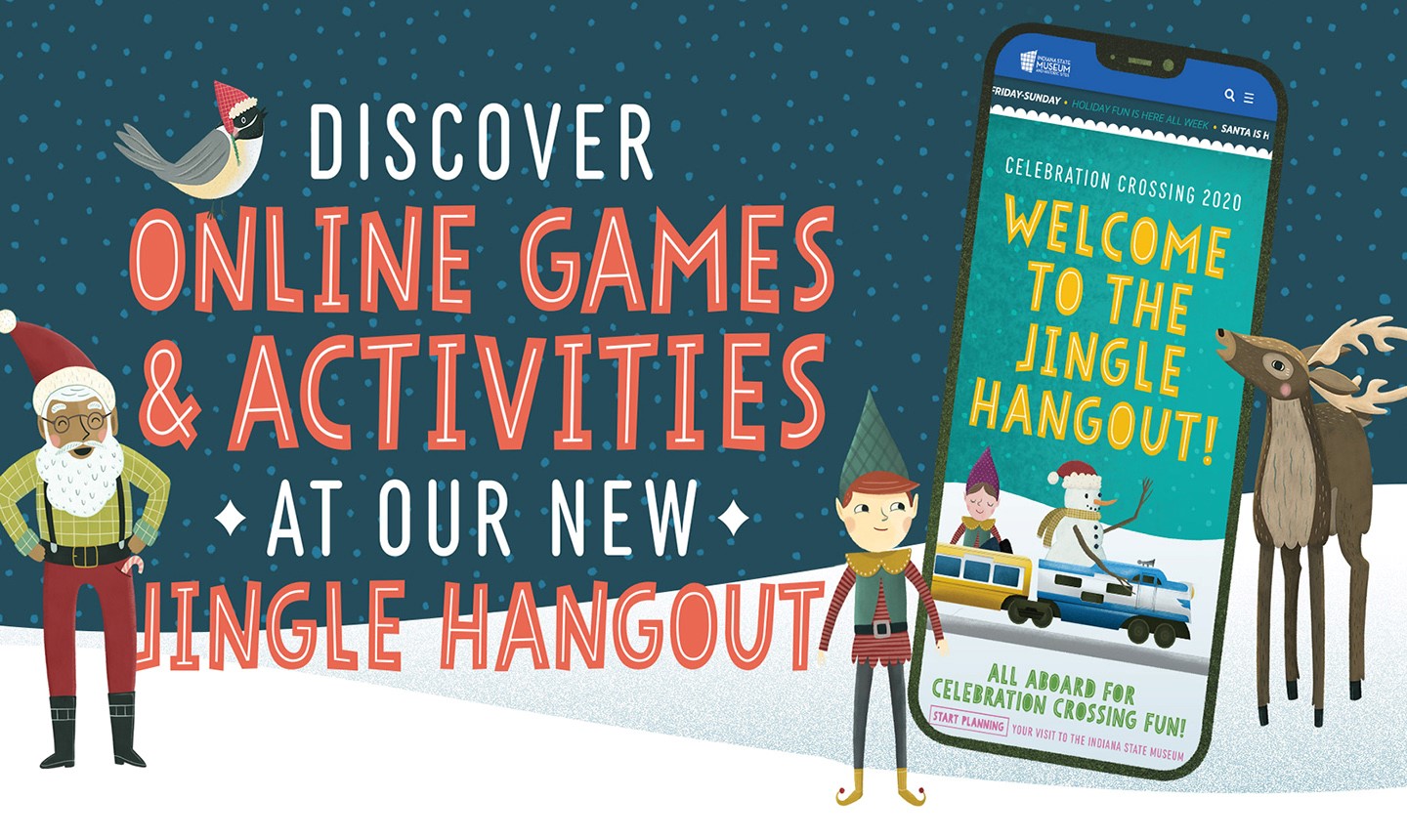 Looking for festive at-home fun?
We've got you covered, with our new online experience for families looking for some festive fun this holiday season. Introducing our new Jingle Hangout — your online headquarters for holiday activities, games, trivia, and yummy recipes we're sure Santa would even enjoy!
Play Today
GIFT THE GIFT OF MEMBERSHIP
Want to give the gift of membership to your loved ones this year? Give them a gift that lasts all year long and can be used all across the state of Indiana and beyond. Your friends and family will enjoy more experiences than you can wrap!
NEW DEAL! Receive $10 off the purchase of a new gift membership between Nov. 6, 2020 and Jan. 3, 2021. Discount available in-person, over the phone or online by using code GIFT2020 at checkout.
Purchase