Indiana art by Indiana artists
Experience award-winning artwork from Hoosier artists in this 99th annual competition. The show is one of Indiana's longest-running art exhibitions. See paintings, drawings, prints, ceramics, sculpture, glass creations and more. Artwork displayed in this show is available for sale.
August 26 through October 22, 2023

Best of Show
Made possible by the generosity of Sarah and John Lechlieter
"Bean in the Ballroom"
Stephanie Spay
Oil on panel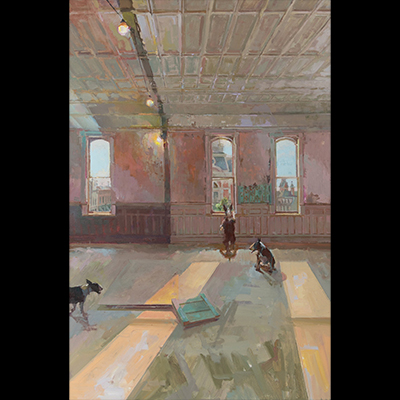 2nd Place
Made possible by the generosity of Psi Iota XI
"Bass Rocks"
C.W. Mundy
Oil on canvas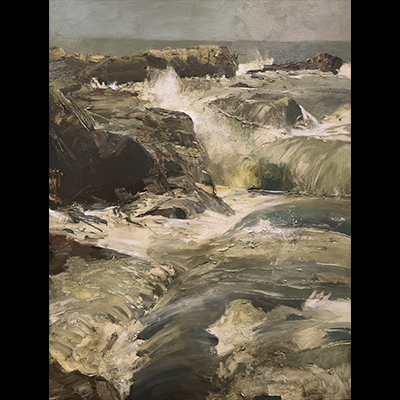 3rd Place
Made possible by the generosity of Randall and Deborah Tobias and Jim and Cat Toomey in honor of Carolina Toomey
"After the Ball"
Alan Larkin
Oil on linen panel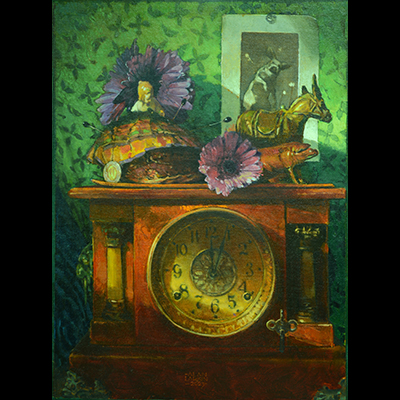 2023 Artists
Teresa Altemeyer •  Carol Amos •  Lauren Anderson •  Mason Archie •  Roberta Avidor •  Scott Barton •  Jo Belmont •  Tony Bianco •  Roy Boswell •  Peggy Breidenbach •  Rena Brouwer •  Ashley Burket •  Brian Burt •  William Carpenter •  Laurie Schirmer Carpenter •  Anna Chalos-McAleese •  Michael Chelich •  Beth Clary Schwier •  Peg Copenhaver •  David Cunningham •  Mary Ann Davis •  Mark Dillman •  Jacob Dobson •  Steve Dodge •  Daniel Driggs •  Stephen Edwards •  Bailey Feeney •  Brad Fields •  Forrest Formsma •  Wendy Franklin •  Joel Fremion •  Lea Goldman •  Karen Graeser •  Nancy Graffis •  Mary Gretsinger •  Tobie Hall •  Steve Harrold •  Dena Hawes •  Suzanna Hendrix •  Pat Herman •  Samuel Hoffman •  Clare Hollett •  Kristin Hughes •  Caroline Jacobson •  Brian Johnson •  Patrick Kluesner •  Alan Larkin •  Abby Laux •  Abigayle Lawson •  Diane Lehman •  Ronald Leonhardt •  Cheryle Lowe •  Peter Lupkin •  William Lupkin •  Ellen Lyon •  Elise Lyon •  Leanne Marchand •  A. Cassia Margolis •  Susan Mauck •  Michael McAule •  Stephanie McDairmant •  Ann McGriffin •  Jeanne McLeish •  Wesley Merritt •  Mark Millis •  Stephen Moss •  Craig Mullins •  C.W. Mundy •  Martha Nahrwold •  Bruce Neckar •  Pamela Newell •  Kami Noland •  Kevin O'Brien •  Carleen O'Connor Rivera •  Kate Orr •  Vandra Pentecost •  Liz Perr-McColm •  Dianna Porter •  Kyle Ragsdale •  Russell Recchion •  Matt Rees •  Patricia Rhoden •  J. Roberts •  Terri Schultz •  Constance Edwards Scopelitis •  Meredith Setser •  Carol Sexton •  Kerry Shaw •  Donna Shortt •  Jerry Smith •  Robert Smith •  William Smock •  Stephanie Spay • Arlyne Springer •  Curt Stanfield •  Carol Strockwasson •  Ginny Takacs •  Stephanie Thomson •  Gerald Traicoff •  Haven Tunin •  Mary Turner •  Kim Vander Vinne •  Justin Vining •  April Willy •  Rick Wilson •  Shirley Woolard •  Diane Wunderlich •  David Young •  Cindy Zeigler
2023 Judges
Thomas Caleb Goggans' portraits, landscapes and sculptures uniquely capture existential landmarks; moments and glimpses that shape and connect us to one another as well as to the endless wonder of the world. Formally trained in painting, Goggans' work explores the rich contrasts of life, portraying humanity, the natural world and the interactions between them. Finding inspiration and imagination in nature, life's passages and the people he encounters, Goggans seeks to explore those opportunities and express the richness, significance and complexity of the human experience.

Working from his studio on Signal Mountain, Tenn., Goggans has been featured in several premier art publications and served as an instructor at esteemed art organizations, conferences and museums. His work can be found in public and private collections across the country.

Shar Coulson's organic forms hint at fauna, flora, figures and other organic references that feel nearly recognizable, while her lush application of paint plays with contrast as well as a spectrum of tonal shifts. Embracing the essence of Organic Expressionism, her work reflects her love of nature and the human figure. Working from visual memory, Coulson explores the idea of perception verus reality within the allusive figuration, gestural line work and organic forms found in her paintings. She was formally trained in classical figurative realism, yet finds her passion runs deepest in the world of abstraction.

Shar Coulson lives and works in the Near West Side Market District of Chicago, IL and exhibits nationally and internationally.