We've got a lot of holiday spirit here in the Hoosier state
And it shows. Here in Indiana, Santa Claus lives not only in our hearts and minds, but also in a little town called Santa Claus, Indiana—smack dab between Corydon and New Harmony State Historic Sites. That's right, Indiana is home to the country's only official Post Office Box with a Santa Claus address. The story of how Santa Claus got its name is a doozy of a tale—one you'll have to hear for yourself when you drop by on your next road trip to Corydon Capitol and New Harmony! This page is dedicated to all the ways we as Hoosiers celebrate the holiday season. Feel free to share some of your holiday traditions with us, and help keep the spirit alive!

All is calm, all is bright
Circle of Lights, Indianapolis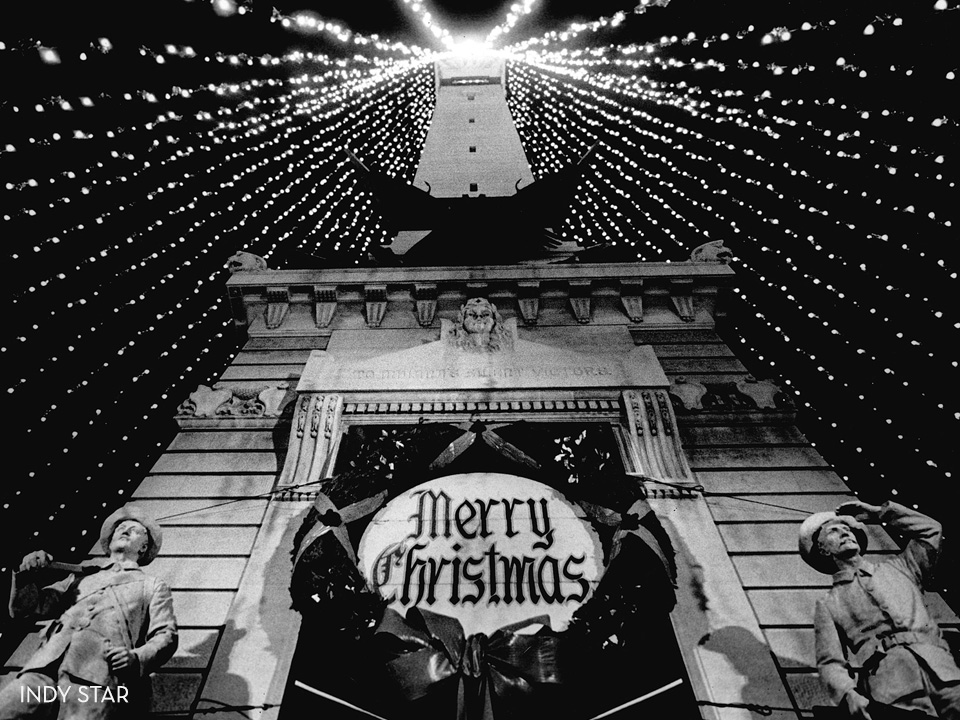 After the end of World War II, architect Edward D. Pierre had a "bright" idea. What if we could light the Soldiers and Sailors Monument for the holiday season as a reminder of the peace and unity we'd fought so hard to protect.
It was a bold vision that wasn't fully realized until 1962, when thousands of twinkling lights were finally strung from the base of Lady Victory 284 feet down to the street below. Today, volunteers string and test 4,784 colored lights (each representing a branch of the US military) and more than two miles of garland.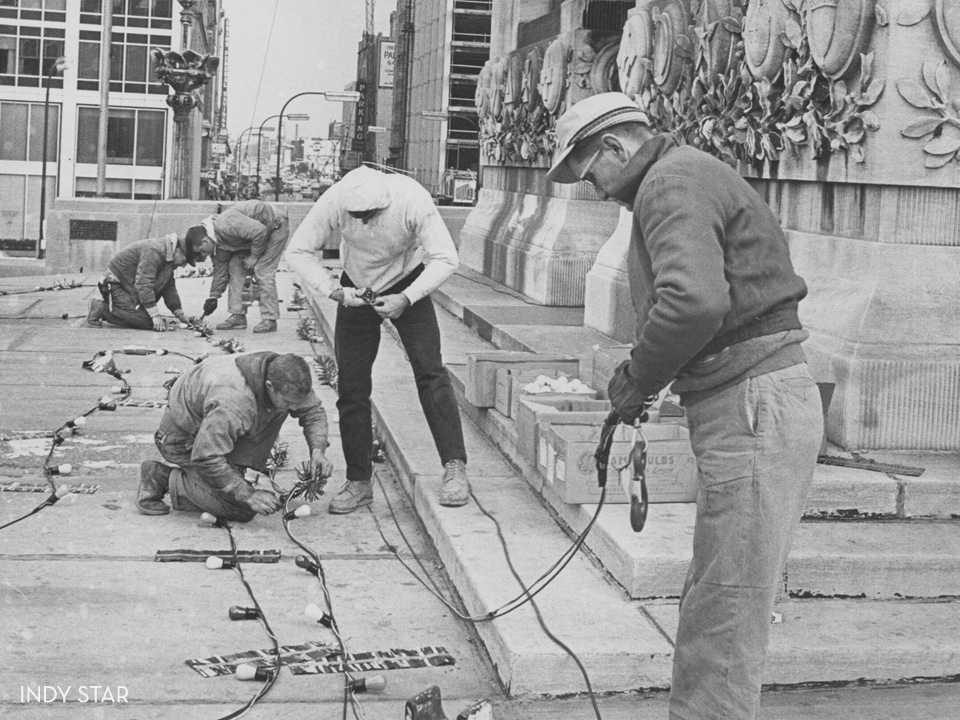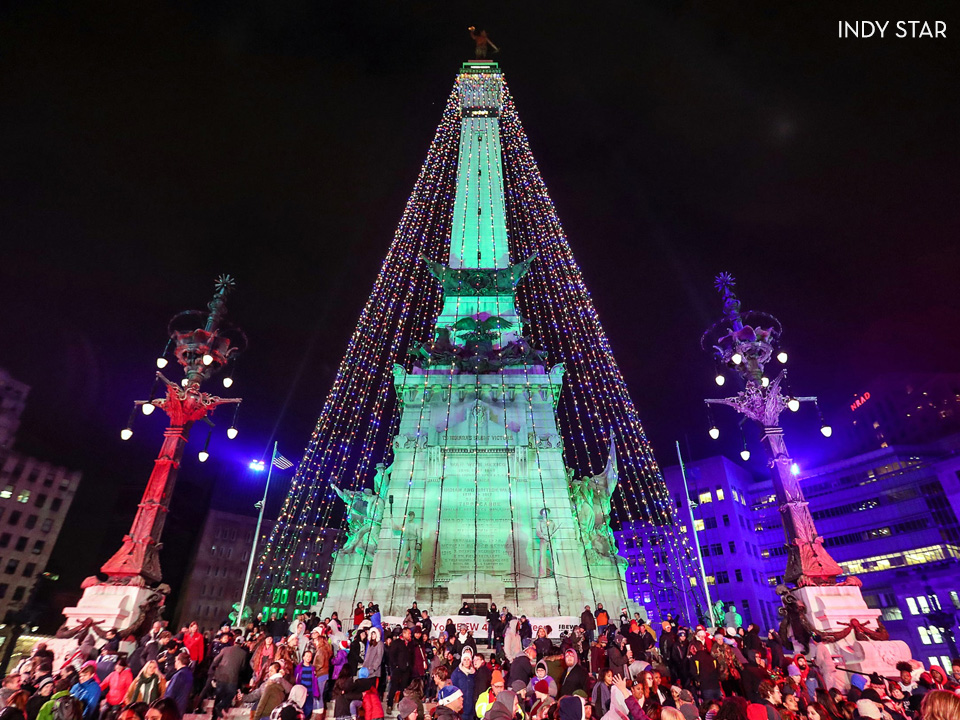 The display has continued to grow and evolve. Today, the "tree" is guarded by 26, 12-foot-tall toy soldiers and sailors and 26, ten-foot-tall peppermint sticks. It's a sight to see. In fact, Travelocity named the Circle of Lights as one of the top five "must-see Christmas trees" in the nation!
The Magic of the Season
Wolf & Dessauer Holiday Displays, Fort Wayne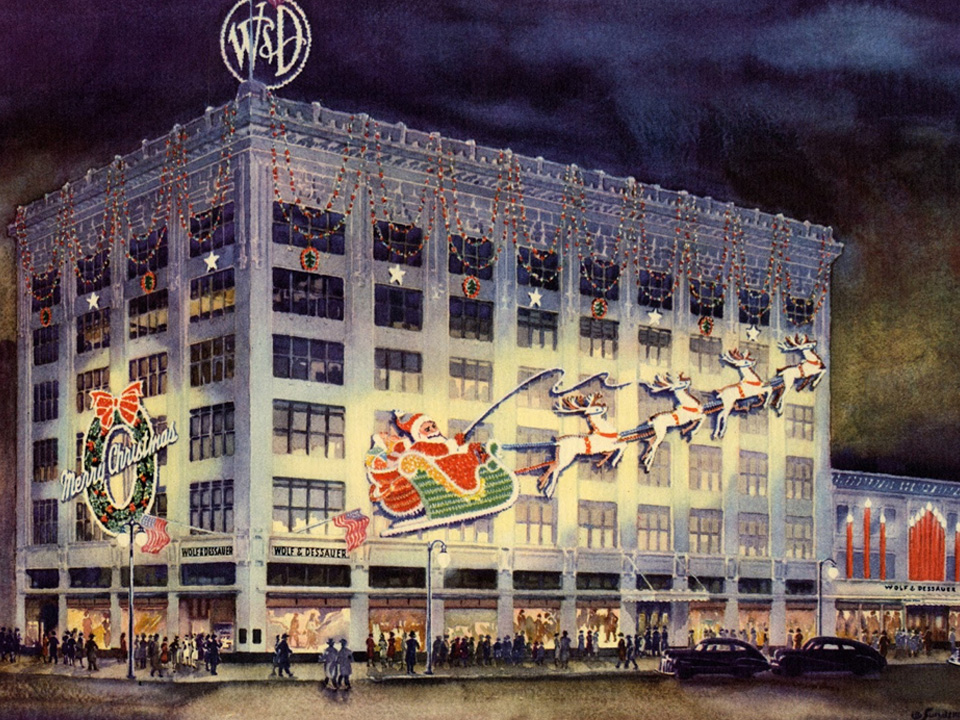 Anyone growing up in Fort Wayne surely recalls snowy trips during the holidays to catch a glimpse of Santa pulling his team of reindeer through the downtown night sky. The display, originally created for the Wolf & Dessauer department store in 1940, was a centerpiece for the holiday season through 1958, when it was put into storage for the next 20 years.
Fortunately for future generations, volunteers in the late 70s invested their time and resources into restoring this bright holiday icon to its former glory so the tradition could continue. With more than 24,000 light sockets spanning 35 separate panels, it was certainly no easy task! Santa and his reindeer have meant so much to so many over the years.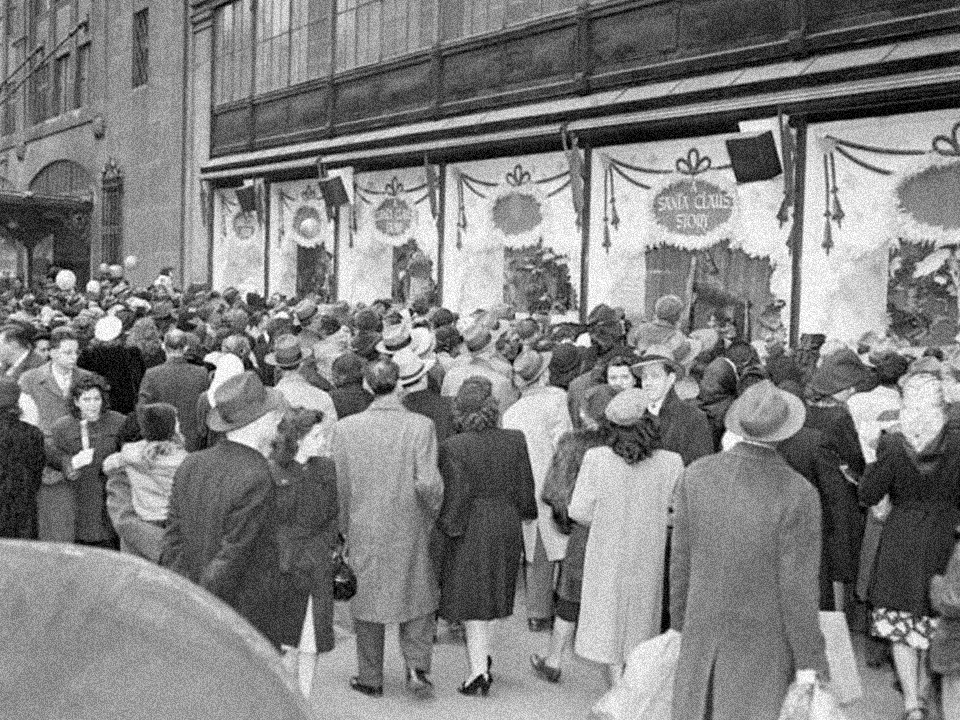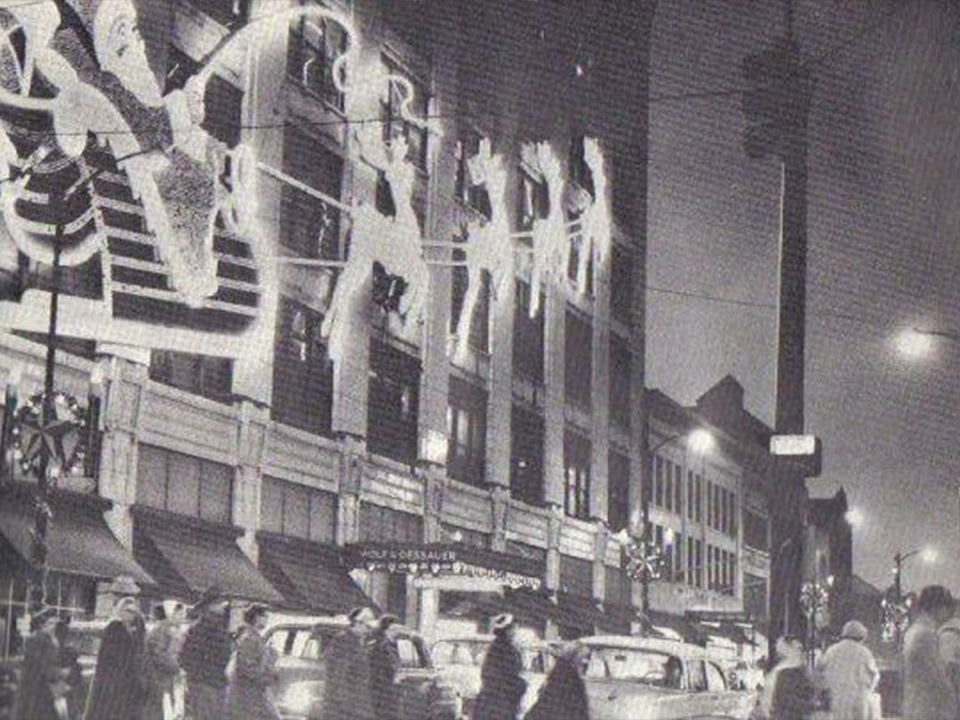 According to one Fort Wayne native, her family would go downtown every year for their Christmas shopping, and stand mesmerized by the Christmas window displays while Santa watched over them from his sleigh on the side of the building. And thanks to those committed volunteers, that tradition continues. Fun fact: Rudolph isn't part of the display as he'd only been invented in 1939 and wasn't yet part of the Christmas tradition when the display was created in 1940.
The original "Elf on a Shelf"
L.S. Ayres Clock Cherub, Indianapolis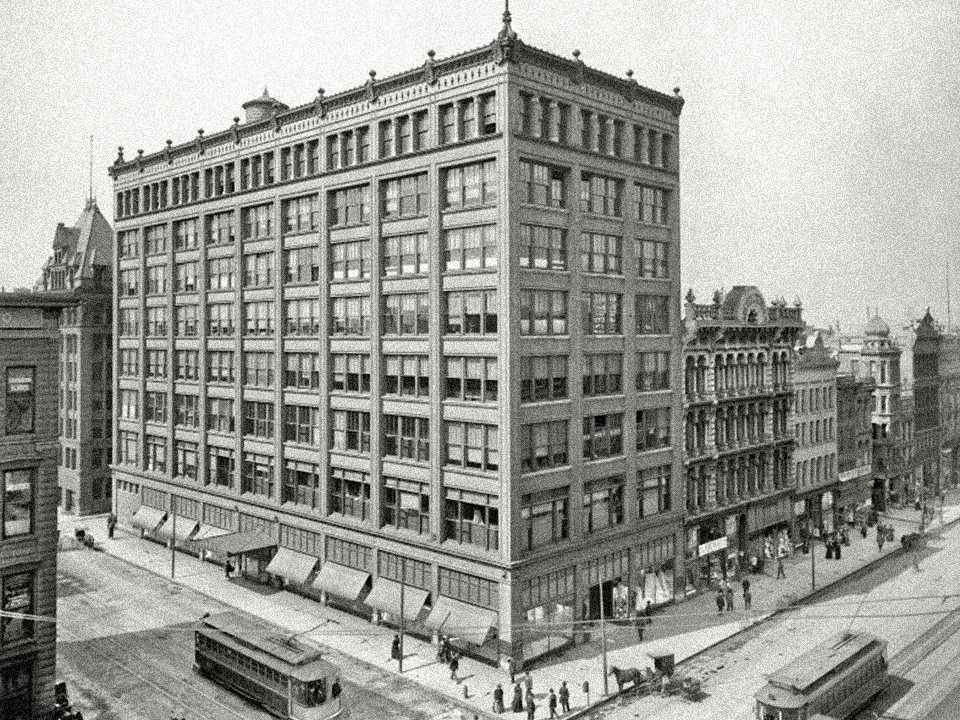 After serving in World War II, graphic artist Virginia Holmes returned home to her job in the L.S. Ayres advertising department where, among other things, she was in charge of laying out the holiday catalog. With merchandise in short supply in 1946, the artist had to use her creativity to fill up the pages and support what merchandise the store did have in stock. Her solution? Cute and whimsical cherubs.
They were a hit with a public eager to embrace the whimsy and positivity of these holiday angels. Within a year, the cherubs were integrated into not only the holiday catalogs, but also advertising campaigns and eventually were even cast in bronze by Indianapolis sculptor and Herron School of Art instructor David Rubins, and placed on the store's landmark clock at the corner of Washington and Meridian Streets.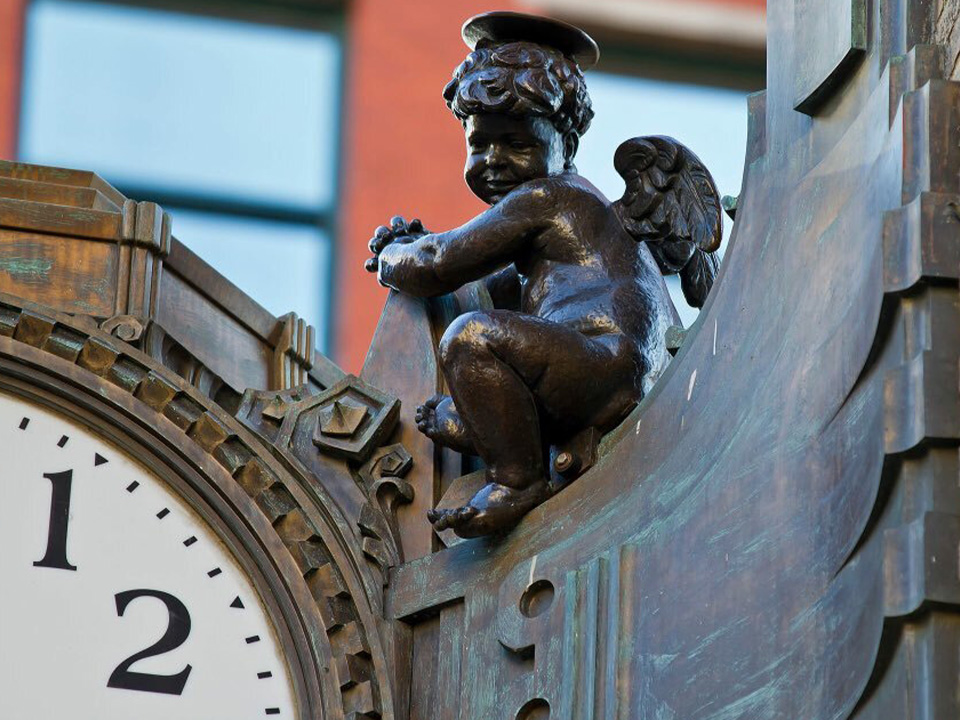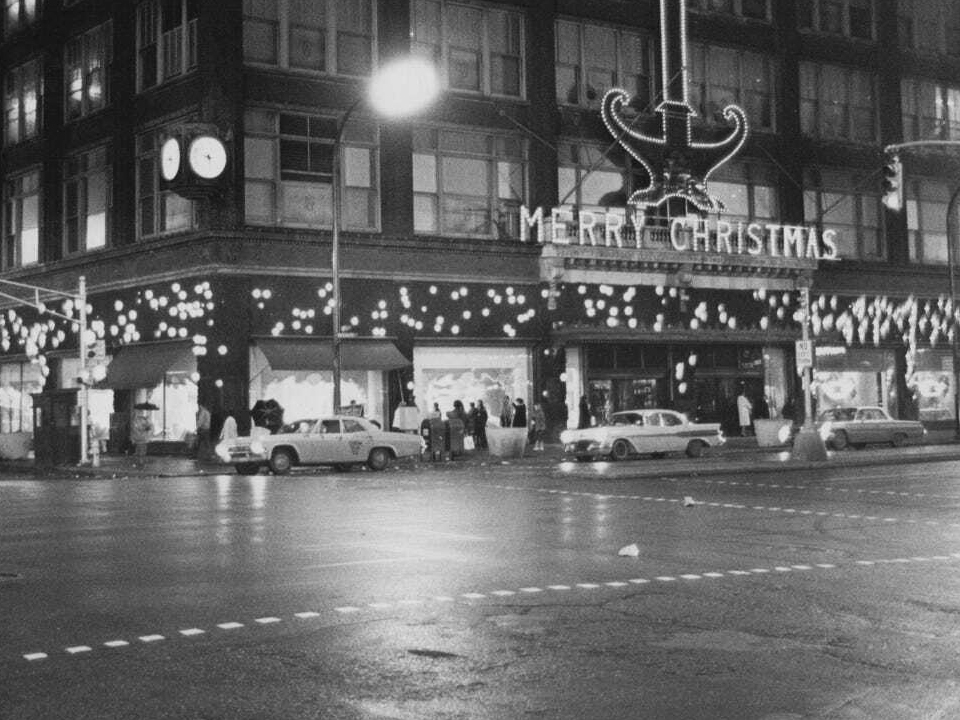 According to legend, the whimsical cherub mysteriously appeared on Thanksgiving Eve in 1947 to keep a watchful eye on holiday shoppers until Santa took over on Christmas Eve. That tradition has continued for more than 70 years. Fun fact: the cherub stands three feet tall and weighs nearly 1,200 pounds.