Published March 1, 2022
Women's History Month: Honoring six female history makers with Hoosier ties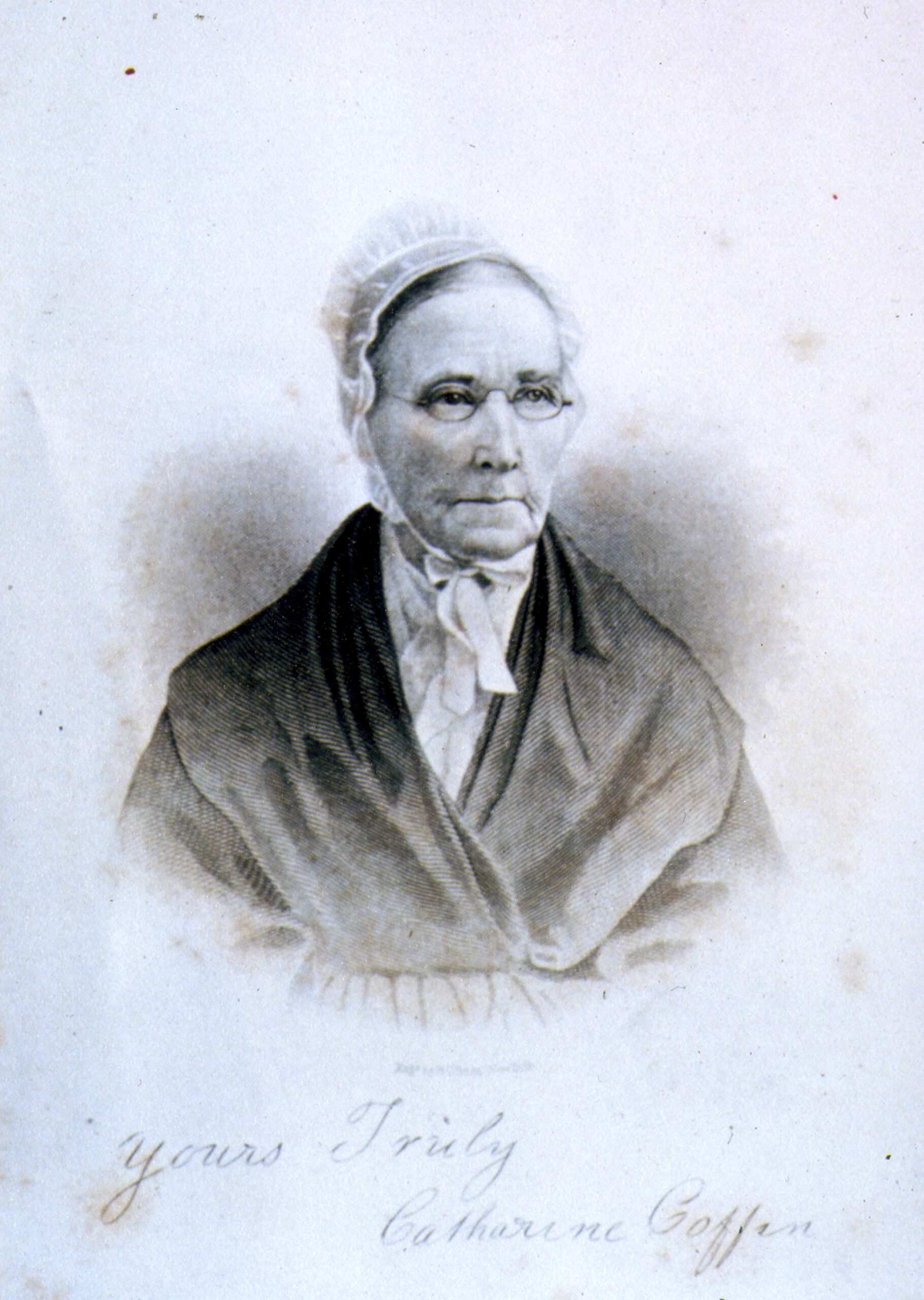 Catharine Coffin: 1803-1881
Catharine Coffin – wife of Levi Coffin, who was considered "president of Underground Railroad" – was just as dedicated to helping freedom seekers on their journeys as her husband was.
In fact, the woman known to many as "Aunt Katie" provided food, formed a sewing society to produce clothing and helped to shelter the 1,000+ freedom seekers who sought safety in their home in Newport (now Fountain City).
Although not as much is known about Catharine as there is about her husband, Levi mentions in his autobiography, "It was never too cold or stormy, or the hour of night too late for my wife to rise from sleep, and provide food and comfortable lodging for the fugitives. Her sympathy for those is distress never tired, and her efforts in their behalf never abated."
Learn more about the Coffins' work to help freedom seekers to safety during a tour of Levi and Catharine Coffin State Historic Site.
Gene Stratton-Porter: 1863-1924
Gene Stratton-Porter was a woman ahead of her time. She lived life exactly how she wanted to, even though societal norms deemed some things she did as scandalous – such as living apart from her husband, having her own money, wearing pants, and going into the Limberlost Swamp with men who helped her carry photography equipment.
Although she's best known as Indiana's most widely read female author, Gene was also a naturalist, illustrator and photographer who used the Limberlost Swamp as her laboratory and inspiration for her early nature articles and novels. Later, she helped to conserve the swamp and other wetlands throughout Indiana through conservation.
The best-selling author also was among the first women to own a movie production company: Gene Stratton-Porter Productions.
Discover Gene Stratton-Porter's life and legacy during a visit to Gene Stratton-Porter and Limberlost State Historic Sites, or find out more about the Indiana author and naturalist in an article that appeared in the March 2020 edition of Smithsonian Magazine here.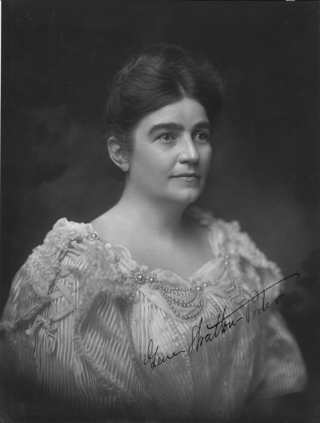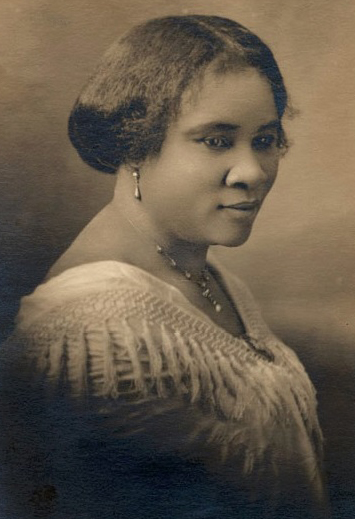 Madam C.J. Walker: 1867-1919
Madam C.J. Walker – born Sarah Breedlove to sharecroppers on a Louisiana cotton plantation  – was one of the first American women ever to become a self-made millionaire after creating her own specialized hair-care products for African Americans.
Madam Walker traveled around the country promoting her products and giving demonstrations on what became known as the "Walker Method" before opening the Madam C.J. Walker Manufacturing Company – a factory and beauty school in Pittsburgh – in 1908. She moved her business operations to Indianapolis in 1910, where she created her cosmetics and trained "Walker Agents" in her hair-care methods.
Madam Walker also was known for her philanthropic efforts and donated the largest amount of money by an African American toward the construction of an Indianapolis YMCA.
Learn more about Madam Walker and see some of her hair-care products made right here in Indianapolis on Level 2 of the Indiana State Museum.
Blanche Culbertson: 1870-1924
Blanche Culbertson – daughter of William Culbertson and his second wife, Cornelia – was raised in a family that stressed the virtues of benevolence, temperance, truthfulness and justice, as well as a spirit of activism.
Her father and his third wife, Rebecca, were involved in the women's suffrage movement in Southern Indiana while Blanche was growing up. William Culbertson even founded Southern Indiana's Primary Committee for Women's Suffrage and invited Susan B. Anthony and her successors to New Albany for a suffrage meeting.
Due to her upbringing in a family supporting women's equality, Blanche understood how far behind women's rights were in the Victorian era. Between 1900 and 1910, Blanche became heavily involved with the suffrage movement in New York, participating in national marches for women's rights. She was also a lifelong member of the North American Women's Suffrage Association.
Discover more about Blanche and other women in the Culbertson family during the Remarkable Women tours at the Culbertson Mansion State Historic Site.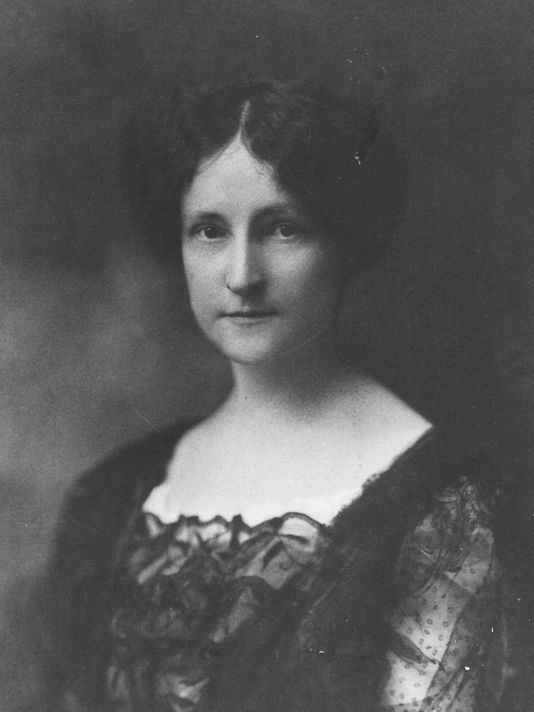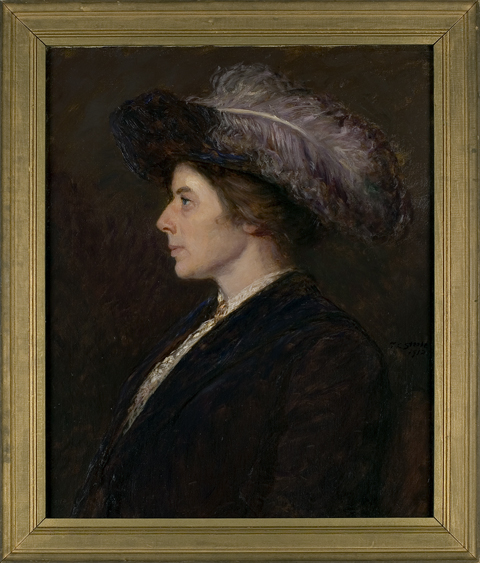 Selma Steele: 1870-1945
Selma Neubacher Steele – the second wife of Hoosier artist T.C. Steele – was an educator, but she also was artist in her own right.
After graduating from Indianapolis High School in 1887, Selma taught second and third grade in Indianapolis for nearly a decade. She later attended Pratt Institute in New York and earned an art degree in 1905.
Selma returned to Indianapolis and became the assistant supervisor of art for the public schools and taught Saturday art classes for educators at the John Herron Art Institute – now known as the Herron School of Art + Design at Indiana University-Purdue University Indianapolis.
After marrying T.C. and moving to Brown County, Selma supported her husband's work by transforming their property and creating gardens near their House of the Singing Winds that often inspired his plein air paintings. She also decorated their home with designs of her own, which can still be discovered during a tour of T.C. Steele State Historic Site near Nashville.
Judge Zilthia Jimison: 1943-2008
Judge Zilthia Mae Perkins Jimison became the first African American female judge on the Marion Superior Court after being appointed by Republican Gov. Robert D. Orr in 1988.
Jimison, a 1963 graduate from Shortridge High School, received a bachelor's and master's degree from Indiana State University before earning her jurist doctorate degree from the College of Law at Ohio State University in 1977. She then returned to Indiana to begin her law career in private practice. She went on to serve as a public defender and later served on the City-County Council from 1992 to 1995.
Jimison continued to break through the glass ceiling by becoming the first African American to win a mayoral primary as a Democrat in Indianapolis. Although her 1995 mayoral bid was unsuccessful, she ran and was elected superior court judge in 1996.