In person. At home. Online. 
The Indiana State Museum and Historic Sites is a statewide museum network with 12 locations across Indiana. Here, we use our incredible collection of artifacts (everything from mastodon bones to T.C. Steele paintings) and our state's most culturally significant sites to tell larger stories around bigger themes. Whether you're interested in art, architecture, history or science, we've got you covered. Come out and enjoy wide open spaces at our historic sites, explore three floors of fun at our downtown Indianapolis museum, and discover engaging online activities. Welcome to the Indiana State Museum and Historic Sites.
Tickets and Information
Open Wednesday – Sunday, 10 a.m. – 5 p.m.

2023 Monday open dates:

Martin Luther King Jr. Day, Jan. 16 (FREE)
Presidents' Day, Feb. 20 (FREE)
Spring Break, March 20, 21, 27, 28
Memorial Day, May 29
Labor Day, Sept. 5

Closed Mondays and Tuesdays, Easter, Thanksgiving and Christmas Day.

Hours may vary when downtown special events (such as parades or races) restrict traffic on streets near the museum.

Hours for State Historic Sites can be found on their respective web page.

Adults – $17
Seniors* – $16
Youth* – $12
College students – $5 (with valid ID from any Indiana college or university)
Children under 3 – FREE
*Seniors: Ages 60 and older, Youth: Ages 3 through 17
*Visitors under the age of 16 must be accompanied by an adult at all times

Buy Tickets

Buy museum tickets online and save $1 per ticket.

Advanced ticket purchases are not required. You can purchase your tickets online and save $1, or at the museum ticket counter upon arrival.
Masks are currently optional for both museum staff and visitors. Masks are provided to visitors who would like them.
The Farmers Market Café is open from 11 a.m. to 3 p.m. The menu consists of a variety of items including soups, sandwiches, salads and beverages. Grab & Go menu is available from 3 to 5 p.m.
Hand sanitizer is readily available throughout the museum.
Barriers are in place to separate you and staff at any point of sale.
If you have been exposed to COVID-19 recently or are experiencing symptoms of COVID-19 (fever, cough or shortness of breath), please stay home and plan a future visit instead.

The IMAX® theater is located on Level One at the Indiana State Museum.

Learn more

We understand that visitors' needs vary, and our visitor services staff is available to help you make the most of your visit.

Learn more

Special discounts are available for:

Access Pass holders
AAA Hoosier Members
Education groups
Indiana State Employees
Staff from Indianapolis Consortium of Arts Administrators
Military
Other groups

Learn more

Access Pass

The Indiana State Museum and Historic Sites is proud to participate in the Access Pass program. Visit for just $2 per family member per visit!

Indy Attraction Pass

The Indy Attraction Pass offers the opportunity to maximize the Indianapolis experience at a budget-friendly price.
• Flexibility to spend as much, or as little, time at each attraction as you choose
• Save up to 50% versus buying individual admissions
• Mobile passes are delivered to your phone (no app required) via text and email for safe, touchless entry

Learn more

The Indiana State Museum is conveniently located in downtown Indianapolis. The Indiana Department of Transportation has current information on road conditions.

Where to park

Parking is available in the attached White River State Park underground parking garage on Washington Street and in nearby garages, or in the White River State Park South Lot. For more information about other parking locations in the area, visit the Indianapolis Downtown parking site.

Parking rates for the White River State Park Garage

$4 per car (with the purchase of a ticket to the Indiana State Museum)
$4 per car (with a $10 purchase from the Indiana Store)
Free (with the purchase of an IMAX® ticket)
$4 per car (with a $10 purchase from the cafe)
Visitors are able to pay for parking at the Ticket Counter on Level One.
These rates apply to most special event days, including Colts games.
Discounted parking rates expire daily at 5:30 p.m. with exceptions made for after-hours events.

Public Transportation

IndyGo operates bus routes that directly serve White River State Park and Military Park.

Gather your group to explore the Hoosier state at the Indiana State Museum! Group visits are typically self-guided and last two to three hours.

Learn more
Museum Contact & Directions
Located in White River State Park in downtown Indianapolis, the Indiana State Museum is the place to explore Indiana's past, present and future.
Take the Museum Home with You
Visit The Indiana Store for a variety of Indiana-made and Indiana-themed items. You'll find one-of-a-kind items including art, posters, jewelry, shirts and sweatshirts, books, greeting cards and collectibles. Youth will enjoy novelty candy, toys, stuffed animals and other treats. Proceeds from the sale of all merchandise benefit the Indiana State Museum.
Visit the Store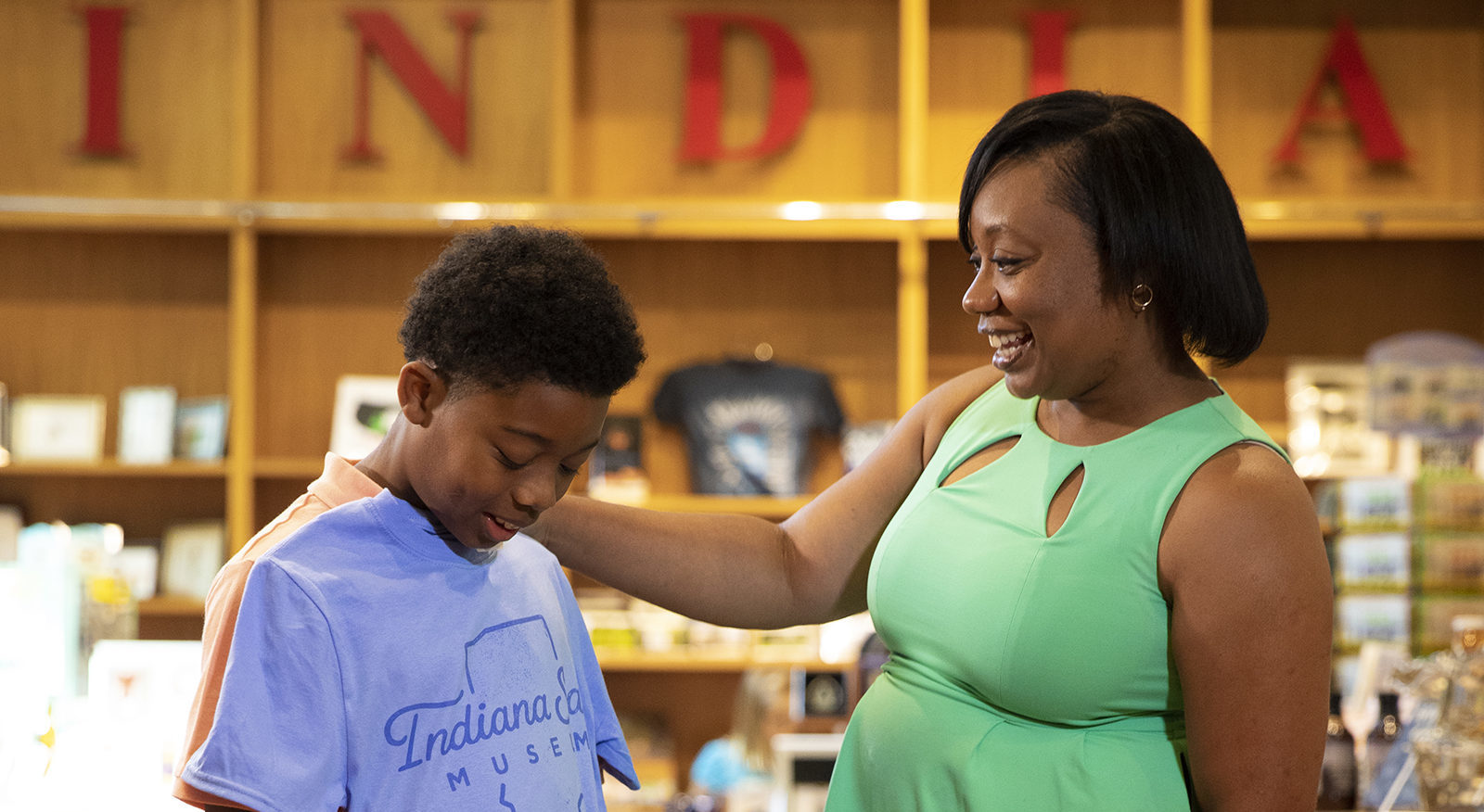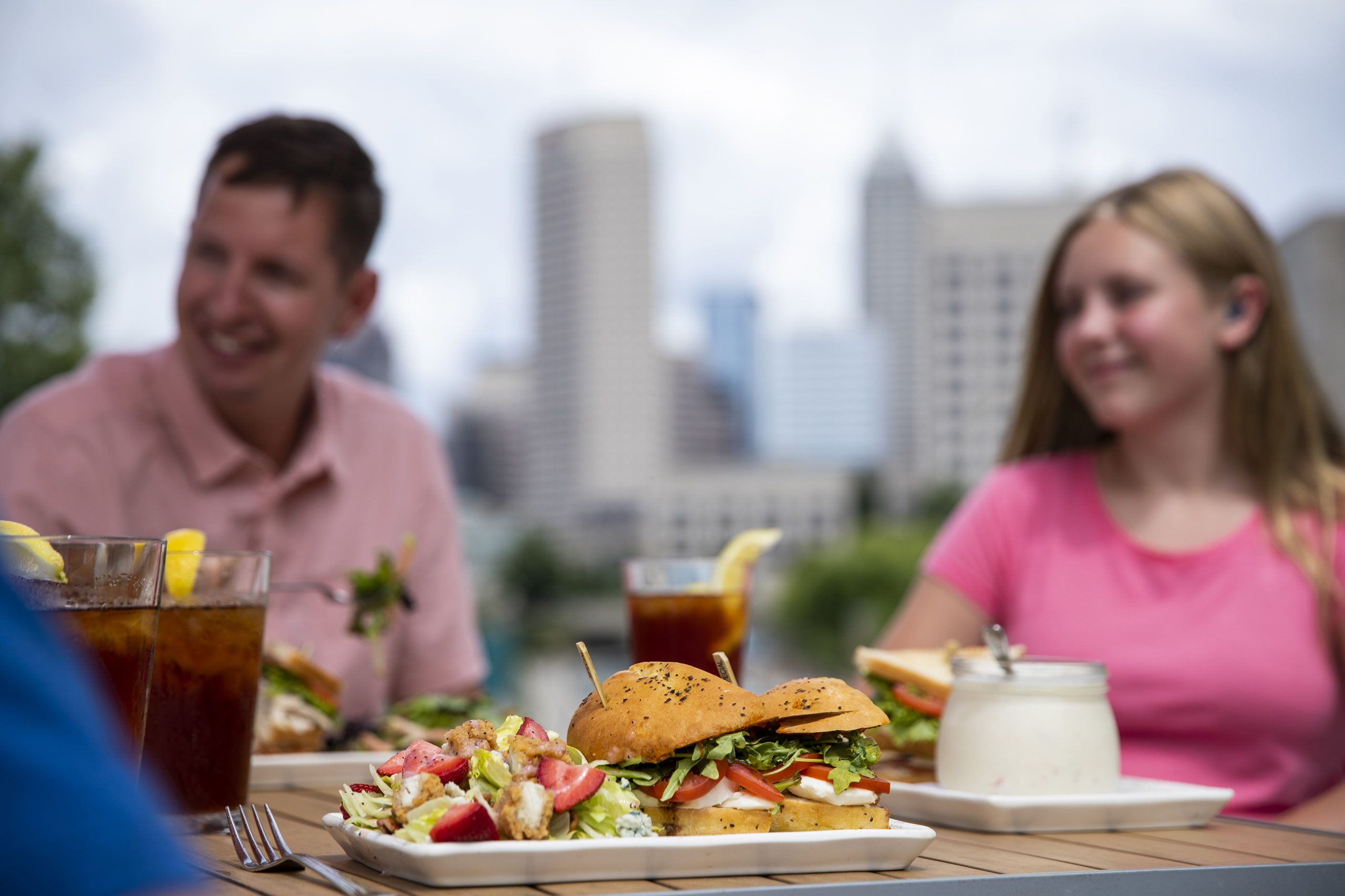 Farmers Market Cafe
Enjoy the best view in the city at the museum's Farmers Market Café. With indoor and outdoor seating, the menu is reflective of Indiana's heritage as a source of fresh, local produce with seasonal menus and fresh soups, salads and sandwiches.
Learn More
L.S. Ayres Tea Room™
Enjoy traditional favorites inspired by the original L.S. Ayres Tea Room™ including chicken velvet soup and chicken salad. Or, try a classically-inspired tea room experience with hot tea, tea sandwiches and pastries.
Learn More