THIS IS A STORY ABOUT TRANSPORTATION
Metamora is an example of the kind of towns that grew along the canal routes in Indiana. Stationed every few miles, these towns provided a source of fresh horses, food and lodging for travelers and a place for farmers and others to buy and sell their goods along the canal route. Commerce was so heavy that the White Water Valley Canal Company, established in 1842, had their own bank and printed their own currency at their headquarters in Connersville!
Children Under 3
Admission: Free
Youth (Ages 3 - 17)
Admission: $3
Adults (Ages 18 - 59)
Admission: $5
Seniors (Ages 60+)
Admission: $4
Purchase admission
Mill demonstrations take place at 11 a.m., 1:30 p.m. and 3 p.m. and are included in the price of admission.
Purchase admission
Operating Hours
April through October
Wednesday: 10 a.m. – 5 p.m.
Thursday: 10 a.m. – 5 p.m.
Friday: 10 a.m. – 5 p.m.
Saturday: 10 a.m. – 5 p.m.
Sunday: 10 a.m. – 5 p.m.
Monday: Closed
Tuesday: Closed
Holidays
Easter – Closed
Memorial Day – Open for preregistered tours only
Labor Day – Open for preregistered tours only
Thanksgiving (Nov. 23) – Closed
Christmas Eve (Dec. 24) – Closed
Christmas Day (Dec. 25) – Closed
Free Days
Juneteenth (June 15)
Winter Hours
November through March
Closed except for the last weekend in November and the first three weekends in December.
Friday: 12 – 9 p.m.
Saturday: 12 – 9 p.m.
Sunday: 12 – 5 p.m.
STEP BACK IN TIME WITH US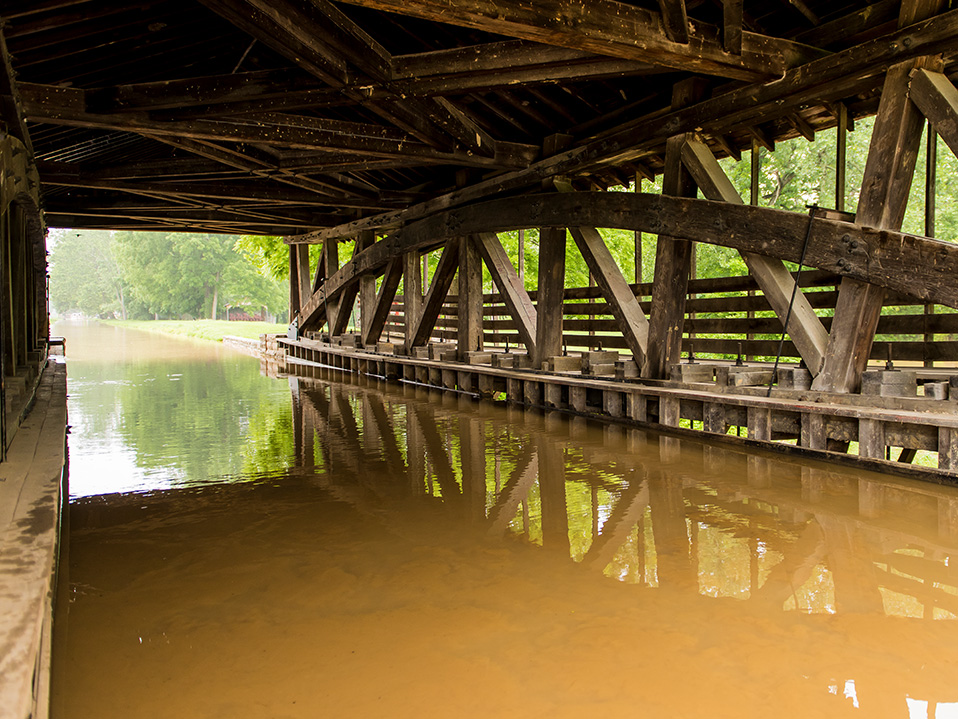 As settlers moved into the old Northwest Territory after 1800, transportation routes became an important priority. Indiana's brief experience with canal building began with the passage of the Indiana Mammoth Internal Improvement Act of 1836. Whitewater Canal was one of several projects funded by this act. The Whitewater Canal started in Lawrenceburg and originally ended at Cambridge City, on the Old National Road. Hagerstown merchants financed an extension to their town, making the canal 76 miles in length.
The state of Ohio also built a 25-mile spur linking Cincinnati to the canal. Along the canal, 56 locks accommodate a fall of nearly 500 feet. Upon Indiana's bankruptcy in the 1840's, private enterprises stepped up to complete the canal. After the canal transportation era ended with the arrival of the railroads, the canal was used as a source of water power for many grist mills and other industry. The Metamora Grist Mill is an example, using water power to produce corn meal for over 100 years.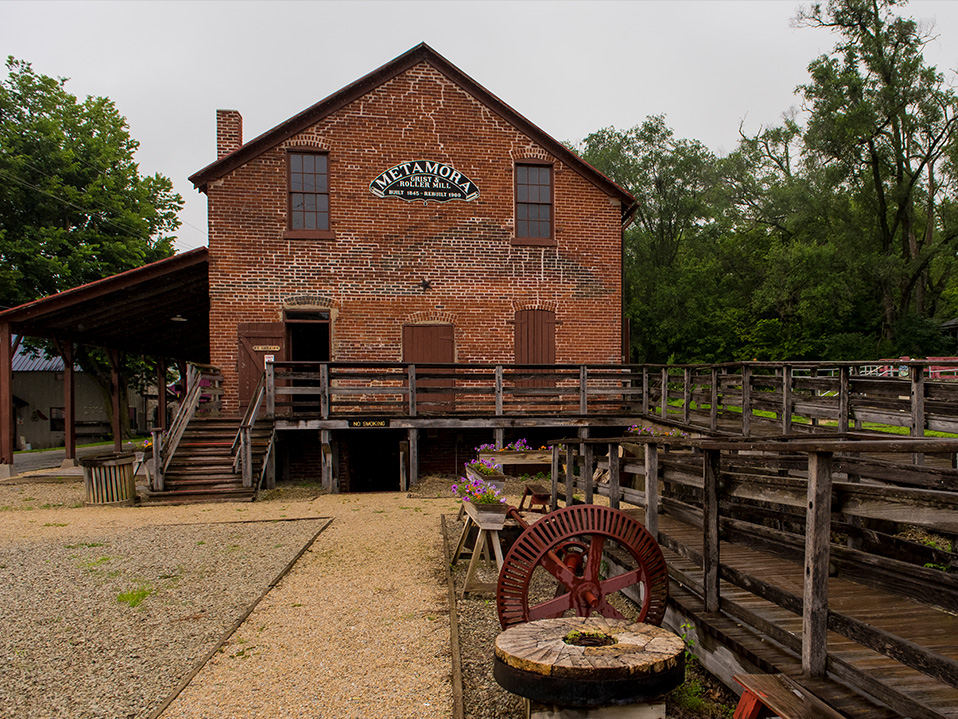 Make it a Getaway to Remember
Today, you can still see evidence of that early prosperity in the old brick buildings dating back to the 1830s on the west side of town. One example is the Martindale Hotel (1838) which served as an office and storeroom for Ezekial Tyner, a shipping agent on the canal. The Metamora Grist Mill is just one of the many mills and factories built to utilize the water power of the canal. Built in 1893, the mill is still used to grind corn meal in the 21st century.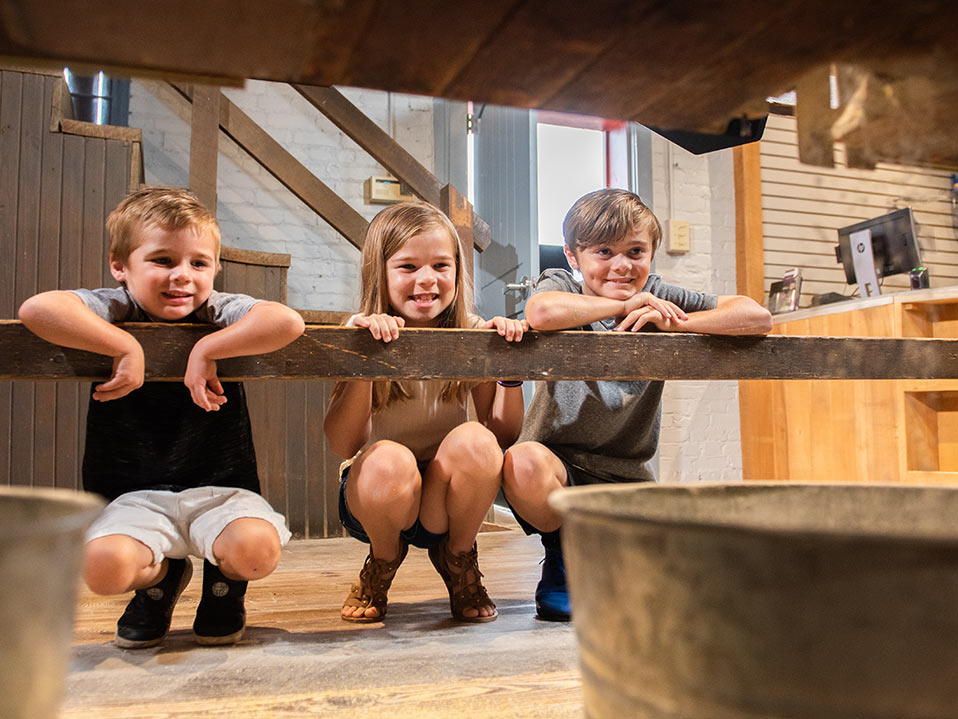 Take home a bag of cornmeal
Begin your trip by experiencing the Metamora Grist Mill. Discover the mill's history and see for yourself how the mill grinds corn into flour, meal and grits – just as it has since the 1800s! Then, try milling grains yourself with a hand-powered grinder or learn how millers secured their sacks of flour by trying your hand at tying a miller's knot. Children can explore the transportation discovery space. See how Hoosiers used to move from here to there on our wooden canal and train table, chart your course throughout Indiana with an interactive map or pack a model canal boat full of crates and merchandise before its journey to Cincinnati.
SEE THE NATION'S ONLY KNOWN WOODEN AQUEDUCT
Originally constructed in 1843, the aqueduct was partially destroyed by a flood in 1846. Shortly afterward, it was rebuilt with a modified Burr arch truss more than 75 feet long. The Duck Creek Aqueduct is very unique — so much so that it was featured in an edition of Ripley's Believe It Or Not. It is perhaps the only covered wooden aqueduct still operating in the United States. Engineers designed this aqueduct to carry the canal and its boats above Duck Creek. It's on the National Register of Historic Places and is a National Historic Civil Engineering Landmark.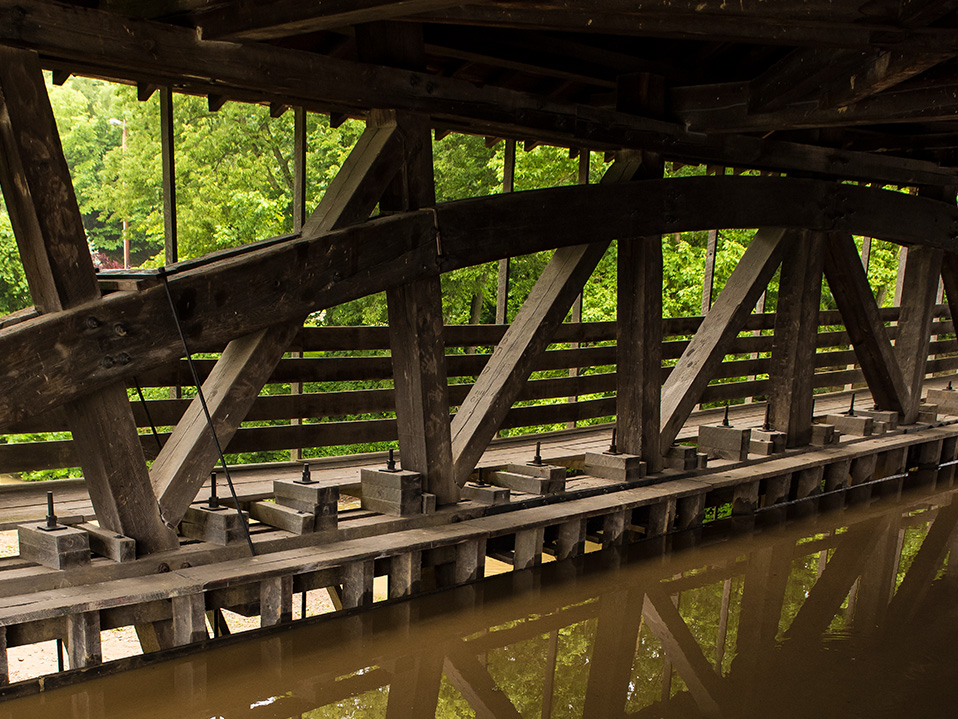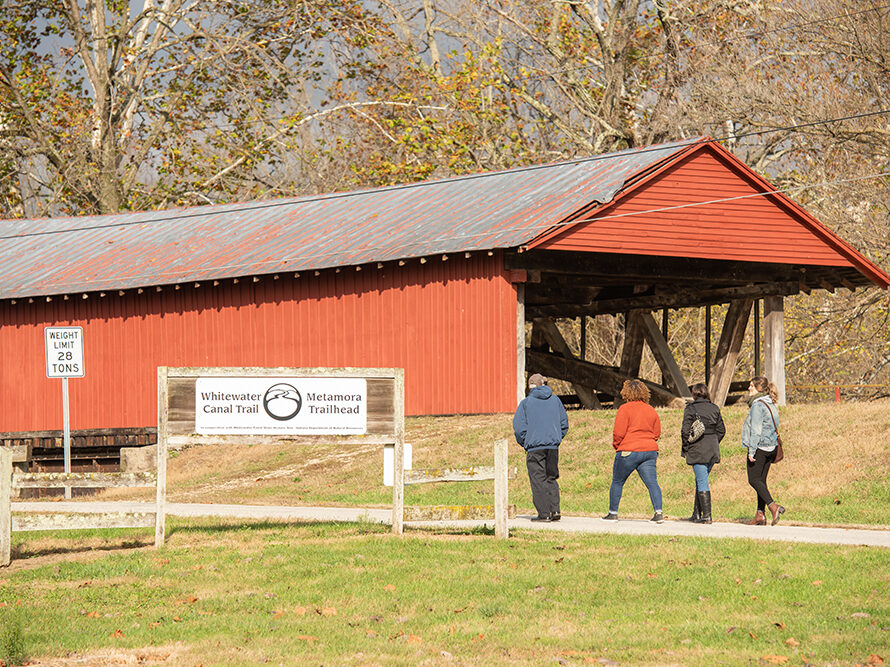 Explore Hiking Trails
Starting at the Whitewater Canal State Historic Site, walk along the hiking trails that lead you down the canal route. These trails will take you through historic Metamora and lead you to the Duck Creek Aqueduct (about .5 miles) and eventually the "Twin Locks" (an additional 2.6 miles). Add some fun to your trek with a scavenger hunt, available at the Grist Mill.
Shop the collection
Shop T-shirts, totes, caps, pins and mugs designed for the Whitewater Canal State Historic Site. In addition to ordering through the lookbook, these items are also available in the Metamora Grist Mill. Be sure to visit all 12 locations to assemble the complete collection.
Browse lookbook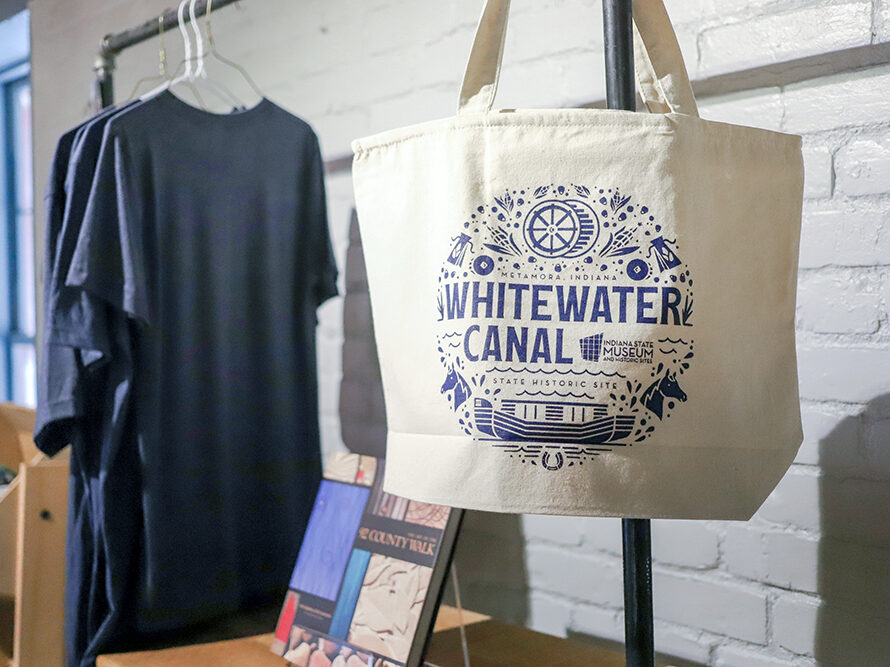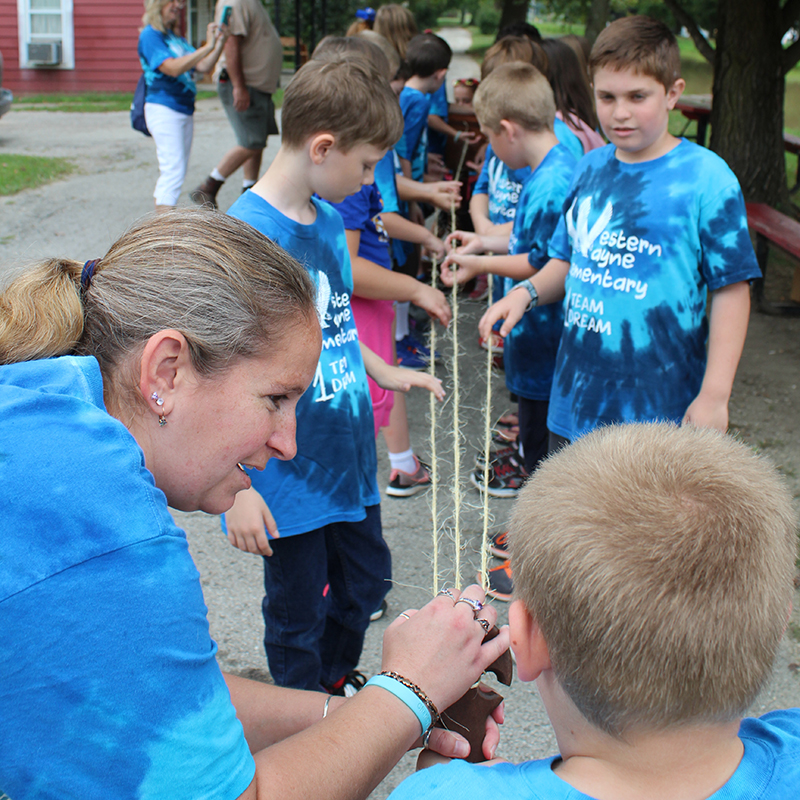 BOOK A FIELD TRIP
Help bring history, science, art and education to life for your students with a one-of-a-kind field trip experience. Students will get to learn about ropemaking and watch as staff operate a genuine historical ropemaking machine. All state historic sites support Indiana Academic Standards, and feature a variety of academic topics. Call 765.647.6512 to schedule your visit to Whitewater Canal.
Learn more
Download educator guide
Take a Trip Down the Whitewater Canal!
19073 Main St., Metamora, IN 47030
Visit Today
From U.S. Highway 52/U.S.-52 E., cross over the Whitewater River bridge and turn right onto Pennington Road. This county road winds for about one mile, then the Metamora Grist Mill is the first building on your left, and parking is on the right.