The Man Behind the Mansion
William Culbertson moved to Indiana seeking a new life and eventually became one of the richest men in the state and a renowned philanthropist. In fact, Culbertson invested much of his wealth in New Albany, involving himself in civic affairs, funding  the construction of the Culbertson Widows Home, serving as a trustee of the First Presbyterian Church, and founding the Cornelia Memorial Orphans Home, named for the second of his three wives. His mansion stands as an example of the tastes, ideals and lifestyles of the late 1800s.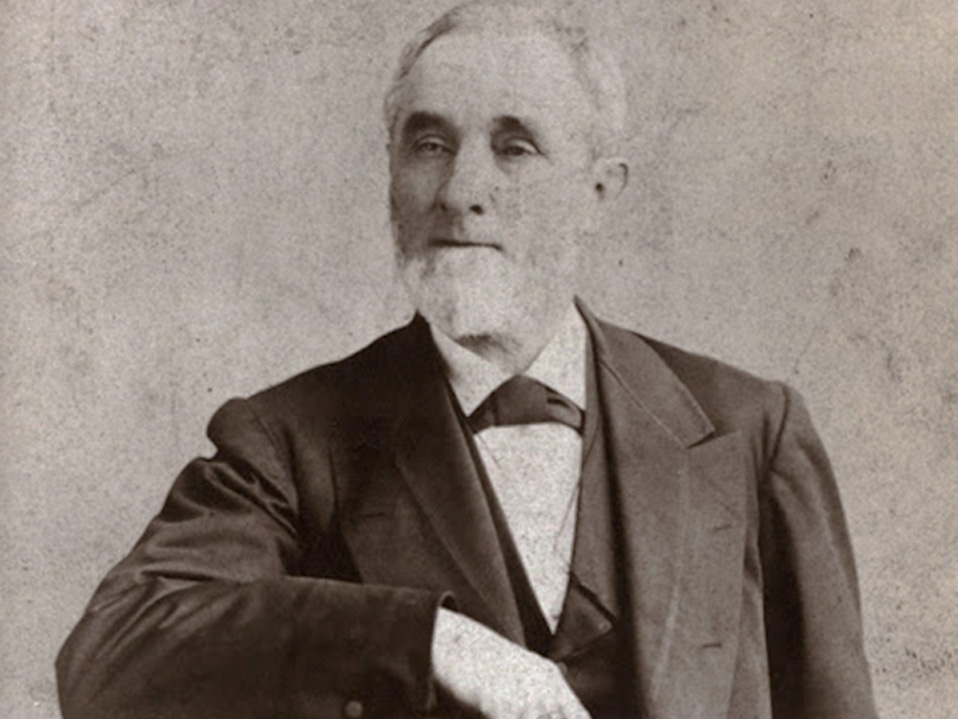 At age 21, William S. Culbertson left New Market, Pennsylvania, to seek his fortune in Indiana. Settling in New Albany, he found employment as a clerk in a dry goods store. Culbertson possessed exceptional business sense and energy. He started his own utility company in 1854, eventually becoming a prosperous, independent businessman. In 1868, Culbertson retired from the dry goods business to invest his money in new ventures, in and around New Albany. Culbertson was widowed twice and married for the third time at age 70. He died in 1892, at the age of 78, achieving a net worth of $3.5 million dollars — about $61 million in today's economy.
Children Under 3
Admission: Free
Youth (Ages 3 - 17)
Admission: $8
Adults (Ages 18 - 59)
Admission: $12
Seniors (Ages 60+)
Admission: $10
Purchase Tickets
If you wish to tour the site, please call to confirm guided tour availability before purchasing tickets online. Timed, indoor tours are available Wednesday through Sunday at 10 a.m., 12 p.m., 2 p.m. and 4 p.m.
Specialty tours such as "Restoration" or "Servants Tour" need to be booked in advance by calling the site at 812.944.9600.
Paranormal equipment of any kind is not permitted on tours.
Walk up tour tickets are subject to availability. Purchasing online or by calling the site is recommended to ensure tour registration especially when visiting on a free day or when schools are in session.
Purchase Tickets
Operating Hours
Wednesday: 10 a.m. – 5 p.m.
Thursday: 10 a.m. – 5 p.m.
Friday: 10 a.m. – 5 p.m.
Saturday: 10 a.m. – 5 p.m.
Sunday: 10 a.m. – 5 p.m.
Monday: Closed
Tuesday: Closed
Holidays
Easter – Closed
Memorial Day – Open for preregistered tours only
Labor Day – Open for preregistered tours only
Thanksgiving – Closed
Christmas Eve – Closed
Christmas Day – Closed
Free Days
Martin Luther King Jr. Day
Presidents' Day
Juneteenth Celebration (June 15)

It's 150+ years old, but new to you!
With its hand-painted ceilings, carved staircase, marble fireplaces and elaborate plasterwork, the Culbertson Mansion reflects the affluence of a man once considered to be the wealthiest in Indiana. In 1867, William S. Culbertson spent roughly $120,000 (or more than $2,000,000 in today's economy) to build his grand home in New Albany.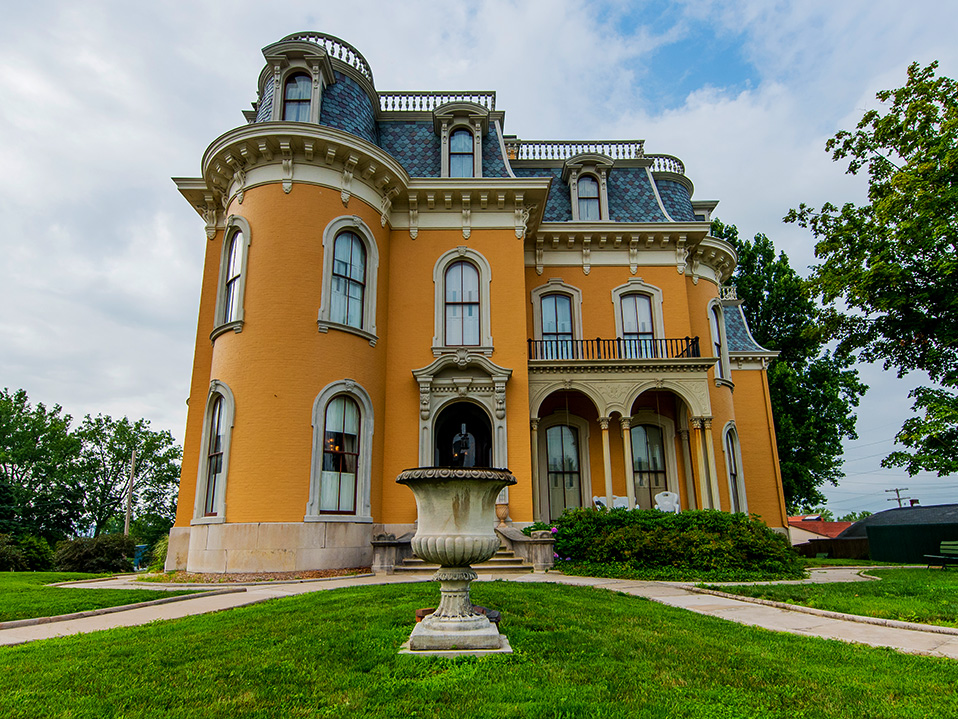 An Architectural Gem
The three-story, Second Empire mansion encompasses more than 20,000 square feet and contains 25 rooms. The facade, east elevation and west elevation all feature semi-circular bays, allowing plenty of light into the rooms. Built by brothers William and James Banes, it was one of the most striking homes on Main Street.
Wall-to-wall wow!
No expense was spared in decorating the interior of the home. The family hired artists to paint the designs on the walls, ceilings and cornices of the first and second floors. Artists used the technique of trompe l'oiel in several rooms to mimic paneling, molding or other textured surfaces. Special tools were used to create the look of wood graining. Many of the floors were hand-painted with this "faux bois" graining. Other rooms were covered with wall-to-wall carpets.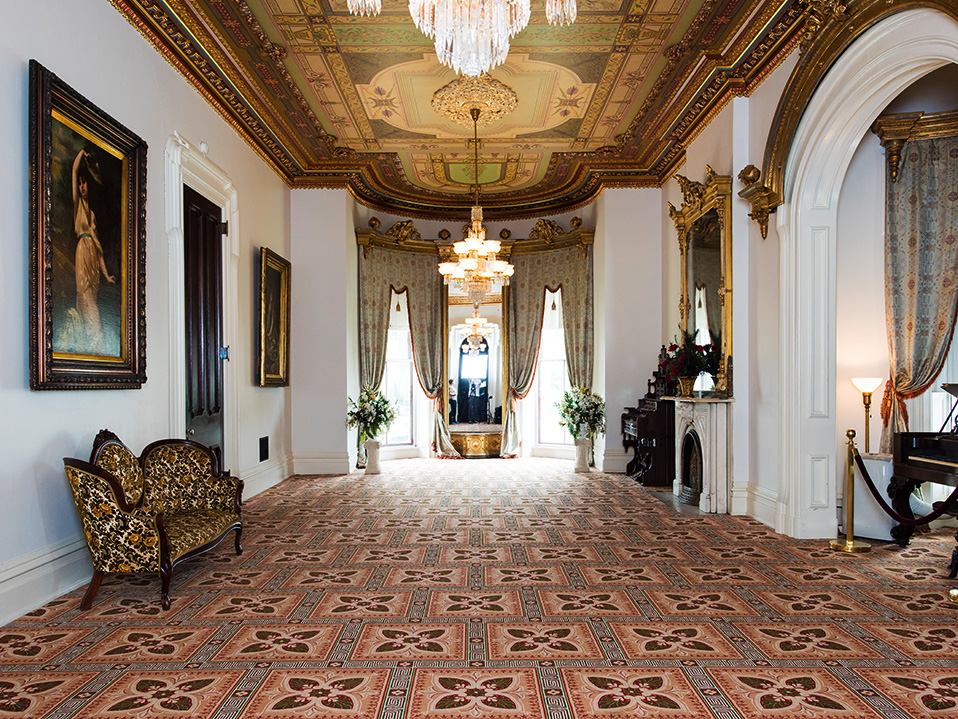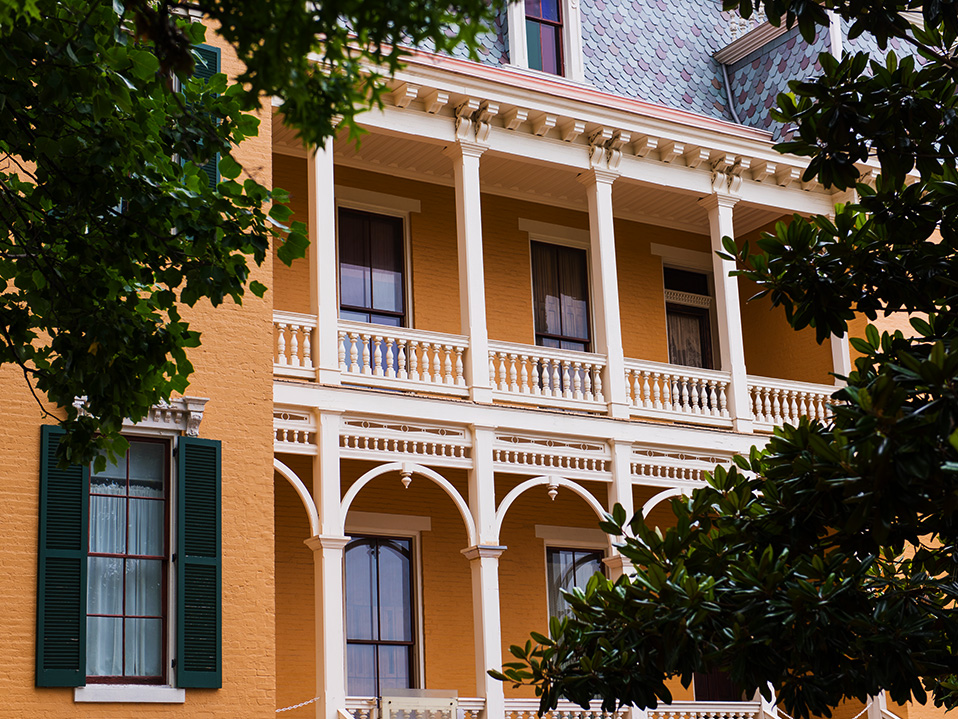 A slice of victorian life
In 1964, Historic New Albany purchased the home, and it was accepted as a state historic site in 1976. The Culbertson Mansion represents the lifestyles of the Victorian fortune-makers, as well as the lifestyles of the servant staff.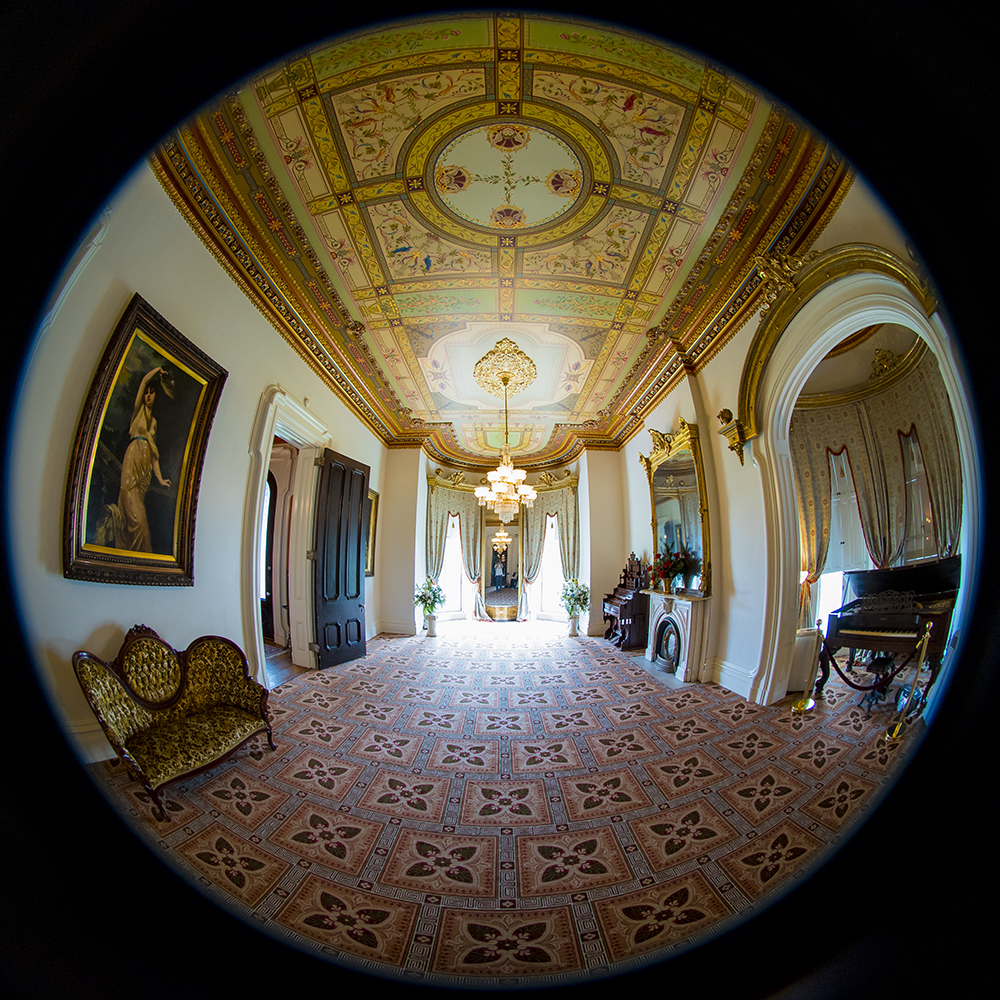 BOOK YOUR FIELD TRIP
Help bring history, science, art and education to life for your students with a one-of-a-kind field trip experience. All state historic sites support Indiana Academic Standards, and feature a variety of academic topics. Call 812.944.9600 to schedule your visit to Culbertson Mansion.
Learn more
Download educator guide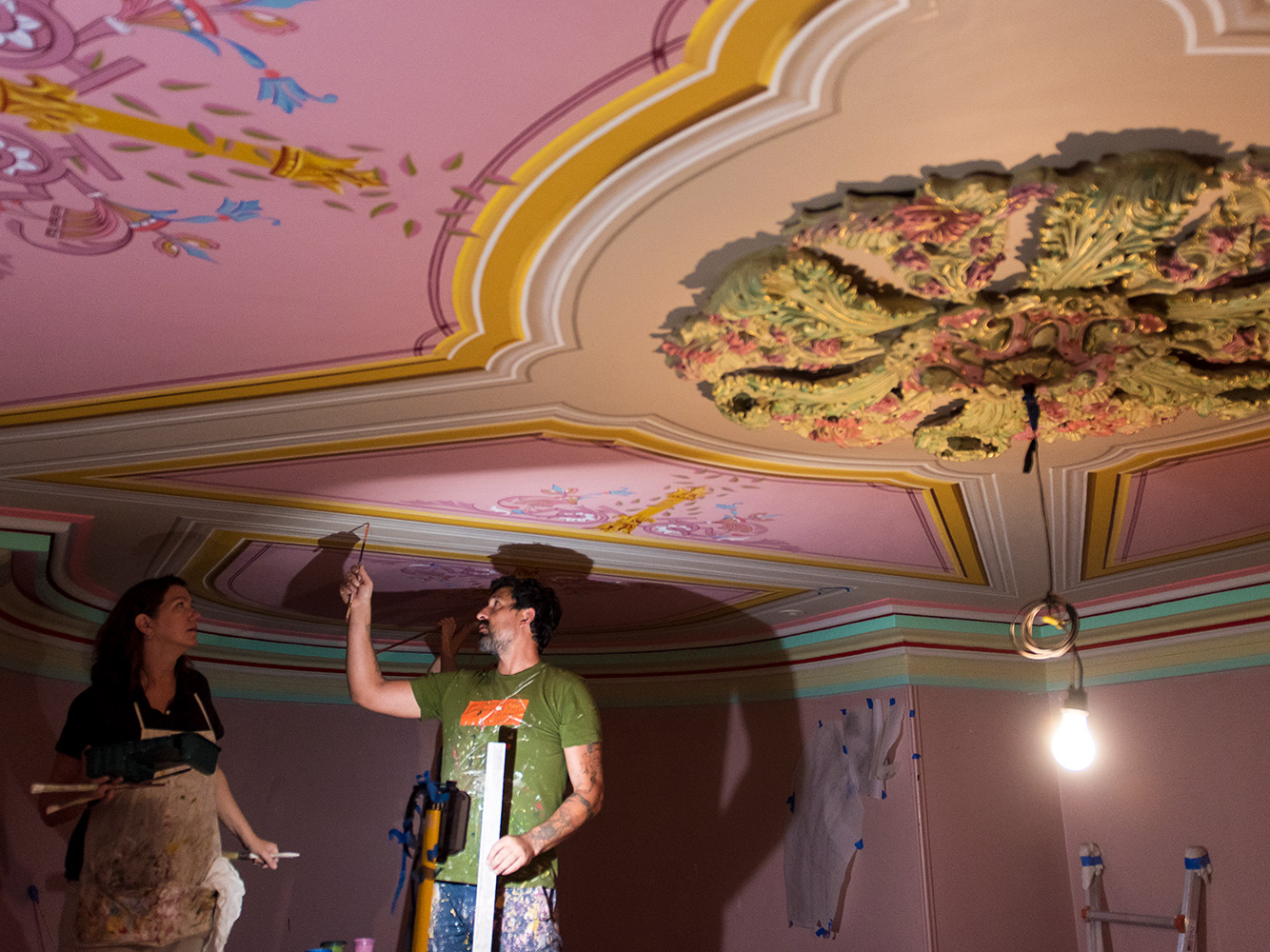 THE RESTORATION OF THE MANSION
The Culbertson family sold the house and its furnishings in 1899. Over the following decades, the passage of time and changes in ownership left their mark on the mansion. When the State of Indiana took ownership of the house in 1976, much of it would have been unrecognizable to the family. The state started exterior renovations in 1980, and shortly afterward, the staff and the Friends of Culbertson Mansion began work to restore the original interior.
An artist's touch
Restoration requires careful analysis of the remaining materials so that the artists and craftspeople involved can recreate the originals as accurately as possible. Textiles such as carpeting and window coverings are chosen for their appropriateness to the time period. In some cases, historic photographs are invaluable, as in the rebuilding of the first floor veranda and the recreation of the etched-glass panel in the front door.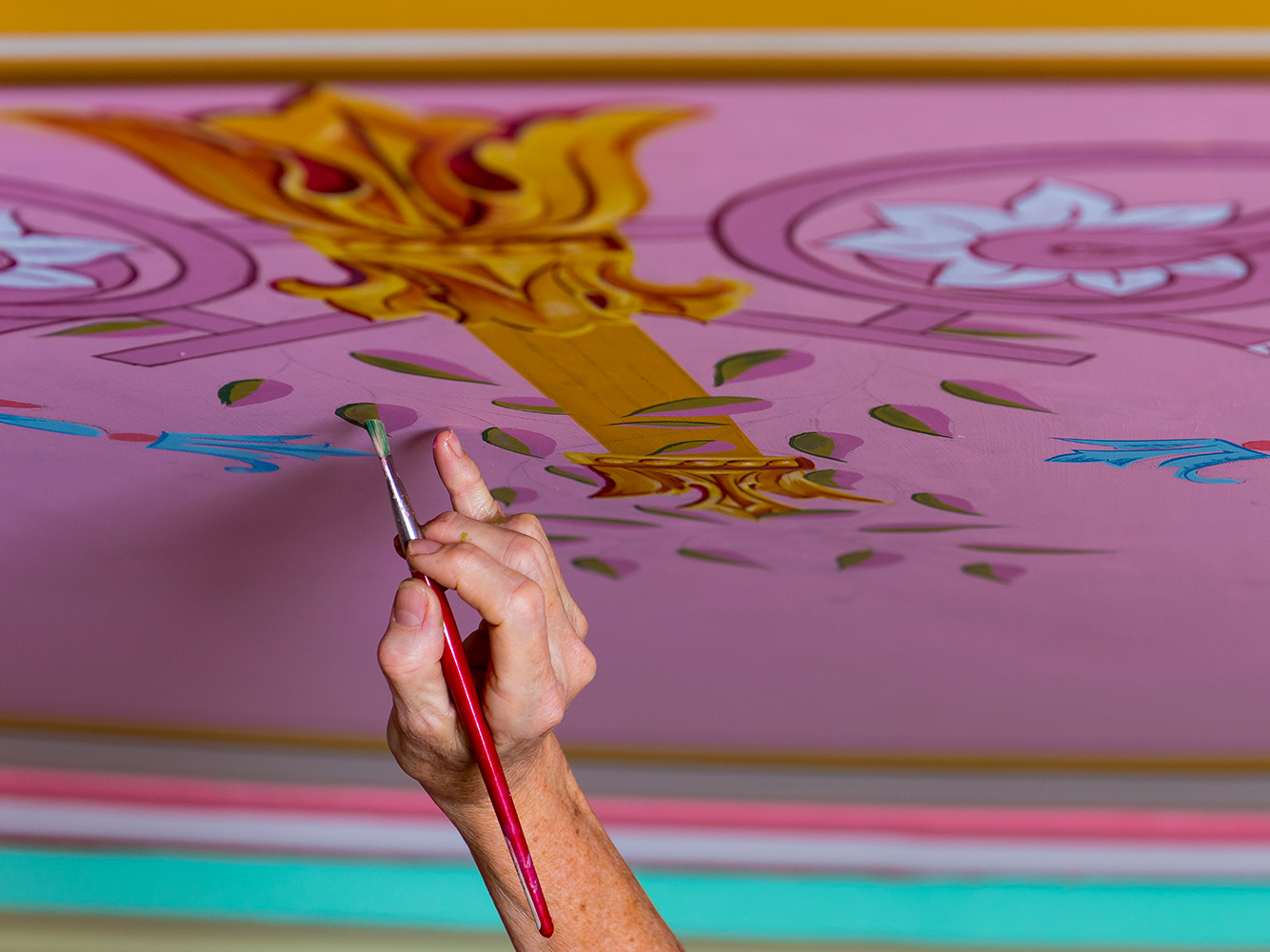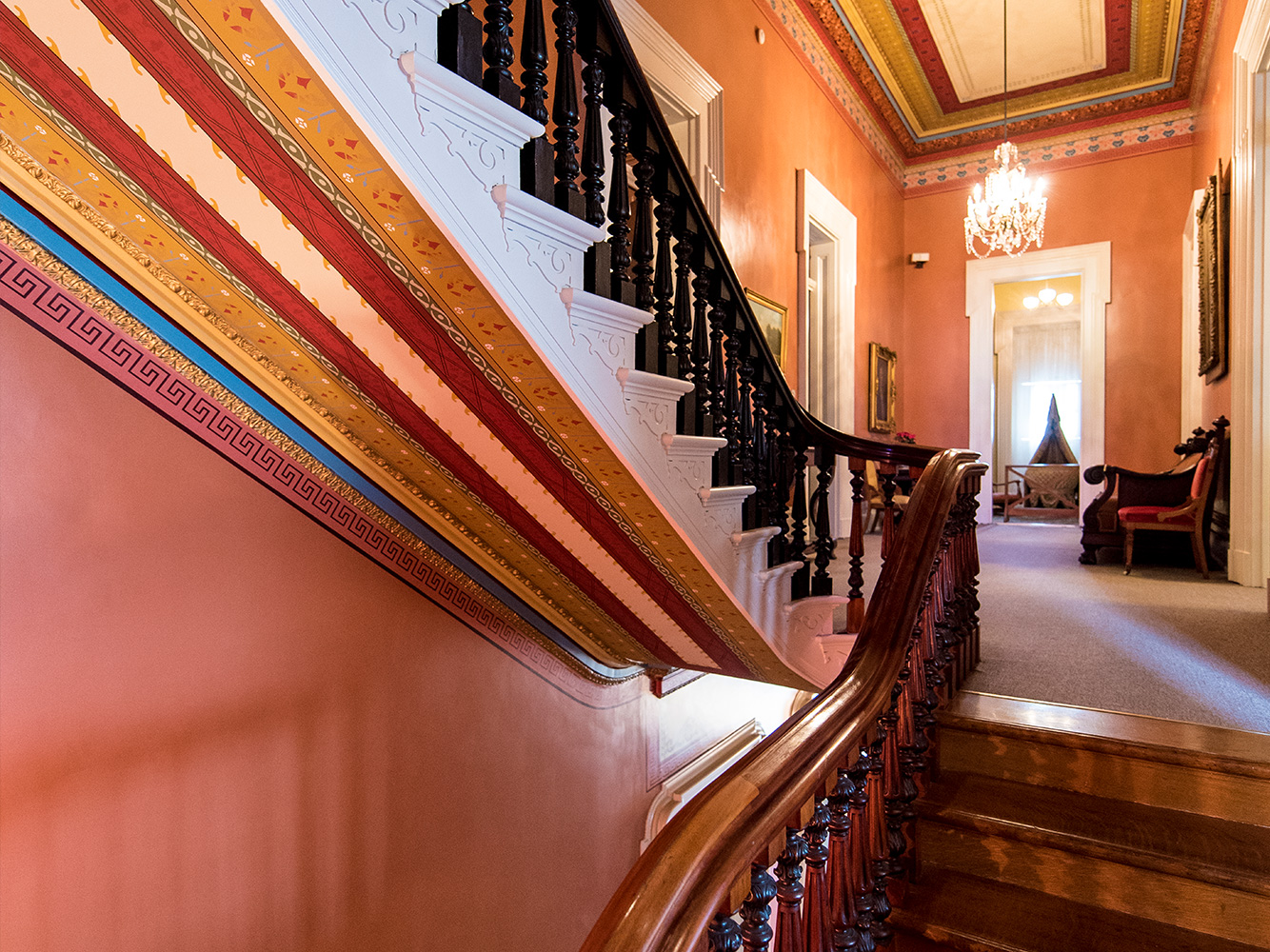 Our members appreciate the details
From special programming to guided tours, our members are always discovering something new about this 25-room, 20,000-square-foot mansion. What will you see today?
explore our membership plans
914 E. Main St., New Albany, IN 47150
Visit Today
Guided tours begin at the front door of the mansion, which is located on the corner or East Main and East 10th streets. Just ring the bell and wait for a guide to assist you.
Parking is available on Main Street and 10th Street. ADA compliant parking is available in the circular driveway behind the mansion; please call if you need to use the lift or if you need additional assistance.
Love exploring historic sites and buildings?