Published April 17, 2020
Adults Night In: Memory Box
Just because you can't leave the house right now doesn't mean you have to spend all your free time watching yet another movie at the end of the day. In this blog, you'll find tips and suggestions on how you can reflect on your personal journey through the COVID-19 pandemic. For instance, create a memory box for a time in the future when you want to remember how life was so different – whether it's for you and your family to simply reflect and share memories later, or for your grandchild's future school report.
By Marcy Dodson, Indiana State Museum and Historic Sites adult engagement and program manager
Tonight I'll share several items from a memory box that I'm creating to remember this time in history. Feel free to take some inspiration from these suggestions or pull from ideas at the bottom of this blog.
We understand that everyone will have a different individual journey during this global experience. I want to recognize the hardships that many Hoosiers are facing and acknowledge that everyone will have unique feelings during this time.
In sharing the items I am placing in our memory box, know that these items aren't intended to represent a collective experience or the hardships that many of our friends and neighbors are currently facing. These are items that have simply given my family joy during these past few weeks – in a time when joy can feel scarce. Some also are moments that simply gave me pause because of their strangeness.
Now, read below to learn how you can create your own memory box, and find some inspiration for what to put inside.
STEP 1:
Find a box! You can always decorate it, or plan to buy a different box to store items once your favorite store is open for business again.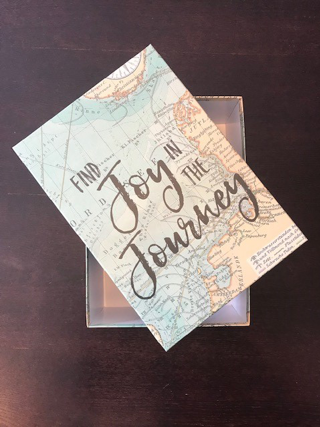 I chose this box because my husband and I were supposed to be on vacation at the end of March. I thought it would be nice to reuse the box I had been planning to hold all of our tickets and mementos.
STEP 2:
Gather some items to put in your box.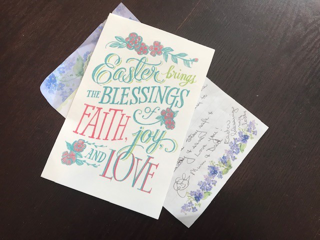 This is a card and letter my mother-in-law sent us when she mailed some masks that she had sewn at home. Once we don't need the masks, I'll be sure to add those to the box too.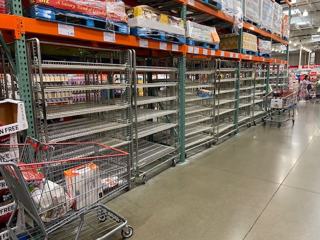 Here's a picture of the empty bread shelves we saw during our normal biweekly grocery run. Luckily, we had some bread in the freezer at home. I would begin working from home the following week.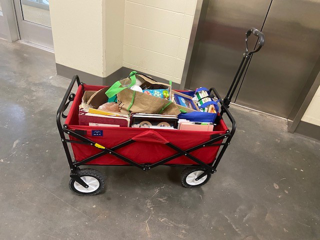 I packed up as much of my paperwork and work equipment that I thought I would need to begin working from home. My red wagon is usually what we use for program supplies at work, and it was strange to have it full of my research, notes and technology.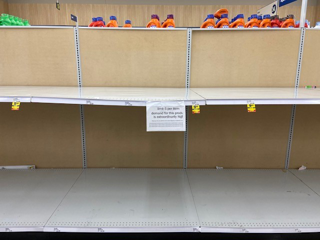 Last trip to a store for at least two weeks on March 16. It was strange to see the empty shelves and supplies.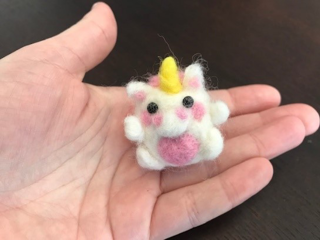 I decided to try some art projects to take a break from staring at my computer, TV and phone screens all day. This is the first needle-felting project I've ever attempted!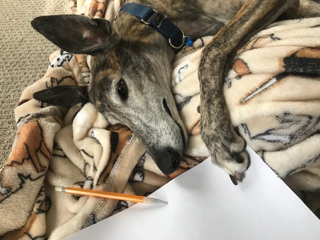 I am going to trace a print of our dog's paw to add to the box. My dog has been loving all the extra time with his people. Since we've been social distancing, we were able to be home on his adoption anniversary which was a fun day to celebrate.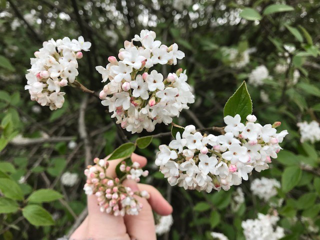 This is a flower from next to my house. Having the spring flowers bloom during this time keeps me in a happy and positive mood.
I'll be filling out the below one-pager to add to my memory box to remember some more details. You can also print this out to add to your box.
In case a memory box isn't your thing, here are a few general suggestions on how to start collecting items to remember the specifics on what you are experiencing. You can save these items in a scrapbook or any other way you like.
1. Keep a journal or diary. Recording your daily observations, feelings and thoughts can help capture the atmosphere of a specific moment and can be illuminating to see how things shift or change in your household or community.
2. Photos. Save any photos you are taking during this time in a special album or folder in your digital files. Once you are able to make an order or print them out, write the dates on the back of the photos so you (and anyone looking at them later) knows when they were taken. Don't like to print photos? No worries! Save to a flash drive or the cloud in a special folder.
3. Newspaper clippings. Save the front page of the daily paper or articles that you connect with if you still receive a hard copy. You can also print out articles if you read online publications.
4. Artwork. Save the artwork members of your household have created. Write a note and the date on the back to reflect on when and/or why it was created.
5. Receipts. Save any unique receipts or bills that you may be getting during this time, perhaps proof of the lowest price you've ever paid for a tank of gas or your grocery trip receipt.
6. Things that bring you joy. Press a flower from your spring garden or add a card that a friend sent you.
Be sure to share with us what you saved or created by tagging #ISMathome on social media, if you choose to create your own box! Stay safe and healthy if you are home. And, thank you to all of the essential workers keeping us safe, cared for and fed.