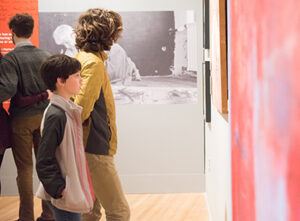 The Indiana State Museum is having an art show featuring abstract art.
This makes art experts excited – and can make art amateurs (like me) nervous.
In preparation for It's About Time: The Artwork of Felrath Hines, an art experience coming to the Indiana State Museum on June 22, I sat down with Mark Ruschman, the museum's senior curator of art and culture, and confessed: "I don't know how to look at art."
His jaw didn't drop to the floor, and he didn't shun me from his office. Instead, he shared a few insights that surprised me, helped me understand art, and actually made me excited to explore the upcoming experience. Read on to learn about some of the insights from our conversation.
First impressions aren't everything.
Some of the pieces you'll see in It's About Time appear very simple at first glance. But, look closer and you'll find the paintings are quite complex. There's the subtle shifts in color, irregular shapes that skew perspective, and thin white lines between the geometric shapes that give the work a sense of movement. You may not see this at first glance, but it's pretty cool to see evidence of this technique in person.
It's ok to be intimidated by art.
Don't know a lot about art? You're not alone. Many artists take classes to learn about art techniques, history and appreciation. Understanding art isn't always a natural instinct. That's why art exhibits are more than just artwork hanging on walls.
For example, in It's About Time, you'll see the artwork and read labels to learn more about the art, but you'll also participate in activities that help you digest the experience. You can use Hines' color palette to play with color yourself, listen to a guide talk you through one of Hines' paintings, and play a game where you create a geometric art design for a friend to recreate.
Reputation plays a role in art.
The reputation of an artist really makes an impact on the popularity of the artwork. Take Leonardo da Vinci's Mona Lisa. At surface level, it's just a painting of a lady sitting with a slight smile; yet millions of people come see it every day because of the reputation of the piece and the artist who created it.
In the art world, the prominence of Hines' work comes from his reputation as a civil rights activist and an art conservator. He gained notoriety from his participation in the Spiral Group, a group of 16 African American artists who met in Harlem to discuss their shared struggle for civil rights. It also comes from his work as a conservator, including as the first African American conservator for the Smithsonian, and for his friend and noted artist Georgia O'Keeffe. Hines really knew how to take care of art and make sure it lasted for a long time. This story and reputation is more intriguing than the aesthetics of the artwork itself for some people.
There is no right way to take in an art experience.
You don't have to look at every piece, and you don't have to read every panel. To enjoy an art experience, look at the art that catches your eye, and learn more about the ones that really move you. You just be you.
If you like more structure, try these tips for diving deeper into It's About Time:
Compare how the artist's work changed over time.
Learn about how the artist created his work, then look at each piece with this new behind-the scenes information.
Investigate how the art is grouped or presented. In chronological order? By technique?
Ask yourself, "Do I like this piece? Why or why not?"

If you find yourself inspired to explore art in-person, visit It's About Time: The Artwork of Felrath Hines at the Indiana State Museum beginning June 22. In addition to seeing Hines artwork and learning his story, you can listen to jazz music to get into Hines' creative mindset, read poetry written especially for the show and enjoy interactive stations.