Published August 15, 2023
An Evening with TrailblazersAn Evening with Trailblazers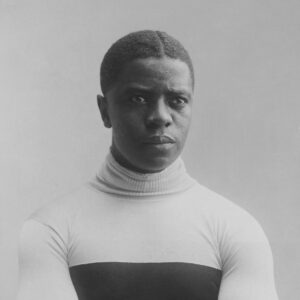 Guests can learn what it takes to persevere, and give back to others, from Navy Seal Kenny Bigbee Jr. and Pacers legend Darnell Hillman in a new lecture event honoring the enduring legacy of Marshall "Major" Taylor (1878-1932).
Join the Major Taylor Coalition and Momentum Indy for "Trailblazers: An Evening of Athletic Inspiration — The Anthony J. Bridgeman Lecture on Sports and Society," as noted athletes and leaders reveal how they overcame hardship and inspired others to do the same. The inaugural event takes place at 7 p.m. Thursday, Aug. 24, at the Indiana State Museum auditorium (650 W Washington St, Indianapolis). It features the stories of Bigbee and Hillman in their own words and a special presentation by Indiana State Museum and Historic Sites Curator of Social History Kisha Tandy on Major Taylor's cherished role as a father. The event is free. Seating is limited — simply e-mail [email protected] with the number in your party to reserve your spot.
This event showcases the diversity of Indiana's sports history, particularly those whose accomplishments help pave the way for others to succeed.
"I was a pioneer, and therefore had to blaze my own trail," Taylor wrote.
This quote appears on the downtown Indianapolis mural of the Indianapolis native and 1899 world cycling champion. In his autobiography, Taylor especially sought to encourage young black athletes who followed him.
The new Trailblazers lecture is a tribute to the life of Anthony J. Bridgeman (April 5, 1972-April 6, 2023), an Indianapolis community leader and sports-history aficionado. Bridgeman was chair of the Momentum Indy cycling festival and a founding member of the Major Taylor Coalition responsible for the downtown Indy mural of Taylor. Anthony passed away on April 6 at the age of 51. Like Taylor, Bridgeman cherished his role as father. "Trailblazers" was organized by the Major Taylor Coalition of Indianapolis, which was the driving force behind the downtown mural of Taylor.
Meet the panelists
Kenny was born in Indianapolis. He holds a special place in history as the 32nd African American to become a Navy SEAL. Kenny received the Unsung Hero Award from Ford Motor Company from Kevin Frazier, host of the hit TV show Entertainment Tonight, in recognition of his unique and challenging story of becoming a Navy SEAL and his personal and community accomplishments. He was featured in the Amazon and Barnes and Noble most read book "Can't Hurt Me" by his good friend and Former Navy SEAL teammate David Goggin's for their amazing experiences in achievement despite formidable challenges before and during SEAL training. Since the age of 4 years old, he has become an expert martial artist and owns his own martial arts school and affiliations. He has travelled and taught martial arts at some of the most respected academies and teams all over the world. Such as: Nitrix academies in Brazil, Brazilian Top Team and other schools in Phuket, Bangkok, Khao Lak Thailand, and in Split Croatia. He has traveled and taught martial arts at some of the most respected academies and teams worldwide. Kenneth holds black belts in several martial arts and combative systems.

Darnell Hillman is a true Indiana sports legend nicknamed Dr. Dunk for his acrobatic dunks in the 1970s. A towering figure at 6-foot-9, Darnell Hillman excelled as a center and power forward with a flair for high-flying dunks and tough defense in a career with the Indiana Pacers, New Jersey Nets, Denver Nuggets, and Golden State Warriors. His accolades include winning the 1972 and 1973 ABA titles with the Pacers. He also won the 1977 NBA Slam-Dunk contest and, in 1997, received the Best Afro award at the ABA players union. After playing, Hillman remained active as the Pacers Director of Camps and Clinics and Alumni Relations. He was primarily known for mentoring youth at his basketball camps and interacting with fans during Pacer games. Hillman, who cleared around 7 feet in the high jump as a track athlete at San Jose State, remains trim, not far off his playing weight.

Kisha Tandy is the curator of social history for the Indiana State Museum and Historic Sites. Tandy will discuss Major Taylor's role as a father to his only child, Rita Sydney. Tandy oversees the museum's Major Taylor collection and assists historians and biographers in researching the cycling champion's life. She also served on the Major Taylor Coalition of Indianapolis.