Published February 26, 2019
Behind-the-scenes: Showcasing historic clothing in Color of Style
By Renee Bruck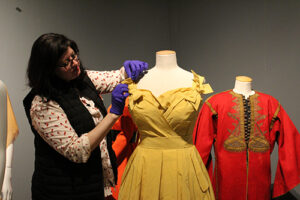 When Color of Style opens March 16, more than 50 outfits from the museum's historic clothing and costume collection will be on display by color for visitors to see.
You'll find pieces by Indiana designers Bill Blass and Stephen Sprouse, as well as pieces worn by the Jackson 5 and artist Julia Graydon Sharp – and even a dress from 1760s England!
But what goes into making sure items that are hundreds of years old are display ready? We're giving you a behind-the-scenes look of what happens before the show opens.
1. Identifying the piece
It all starts with identifying certain pieces from the historic clothing and costume collection, which contains thousands of pieces of clothing including undergarments, shoes and other personal adornments. Museum staffers work to identify which pieces best fit the show and gather them from the collection.
2. Evaluating the clothing
After identifying the pieces, each piece is evaluated for condition. Meghan Smith, Indiana State Museum and Historic Sites conservation lab manager, said some pieces may need to be vacuumed while others may need repair to weak areas in the fabric through hand sewing. The clothing is then measured at key points, like the waist, bust, hips, torso and legs.
3. Finding the right mannequin
After taking measurements, it's time to find the right mannequin for display. Not every mannequin is the same, so it's important to know about the period the clothing came from and have similar measurements for both the clothing and the mannequin. Styles from the 1800s vary from the clothing of today.
"You have to look closely at the body you want to present," Smith said.
4. Dressing the mannequin
Smith said the process of dressing a mannequin can take anywhere from a few hours to the better part of a day. Some mannequins need foam batting added to help the piece appear as it did when worn by someone.
"It's never just putting clothes on a mannequin," she said. "The clothing tells you what (the person) looked like. A mannequin is never going to be exactly right."
5. Displaying the pieces in Color of Style
Finally, the pieces are ready for the public – and put on display in their final location within the experience!
Be sure to check out all of the pieces when the Color of Style opens March 16. Feel samples of the fabrics in the clothing on display, and learn about some of the pieces from the designers or wearers themselves during your visit to the Color of Style.
After checking out pieces from the collection, step into the Style Studio to design your own fashions through sketching. Or try to dress a mannequin yourself during your visit – maybe even using the tips above.
Get ready for the opening day of the experience by learning more about Color of Style.