Published May 2, 2019
Big news: Mastodon bones accepted into Indiana State Museum collection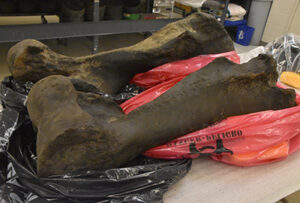 In April, staff members at the Indiana State Museum and Historic Sites received a call from a family that said some bones had been discovered in Seymour, Indiana, during work for a sewer project. They wondered, could one of our curators come take a look?
Ron Richards, senior research curator of paleobiology, happily headed down south, and he would soon discover that the bones belonged to a mastodon – a now-extinct mammal that lived in Indiana during the Ice Age. They were of fairly high-quality, too – a somewhat unusual find for southern Indiana, due to the nature of the soil in that region.
As of this week, the bones – including two limb bones as well as parts of a skull and tusk – will be joining the Indiana State Museum's permanent collection.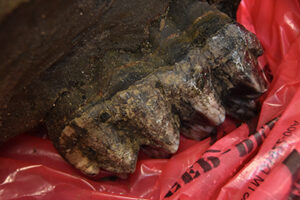 Ice Age paleontology is one of the specialties of the Indiana State Museum, and the museum has more mastodons and mammoths from different locations than any other museum in the Midwest. That's a good thing, because the more bones we have from a variety of locations and time periods, the better picture we can paint of what life for these animals may have been like, as well as the conditions in Indiana during that time.
Over the course of the next year or so, the bones will go through various processes for research and preservation purposes. Through this research, the museum's curatorial staff hope to learn more specifics about the bones themselves, as well as Ice Age Indiana in general.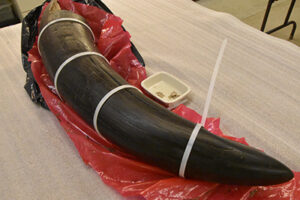 So far, we believe the bones belonged to a male who likely stood between 9 and 9 ½ feet tall. The mastodon – dubbed "Alfred" by the family who discovered him – likely died between 10,000 and 13,000 years ago. Soon, we hope to know much more.
You can follow along with the process over the course of the upcoming year, as we'll post updates on our blog and social media.
We can't wait to see what new information the museum's curators might be able to dig up.