Published February 8, 2019
Black History Month: Four noteworthy African American Hoosiers
By Renee Bruck
Black History Month, which has been observed annually since 1926, honors the contributions of African Americans throughout history. This February, we're taking a look at four African American Hoosiers who helped to shape Indiana's past and present in hopes of a better future for everyone.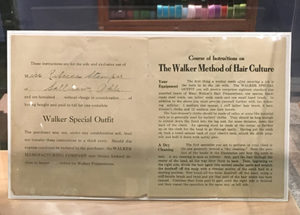 Madam C.J. Walker: 1867-1919
Madam C.J. Walker, born Sarah Breedlove on a Louisiana cotton plantation to sharecroppers in 1867, was one of the first American women ever to become a self-made millionaire after creating her own specialized hair products for African American hair.
Walker traveled around the country promoting her business and giving demonstrations on the "Walker Method" before opening the Madam C.J. Walker Manufacturing Company – a factory and beauty school in Pittsburgh – in 1908. Walker moved her business operations to Indianapolis in 1910, where she continued to make her brand of cosmetics, some which we have in our collection, and trained "Walker Agents" in her hair care methods.
She was also known for her philanthropic efforts and donated the largest amount of money by an African American toward the construction of an Indianapolis YMCA. The Senate Avenue location opened in 1913.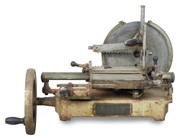 Ezell Frank Marrs, Sr.: 1901-1973
Ezell Frank Marrs, Sr. became a prosperous grocery store owner, businessman and pastor in Indianapolis despite only having obtained a limited education.
Born in 1901 in Arkansas, Marrs later moved to Indianapolis where he owned and operated Marrs Grocery Store, which opened in the 1940s at 1047 N. West St. This meat cutter – which is a LaPorte-made US Slicing Machine Co. unit – belonged to Marrs and was used for his business throughout the years. The store closed before 1965.
Marrs also owned several properties throughout the city that he used for rental income, and he was active in the city's politics – even running for precinct committeeperson at one point. He was serving as the associate pastor of Mount Paran Baptist Church at the time of his death in 1973.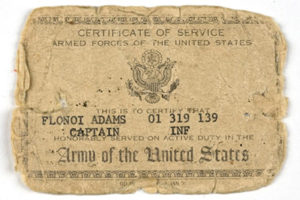 Captain Flonoi Adams: 1913-1994
Indianapolis native Flonoi Adams served in the Army, where he was a captain in the 21st Infantry Division and received 14 honors for his distinguished military service.
Adams graduated from Crispus Attucks High School in 1930 and later attended Purdue University. His military service began in 1943 when he was commissioned as a second lieutenant. He served in the Asia-Pacific Theater, including the Philippines, New Guinea, Japan, Korea and the Solomon Islands, during World War II. Adams received the Bronze Star Medal with an oak-leaf cluster for "meritorious achievement in support of military operations against the enemy at Zamboanga, Philippine Islands" in 1945.
This certificate of service card in our collection recognizes that he "honorably served on active duty in the Army of the United States."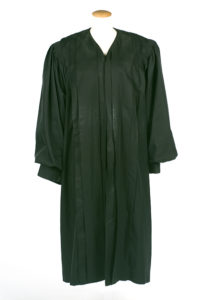 Judge Zilthia Jimison: 1943-2008
Judge Zilthia Mae Perkins Jimison became the first African American female judge on the Marion Superior Court after being appointed by Republican Gov. Robert D. Orr in 1988.
Jimison, a graduate from Shortridge High School in 1963, received a bachelor's and master's degree from Indiana State University before earning her jurist doctorate degree from the College of Law at Ohio State University in 1977. Then, she returned to Indiana to begin her law career in private practice. She went on to serve as a public defender and later served on the City-County Council from 1992 to 1995.
Jimison continued to break through the glass ceiling by becoming the first African American to win a mayoral primary as a Democrat in Indianapolis. Although her 1995 bid was unsuccessful, she ran and was elected superior court judge in 1996. Jimison wore this judicial robe throughout her term on the bench, during which she established and presided over Marion County's Drug Treatment Court.
———
Discover more stories in Legacy Theater at the Indiana State Museum during Black History Month – and all year long. This space provides a diverse cultural experience of African American heritage in Indiana through images, oral stories and historical text. Plan your visit or learn more at www.indianamuseum.org.