Published October 26, 2021
Collecting During COVID
Twenty-five, 50 – maybe 100 – years from now, museums will be developing exhibits that recall what life was like during the COVID-19 pandemic.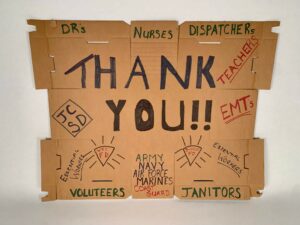 Today's curators are already preparing for that day.
At the Indiana State Museum and Historic Sites, Curator of Cultural History Katherine Gould started months ago collecting items that tell the stories of wearing masks, sheltering in place, working from home, distance learning, quarantining, social distancing and other effects of the pandemic.
"I am collecting so that when they do that retrospective in years to come, the people who have my job aren't cursing my name for not collecting," she said. "That is my motivator."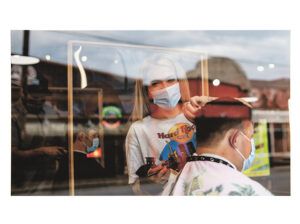 Gould smiled when she said that, but she was serious too because almost no one collected items during the 1918 flu pandemic and "when the centennial came around, you didn't see many exhibits because nobody had artifacts."
"There are very few masks out there in public collections," she said. "There are two that I'm aware of. There are archives of material from the state health department, but there's no public, three-dimensional object collection. So this is an opportunity to not repeat that."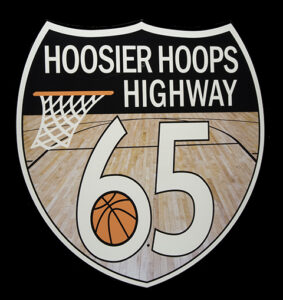 So far, in her effort to "build a smart collection," Gould has compiled an array that includes: a ticket from the rescheduled Indianapolis 500 race; an at-home math guide for teachers; hand sanitizer from Hotel Whiskey Tango, an Indianapolis business that shifted for a time from making drinking alcohol to antiseptic alcohol; gloves, a gown, a surgical face mask and face shield from a local nurse; photos from Pulitzer Prize winner Bill Foley that convey what the pandemic looked like.
She has masks, March Madness highway signs donated by the Indiana Department of Transportation, homemade signs from Johnson County that thank essential workers and first responders, a banner that hung in New Harmony, Indiana, that reads "New Harmony Strongly Recommends Masks, Thank You" and stickers from the campaign to get people vaccinated.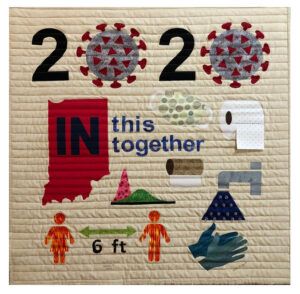 The most unique item so far was donated by a retired chemist from Kokomo – a 34"x34" quilt that depicts images from the pandemic such as flattening the curve, the toilet-paper shortage, hand washing and other symbols.
Gould's aim is to find more items that tell the various stories we're living through now so that future visitors will understand what happened.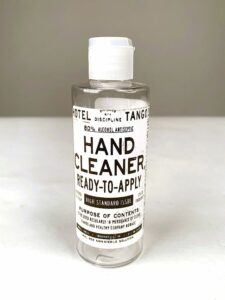 "We don't usually collect during historical events," she said. "We're usually collecting after the fact so we have that benefit of perspective – knowing what the stories are and what the objects are that would be great to tell those stories. So this is kind of new for everyone. But immediately, you start thinking: How can you document it? What are the stories that are bubbling up from the surface?"
And even when the pandemic finally ends, she will continue to collect.
"I'll be doing this for years," she said. "I still collect for World War I and World War II and we're 100 and 75 years beyond. This is going to be an ongoing thing. Hopefully people will be saving and reaching out with donations."