Published November 23, 2020
Culbertson Mansion work 'a labor of love' for longtime volunteer
Holly Crisler-Johnson quit the haunted house where she'd been a paid worker for six years and joined the Friends of Culbertson Mansion as a volunteer for their annual fright fest.
That was in 2001. Twenty years later, she's still volunteering at Culbertson, helping the Friends raise hundreds of thousands of dollars for upkeep and projects at the New Albany-based historic site.
"I tell our new people, 'You can go to work at another haunt and get paid, but there's a reason why people stick around here,'" she says. "'It's because we've got the nicest, friendliest environment. Everybody enjoys what they do. It's a labor of love. There's such a great group of people that I've come to know and they're great friends. So I would never want to leave that — not even for money."
Crisler-Johnson's role can be as an actor, a makeup artist, a talent coach — whatever is needed. Hannah Palmer, who heads the committee that plans and presents "the haunt," as it's known, says Crisler-Johnson seems to have an endless portfolio of characters and ideas. That includes the lovely demon Lucy, a crazed patient escaped from the insane asylum; a giant demonic goat with wings; a gargoyle on stilts; and a classic Victorian widow.
"Holly has and can do it all," Palmer says.
"She's truly a lifesaver in the haunted house. Her detailed painting in each room brings the scenes to life. She's done so many amazing transformations to our haunt, from eyeballs covering the walls to illusions that trick you at a glance. She is always blowing my mind!"
Devin Payne, the site manager for the Culbertson Mansion State Historic Site, which is part of the Indiana State Museum and Historic Sites 12-location museum system, says Crisler-Johnson has "a flare for fashion and is an incredible makeup artist. She often does really cool fantasy/creepy looks. She always has fun ideas for the friends to undertake. And she loves the mansion!"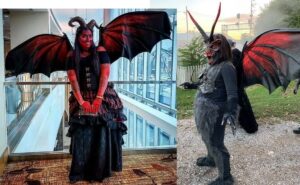 Over the years, Crisler-Johnson has expanded her volunteer role to include the murder mysteries and Clue parties the Friends group puts on at Culbertson. The murder mysteries typically center around an event — a Culbertson family funeral, Christmas or party — where somebody gets murdered and it's up to the guests to figure out whodunit.
At the Clue parties, based on the board game of the same name, guests are encouraged to dress as characters or weapons. People have shown up as the rope or the knife or the pistol. Volunteers dress as the Clue characters — Mrs. Peacock, Mr. Green, Col. Mustard — and lead guests on a scavenger hunt through the mansion.
The murder mysteries and Clue parties are currently on hold because of COVID-19 restrictions, but the Friends group couldn't let Halloween 2020 go uncelebrated. They came up with Macabre at the Mansion, a guided tour of the mansion that focused on the weird, morbid and bizarre habits and entertainments of the Victorians such as post-mortem photography, quack medicine and unusual fashion.
Crisler-Johnson took on a main speaking role in the mansion tour. She wrote out the cards for the guides and performed them herself as a guide, too.
"People told us, 'We're so glad you did this because we've been coming to your haunt every year and we're so thankful you did something,'" she said.
The event raised $12,000 — a little more than half of what the annual haunted house brings in.
"But in the middle of a pandemic, that's remarkable," says Eric Todd, vice president of operations for the Indiana State Museum and Historic Sites. "The Friends of Culbertson Mansion do an exceptional job every year. We're so grateful for the energy and enthusiasm they bring during such a challenging time, and we benefit so much from having volunteers like Holly who love the site."
In her daily life, Crisler-Johnson is a graphic designer for a print company. She loves reading and history — another reason she likes hanging around the mansion.
"The Victorian era is one of my favorite times in history, and any time I can learn something new about that era or even about the Culbertson family themselves, I find that really enjoyable,' she says.
She also gets to spend a little extra time with her husband, Daniel Johnson, who has volunteered at the mansion as an actor and all-around helper for most of the last 20 years.
"It's a passion we're hooked on," she says. "And the mansion is just one of those jewels in the area that I think everyone should see. There's so much history and so much beauty, and the restoration continues to uncover some gorgeous elements of that house as far as art and architecture and artifacts."
Crisler-Johnson says she's particularly partial to the chandelier on the second floor. Right around the week of Christmas, when the sun is at its lowest point, the light comes through a window on the third floor and it hits that chandelier perfectly.
"And it's like a light show on the second floor," she says. "I see something new and learn something new every time I'm in the mansion. It's a never-ending learning odyssey for me."