By Kelsey Cook
Visitors to Culbertson Mansion State Historic Site learn all about the benevolent actions of William S. Culbertson – a man who used his wealth and influence to better the community.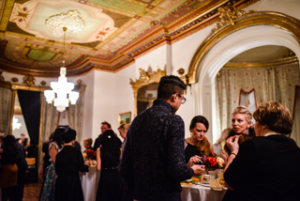 Though once considered to be Indiana's wealthiest man, it's his benevolence and care for his community that left the most lasting impression.
Philanthropy and charitable giving are both forms of benevolence, but being a benevolent person goes beyond that. As visitors to the site learn, it's not about asking for recognition or credit, and it's not just about helping those in need.
"Benevolence is not an action, it's a virtue," said Jessica Stavros, southeast regional director for the Indiana State Museum and Historic Sites. "Benevolence is civility, optimism, politeness, trust, and most of all, kindness."
Culbertson embodied these ideals in all that he gave to the community.
As president of the water company, his direction led to new infrastructure and a reservoir to combat the various water-borne diseases ravaging the city.
As president of the utility company, he believed all citizens should have light and heat at a reasonable price, so he subsidized the city's gas supply at 50%.
He even took time out of each day as president of the local bank to distribute meal tickets to the hungry.
Following the Civil War, he built a home for widows and supported all the home's operations, and he personally delivered the ladies' food and medicine. He did the same for New Albany's children through the Cornelia Memorial Orphanage, and the children there referred him to as "Pa."
"Each person that visits the Culbertson Mansion today learns about these benevolent endeavors as a means to encourage a more engaged citizenry and what it means to be a productive, active member of a community," Jessica said.
Each February around Culbertson's birthday, the site awards a Benevolence Award to outstanding members of the community who embody these important attributes.
"Designed to preserve the legacy of William Culbertson, recipients demonstrate a commitment to improving the quality of life for the city and its people through contributions of public service," Jessica said. "This recognition applauds the exemplary creative achievements toward social responsibility as seen through displays of leadership, partnership, innovation and dedication."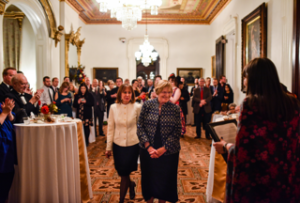 Earlier this month, Pam Peters and Sally Newkirk were recognized for their contributions to the community at a special event at the Culbertson Mansion.
Pam is a local historian, board member of Friends of the Town Clock Church, and author of "The Underground Railroad in Floyd County, Indiana." Through her work, the Town Clock Church received a designation in July 2017 as a National Network to Freedom site through the National Park Service.
Sally has been the director of the Carnegie Center for Art & History for 30 years, and she will be retiring this year.  She has highlighted African American history and heritage at the Carnegie Center, including the development of permanent exhibits on voices of the Underground Railroad.
Both women have helped advance the body of knowledge of New Albany history, and especially the city's African American history.
"New Albany has a rich and diverse past, and these women have shed light on a major portion of our history that helps all Hoosiers connect with the important of benevolence," Jessica said.
Their efforts, like those of William S. Culbertson, are ones that leave a lasting impact on the community.