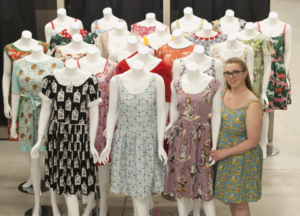 By Hannah Kiefer
Those who know Traci Cromwell – the Indiana State Museum and Historic Sites' Director of Collections – have likely noticed one thing: She's always wearing dresses or outfits you've never seen anywhere else.
As it turns out, that's because you haven't seen them anywhere before. In her spare time, Traci creates just about all of her own clothing – from vintage-style dresses to skirts with zany patterns.
Sewing didn't always come easily to Traci.
"I had taken Home Economics in middle school and hated sewing during those classes. For so many decades, I thought sewing wasn't for me," she said. "However, in my mid-40s I realized I could not find the styles of dresses I liked to wear. That issue led my husband to buy me a sewing machine."
Traci said she also hoped sewing could help her with her stress, and so she accepted the challenge and dove in headfirst, despite her misgivings from when she was younger. Within a matter of months, she'd fallen in love with the craft.
For her, sewing was definitely more of a learning process than natural talent.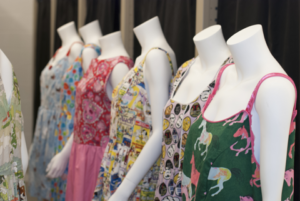 "I am not a natural at sewing," she said. "It's taken three years for me to get to where I am currently with still so much more to learn."
To help, Traci watches YouTube videos occasionally, but for the most part she is self-taught. Despite her unease about sewing, she wanted to be a fashion designer from a young age, and she thinks that contributes to how quickly she learned.
"I think the knowledge I got from looking at Vogue magazine growing up and really examining clothes I loved in detail helped me a great deal when I sat down to sew for myself," she said.
Traci's favorite items to sew are dresses in a style reminiscent of the 1950s or 60s. She chooses fun prints for fabrics that tend to include dogs, cats or other animals. Bright colors mixed with bold prints have become her style of choice.
One of her favorite pieces is the first dress she made. She didn't use a pattern – she just went for it.
"It's made of an awesome Star Wars fabric from SpoonFlower that I still adore," she said. "I made this dress to wear during the Star Wars exhibit here at the museum. Whenever I see it or wear it, the dress brings back so many fun, happy memories surrounding that experience."
Although currently Traci sews primarily for herself, she hopes in the future to try making dresses for other people who would enjoy them.
"I'm getting maxed out in my closet at home, so I probably need to either stop making dresses for myself – not going to happen – or sell or give away some I just don't wear anymore," she said.
As far as what Traci thinks other people considering sewing should know, she said much of the outcome starts with the machine you're using.
"Buy a good quality sewing machine," she said. "The difference is huge in what a good sewing machine can do for ease of getting good results."
Her final advice?
"Find something you like to wear or have in your home, and then make one for yourself," she said.