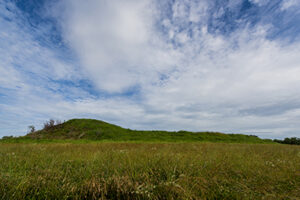 By Renee Bruck
Hundreds of years ago, thousands of Native Americans known as Mississippians called a thriving metropolis on the banks of the Ohio River home. But, the community had left by the time European explorers reached the area.
What was left behind in the ground were millions of artifacts buried in the Indiana dirt and more questions about the people who once lived there than answers. Yet it was the search for these answers that led to the birth of modern archaeology in the state – and, eventually, to Angel Mounds State Historic Site.
Thanks to a donation from Eli Lilly 80 years ago, the Indiana Historical Society purchased Angel Mounds – a working farm owned by the Angel family – in order to protect the site from development. What workers found during early excavations led to the location being considered one of the best examples of a thriving Mississippian town in North America, complete with massive monumental earthworks, public spaces, and a huge palisade that surrounded and protected the town's inhabitants.
Workers under the supervision of Glenn Black, Indiana's first full-time professional archaeologist and Angel Mounds' first director of excavation, recovered more than two million artifacts during the first three years of excavations. Some of those are on display for visitors to see today during their visit to Angel Mounds.
"This is where modern archaeology in Indiana started," Angel Mounds State Historic Site manager Mike Linderman said. "This is where Glenn Black got his start."
But Black did more than simply study the artifacts found at Angel Mounds. He continued to redefine archaeological field methodology in Indiana and expand the field of archaeology in the state by training Indiana University students in responsible archaeology techniques during field work each summer at the site.
A visit today to Angel Mounds allows visitors to explore the grounds where Mississippians built 11 earthen mounds and created a community that flourished between 1000 and 1450 AD.
"It's like pulling back the veil of time," Mike said of the site.
Angel Mounds was once a social, political, religious, and economic center for many villages and farmsteads along a 70-mile stretch of the Ohio River.
The site now includes recreations of Mississippian buildings and structures inside an interpretive center where visitors can learn more about the Mississippian culture. You can explore about 1.5 miles of trails at the property, which showcase Mound A (the tallest mound on the property) and Mound F (also called 'Temple Mound' as it served as an important religious site).
The site also highlights the archaeological study of the site from the 1930s to today. See Black's desk and personal photos from his years living and working at Angel Mounds. Learn about the tools Black used to discover artifacts and study the site, including a magnetometer and survey equipment. Plus, become an archaeologist yourself by finding hidden artifacts through hands-on interactives or reconstructing a pot from fragmented artifacts.
Find out more about the early Mississippian society that called Angel Mounds home and the artifacts that continue to help Hoosier archaeologists understand their community during your visit to Angel Mounds State Historic Site. The site is located in Evansville and is open year-round from 10 a.m. to 5 p.m., Tuesday through Sunday.
Follow along with the Indiana state Museum and Historic Sites on Facebook, Twitter and Instagram during the month of November as we highlight what else you can explore during your next trip to Angel Mounds State Historic Site.