Published March 19, 2020
Empowering through education: Madam C.J. Walker provided opportunities for others through company she built herself
Madam C.J. Walker wasn't born into wealth – far from it actually – but an entrepreneurial spirit led her to become one of the first American women ever to become a self-made millionaire.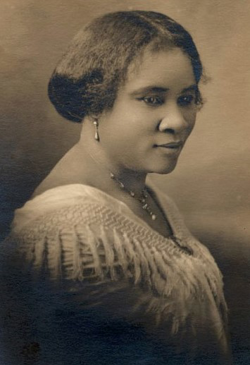 Yet, she wasn't afraid to share that success by providing others with educational opportunities, jobs and promoting talents of African American women during a time when those opportunities were limited.
Walker's early life was one of hardship. Born to sharecroppers as Sarah Breedlove on a Louisiana plantation, she was orphaned before she became a teenager, married to her first husband at age 14 and became a widow at age 20. After moving to St. Louis with her two-year-old daughter, she worked as a laundress while attending night school.
But Walker chose to turn a scalp ailment that resulted in her own hair loss into a success story. She initially experimented with store-bought hair care and home remedies before inventing her own line of hair products.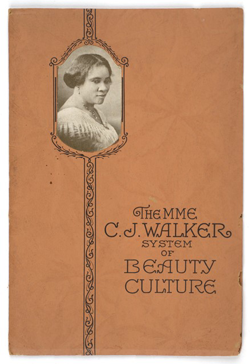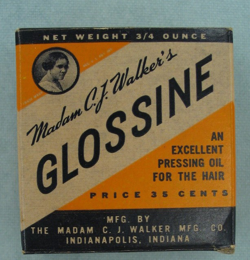 She first traveled the country promoting her products and demonstrating the "Walker method," which included scalp preparation and lotions. It didn't take long for others to take note of her products. Then, she began to employ other women to sell her products, which eventually included cosmetics.
In 1908, Walker opened a beauty school and factory in Pittsburgh, Pennsylvania. Just two years later, she moved her business headquarters and the "mother" beauty school to Indianapolis – a city known for having a thriving African American community and ready access to railroads, which helped her to distribute her products across the country.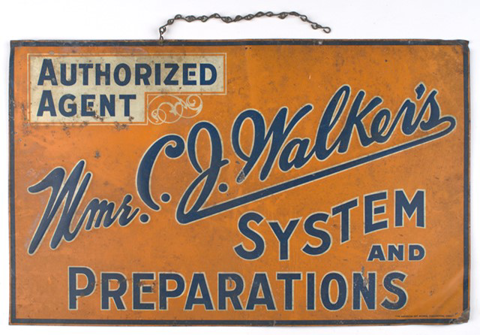 The Madam C.J. Walker Manufacturing Company employed thousands of people in various parts of the country, including women known as "Walker Agents" who sold products door-to-door. "Walker Agents" took classes that provided detailed information and instruction for cleaning, drying and pressing hair for African American women and about "how to succeed" in the world of beauty.
Walker advocated for preparation first in her company, making sure a Walker agent could deliver the goods before launching out into their communities. She also provided rectangular, metal signs – like this one in the Indiana State Museum and Historic Sites collection – for authorized agents of her system.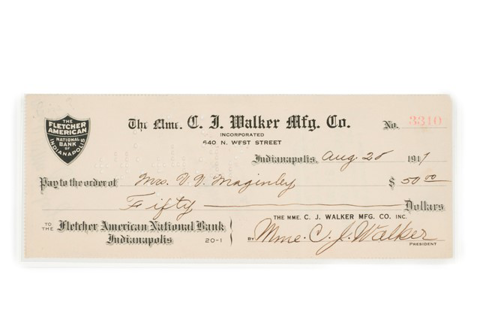 Walker also promoted female talent in her company – even during a time when opportunities for African American women were fairly limited – and encouraged her employees to give back to their communities through philanthropic efforts just as she did herself.
Find out more Madam C.J. Walker's life and Indianapolis-based manufacturing company in the Netflix' fictional limited series, "Self-Made: Inspired by the Life of Madam C.J. Walker," which is set to premiere March 20, 2020.
Item 1: Madam C.J. Walker; item 2: Madame C.J. Walker's Beauty Culture booklet; item 3: Container of Madame Walker's Glossine, made by the Madam C.J. Walker Manufacturing Co. in Indianapolis, Indiana; item 4: Metal sign for an authorized agent of Madame C.J. Walker; item 5: This check is signed by Madam C.J. Walker to a woman named Mr. V.V. Maginley for $50. It appears that "prize" had been written in the top right corner and erased. (Indiana State Museum and Historic Sites collection)