Published November 9, 2021
Every great ride needs a soundtrack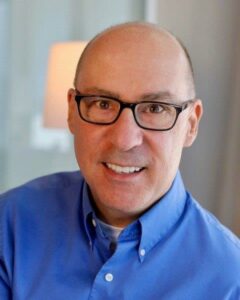 Every great ride needs a soundtrack. For the Indiana State Museum's new Snowfall Express train, that music has been written and performed by Fort Wayne-based composer/arranger Eric Van Cleave.
"I wanted to fulfill the vision of the creators of the ride," Van Cleave said. "They wanted to convey the anticipation of getting ready for winter, the grandeur of the snowfall and the excitement of the animals, and I think we've done that."
In writing and recording the music for the 4½-minute trip around the museum's third floor, Van Cleave came up with a mix that falls somewhere between a Disney ride and Vince Guaraldi, who wrote the memorable music for the Charlie Brown TV specials, along with hints of "Back Home Again in Indiana." It's lighthearted, chipper and joyful while also capturing the feeling of winter.
Brian Mancuso, the museum's chief officer of engagement, said that when the museum sought a composer/arranger for the project, it wanted someone who understood how music enhances rides. Van Cleave submitted a sample of Halloween music he wrote for Cedar Point amusement park in Ohio.
"Within three bars, we were saying, 'That's Halloween!'" Mancuso said. "It just sounded so perfect. When we heard it, we said, 'Oh, yeah, this guy gets it.' He's really helped to build the soundscape of the whole experience."
Van Cleave, who grew up in Noblesville and received a Bachelor of Arts in Education from Ball State University, refined his craft writing for high school and college music programs, show choirs, cruise ships, amusement parks and circus acts. He spent 13 years as director of choral activities at Jefferson High School in Lafayette, Indiana, and from 2014 to 2019 was executive director of the Long Center for the Performing Arts in Lafayette.
To work on Snowfall Express, "I believe it was important that I'm from Indiana," he said. "Also, I remember going to L.S. Ayres and riding the train when I was young. So I had specific and personal memories of doing that. But my family is from Indianapolis and my nieces and nephews will be able to see that. That's been in the back of my mind and that's why I was interested in doing it."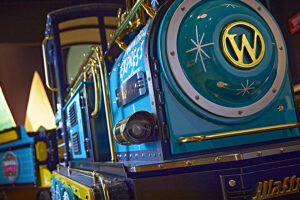 To come up with the soundtrack for Snowfall Express, he worked from a list the museum provided that detailed what riders would see along the journey as well as time cues so he could use the music to emphasize certain moments – like leaves blowing. He also visited the museum to see a scale model of the ride and used his cellphone to make a video of what a rider would experience.
"If someone rides it 10 times, they might see and hear different things each time," he said. "And hopefully, people will come back again and again."
As of this writing, Van Cleave has ridden the train once.
"I felt like I was 6 again," he said. "There are worse ways to make a living."