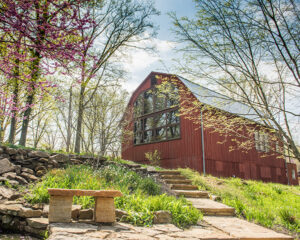 Take a trip to the Brown County home of T.C. Steele and rediscover – or discover for the first time – the property that inspired one of Indiana's most well-known artists when a brand new visitor center and new activities for all ages open on June 15.
Begin your journey in the brand-new 4,600-square-foot Singing Winds Visitor Center, where you'll begin a tour of the site with an orientation video about the history of the location and find out why – like you – so many people have been drawn to the Steeles' hilltop home for decades. Here, you'll also find classroom space, restrooms, the gift shop and other amenities.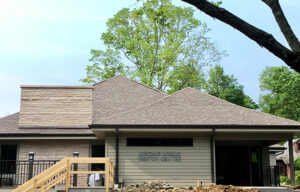 Then, travel on to T.C.'s Outdoor Studio, where you and your family can learn about the Hoosier artist's preferred painting style: en plein air, or painting outdoors. Explore a recreation of the studio wagon Steele used while traveling throughout Indiana as a plein air painter, create your own sketches of the surrounding area, and work en plein air as Steele used to do. Plus, play games with friends and family while discovering more about Steele's art and life.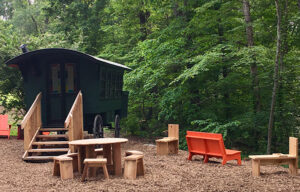 Stop by the House of the Singing Winds to experience the home much like T.C. and Selma's visitors did when the couple lived there. Learn how Selma – an artist in her own right – created a home and gardens in rural Brown County to support her husband's art and inspire visitors. Pause on the porch to appreciate the spectacular views before venturing inside the home to hear music from that time. See scrapbooks that Selma kept for gardening, and explore the transformed kitchen featuring some of Selma's stencil art.
The large studio also features plenty of updates, and it's where you'll find a new rotation of Steele's original work. Plus, find out how plein air painters like Steele create their works through interactive activities.
Take time to stroll through the formal gardens where you'll find information that will be rotated throughout the seasons to showcase the flowers in bloom, plus explore the real locations that inspired Steele at various places around the site and learn more about Steele's artistic process through hands-on activities.
Don't miss your chance to be one of the first to experience the transformed T.C. Steele State Historic Site when the location reopens to the public at 2 p.m. on June 15.
Staff will be on hand from 2 to 5 p.m. to welcome you to the new visitor center and highlight some of the other changes throughout the site. Admission to the site on June 15 is free.