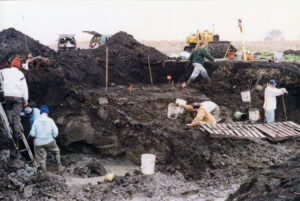 In June of 1998, Dan Buesching was operating a dragline excavator on his family farm near Fort Wayne, digging up a clump of tree roots surrounded by peat moss from a lake. He was about to smash the mass with the dragline's bucket when he noticed something that didn't belong: Teeth.
And these weren't teeth like Dan had seen before – these were much bigger, and with a distinctive shape.
In fact, Dan had discovered an American mastodon, who guests today know as "Fred" – an iconic fixture in the Indiana State Museum.
"When I was digging, I had no idea what it was," Dan said. "I had one of the bones in a bucket and realized it didn't belong. It was quite a shock!"
Fred, named after Dan's grandfather, is a rare find. Nearly 80 percent of his skeleton was entombed in the muck soil of this ancient lake, while skeletons with 50 to 75 percent of the bones present are typically considered to be a good find.
For nearly a year, a team of faculty, students and volunteers from Indiana University-Purdue University Fort Wayne worked carefully to excavate the 13,500-year-old mastodon bones from the dirt. He was missing only his hips and right back leg, and the team was able to excavate the rarely-recovered throat and toe bones.
Fred was around 9 feet tall and weighed 6,000 pounds when he died in that Allen County bog. A fracture in the right side of his skull indicates that his death may have resulted from battling another male mastodon during breeding season.
"Indiana is a mastodon state," said Ron Richards, senior research curator of paleobiology for the Indiana State Museum and Historic Sites. "We are among several states in the southern Great Lakes region where mastodons were once abundant, and their remains are often discovered."
In fact, mastodon bones have been found in most of Indiana's 92 counties, typically in ancient bogs that previously existed in central and northern Indiana. The Indiana State Museum and Historic Sites has the largest collection of mastodons in the state and also has an extensive collection of bones found from various excavations. However, before Fred was discovered, the museum had yet to acquire such a full skeleton. The Buesching family donated him to the state museum in 2006.
The museum launched a public Buy-a-Bone campaign shortly after, allowing the public to donate money to pay for certain parts of Fred to be mounted. Thanks to this campaign, as well as various grants, the museum was able to start building his mount in April 2012 – a move that would allow all Hoosiers to come see Fred on display.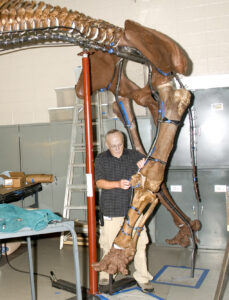 While most museums use outside contractors to create the mount, the state museum turned to Mike Smith – the museum's own mount-maker and metal expert – to do the job.
"I had been making mounts for almost ten years before I started this one, but nothing on this scale," Mike said.
He and Ron traveled to the New York State Museum to meet with a mount-maker there who had completed a similar mount to the one we hoped to build for Fred. He provided training and guidance on how to build Fred's unique mount.
The steel mount was carefully bent around the shape of the major limb bones.
"He had to make a complex template to build around the skeleton, and that's where it becomes a piece of art," Ron said. "Each vertebrae is held by a custom-forged metal mount, like it's a diamond."
"It was a nine month process that was pretty difficult at times, but very rewarding at the end," Mike said. "It was an experience I'll never forget."
Fred made his debut in November 2013 in the "Ice Age Giants" gallery, where he was mounted next to a mammoth, offering visitors the opportunity to see firsthand the differences between the two. He was also featured in 2017's "Ice Age Graveyards" gallery.
Earlier this year, Fred was moved to his new permanent home on the first floor of the museum. His impressive skeleton is one of the first encounters visitors have when entering the natural history galleries.
The Buesching family looks forward to seeing Fred in his new home. "We're all thrilled that he's there at the State Museum," Dan said.
Just past Fred, visitors will soon be able to explore our reimagined Ice Age experience, "Frozen Reign: A State of Change," which opens to the public on March 24, along with two other redesigned permanent galleries.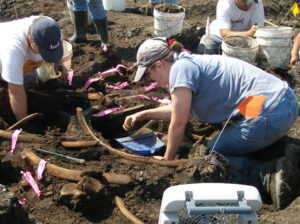 In Frozen Reign, visitors will see the bones the museum's own team has found during excavations across the state. The museum's first mastodon excavation was in 1933 in DeKalb County, and since then museum staff have completed excavations for mastodons, mammoths, giant beavers and more.
"We do the full range of what happens with a specimen – from discovery to the public display," Ron explained. "We're in a unique position to do all we do."
Wondering what it's like inside the mind of a 13,500 year-old mastodon? Be sure to follow Fred on Twitter!