Published April 5, 2021
From gimmick to game changers: How a touring basketball squad impacted Indiana's hoops history
By Katherine Gould, curator of cultural history at the Indiana State Museum and Historic Sites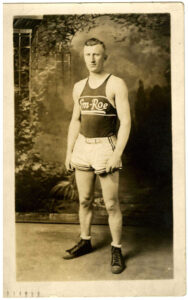 A little over a century ago, Oscar "Dutch" Behrent – a stocky, red-headed young man from Indianapolis – was driving trucks during the day to pay the bills. At night, he was pounding the hardwood for one of Indiana's most successful basketball teams, the Indianapolis Em-Roes.
The touring basketball squad was started in 1913 by Em-Roes Sporting Goods as a gimmick to promote the store. But almost overnight, this barnstorming squad became one of the most dominant in the region. In a time when basketball was being played in lumber yards and armories and high school gymnasiums, the Em-Roes ran up a streak of 122 consecutive wins from 1914-1916 and won 400 of their first 425 starts.
Like many other industrial league teams of the era, the Em-Roes played any takers in paid exhibitions throughout the state and region – all while maintaining regular, full-time jobs. They scheduled games against Indiana college teams, YMCAs, Sunday School leagues, and many of the top Midwestern industrial league clubs.
For a nickel a ticket, fans could watch these pioneer cagers lay the foundation for Hoosier Hysteria.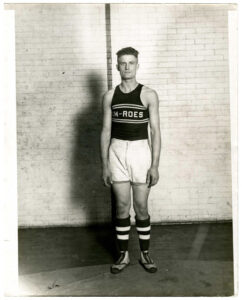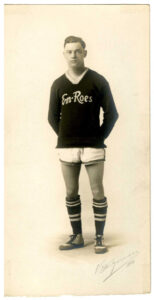 Two exceptional standouts with the Em-Roes were 6'4" center Homer Stonebraker (1895-1977) and point guard Ward "Piggy" Lambert (1888-1958).
Along with having an outstanding name, Stonebraker was one of the original "big men" to have a dominant skillset beyond rebounding and passing the ball. Known as a great shooter from anywhere on the court, he perfected his shot as a kid using a ball approximately the size of a tennis ball on a small ring he had mounted to the woodshed on his family's farm in Montgomery County.
After leading tiny Wingate High School and Wabash College to championship seasons, he embarked on a career that spanned 12 years. Playing for the Em-Roes, the Fort Wayne Caseys (later Hoosiers), Detroit McCarthys, and Chicago Bruins to name a few, "Stoney" earned a national reputation as one of the best players in the country.
In 1962, he was inducted into the Indiana Basketball Hall of Fame.
Lambert – one of Dutch and Stoney's less vertically gifted teammates – was from Crawfordsville. While the 5'6" guard had a standout career at Wabash College and with the semi-pro Em-Roes, he made his greatest impact on the game from the bench.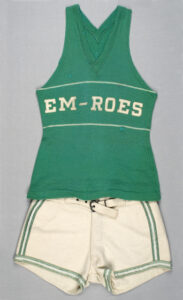 In 1916, after four successful years coaching Lebanon High School to the post-season, the 28-year-old was hired to lead the squad at Purdue University. Known for his pioneering "fast-break" style of play, he racked up a 371-152 record, coached 16 All-Americans (including the legendary John Wooden), and won or shared 11 Big Ten (Western Conference) championship titles in 29 seasons at Purdue.
Lambert was inducted into the Naismith Memorial Hall of Fame in 1960 and the National Collegiate Basketball Hall of Fame in 2006.
In 2003, Behrent's daughter donated his Em-Roes memorabilia to the Indiana State Museum and Historic Sites. The artifacts immediately became our most significant basketball collection. Along with four uniform pieces, the collection includes 26 photographs of the team and Behrent's life after basketball.
More of these outstanding pieces can be accessed through on our online collection.