Published March 18, 2019
From the Hoosier state to Washington, D.C.: Indiana's ties to the presidency
By Renee Bruck
Of all the men who have served as the highest ranking official of the federal government, Indiana only has direct connections to three former presidents – William Henry Harrison, Abraham Lincoln and Benjamin Harrison.
Although none of the men were born in Indiana, William Henry Harrison called Vincennes home for more than a decade while serving as Indiana's first territorial governor. Abraham Lincoln – born in Kentucky – lived nearly a fourth of his life in Indiana. Ohio native Benjamin Harrison moved to Indianapolis as an adult, where he practiced law.
Indiana played a significant role in the life of each of these former presidents – and the campaigns that helped them win election to the highest office in the nation.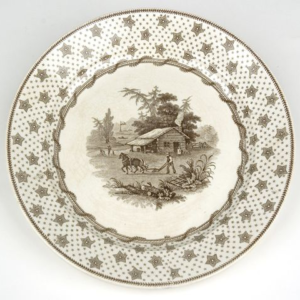 Campaign plate: This campaign plate in our collection features a log cabin, which was part of a slogan Harrison used during his 1840 election campaign.
William Henry Harrison – 9th president of the United States
William Henry Harrison's 1840 presidential campaign is often considered the first modern presidential campaign, which also included the first slogans and songs in a presidential campaign.
During the election campaign, Harrison's opposition attempted to try to paint him as someone from the backwoods of America who cared for hard cider a bit too much. Instead of letting the attacks define him, Harrison embraced them – using "Log Cabin and Hard Cider" as one of his slogans in efforts to show voters that he was one of them. Another slogan – "Tippecanoe and Tyler Too" – gave a nod to his victory at the Battle of Tippecanoe in 1811.
Harrison's presidency had a few other notable firsts. He gave the longest inaugural address in history. The address lasted two hours. He had the shortest presidential term in history, too. After giving his inaugural address in the rain, Harrison caught pneumonia and died on April 4, 1841 – just 31 days after taking office.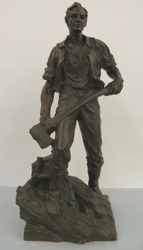 The Frontiersman: "The Frontiersman," which was created by Avard Fairbanks in 1941, depicts the future president as he would have appeared during his early days in Indiana.
Abraham Lincoln – 16th president of the United States
Abraham Lincoln spent the majority of his childhood and young adult life in Indiana, living in Spencer County from age 7 until he was 21 years old.
Important events that shaped Lincoln's life happened in the Hoosier state. His mother Nancy Hanks Lincoln died after drinking poisonous cows' milk. His father later remarried Sarah Johnston while living here.
Lincoln also learned to read and write in Indiana, although he only attended school irregularly.
The future lawyer won his first court case while living in Indiana. Lincoln was charged with operating a ferry boat without a license while working as a ferry boat operator. Serving as his own attorney, Lincoln won the case with his defense.
On March 1, 1830, the Lincoln family left Indiana for Illinois where Abe would later go into law and politics.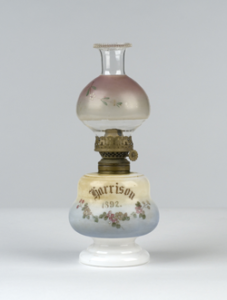 Campaign lamp: This lamp was used during Harrison's unsuccessful 1892 reelection campaign. Promotional material like the lamp had become a common way to voters to show support during campaigns.
Benjamin Harrison – 23rd president of the United States
Benjamin Harrison – who was William Henry Harrison's grandson – spent his early life in Ohio but moved to Indianapolis as an adult.
Here, he practiced law and served as an Indiana senator from 1881 to 1887, where he argued for the rights of homesteaders and Native Americans. After losing his U.S. Senate seat due to change in the Indiana General Assembly, Harrison chose to follow in the footsteps of his grandfather and won the Republican nomination for president in 1888.
By the time Harrison launched an election campaign, political campaigns were embracing promotional materials to share their message with voters.
Harrison only spent one four-year term as president, losing reelection in 1892. After leaving Washington, Harrison returned to his Indianapolis home and his law practice.
Although Indiana has ties to only three former presidents, the state has been referred to as the "mother of the vice presidents." So far, there have been six vice presidents from Indiana, second only to New York. Vice presidents who hail from the Hoosier state include Thomas Marshall, Charles Fairbanks, Thomas Hendricks, Schuyler Colfax, Dan Quayle and Mike Pence.