Published December 4, 2018
Guest Blog: A trip to the L.S. Ayres Tea Room™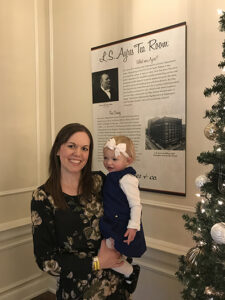 The holidays are a time for family traditions – celebrating old ones and creating new ones together. For Indiana State Museum member Katie Glick, those traditions include a visit to the L.S. Ayres Tea Room™.
Read about her family's traditions in this special guest blog, then come make memories with your own family. You can make reservations at the tea room by calling 317.232.1637.
The Tea Room is open through Jan. 6, and reservations are recommended with a limited amount of walk-in spots available.  
Tea and Traditions
By Katie Glick
My 2-year-old daughter has been obsessed with playing with her porcelain tea set for some time now, just as I was when I was a little girl. She knows just how to pour the tea and lift it to her lips while making a sweet sipping noise as she looks at me out of the corner of her eye with a smile. Tea is a tradition in our house and just comes naturally. My husband has asked me multiple times, "How do little girls know how to have a tea party?" I look at him with a (slightly sarcastic) smile and say, "I don't know, honey. We just do."
My family's tea traditions go back several generations. My Great Aunt Marilyn and Great Aunt Evelyn took my mom and her sisters to the original tea room when they were little. My mom's mother died when all three girls were young, so a day out with their aunts was something very special. My mom says, "It was a whole day when we got to dress up and feel really important and fancy." My older aunt remembers sitting at a big table because there were so many of them.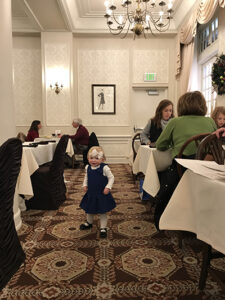 Mom recently asked if their grandmother joined them and she replied, "Of course." Mom then asked, "Wouldn't grandma have been uncomfortable going to the city and to such a fancy place?" Aunt Ann replied, "Of course not! She was with her daughters and granddaughters." Just in that conversation, it's apparent that the L.S. Ayres Tea Room™ was a place for everyone – even the simplest, salt-of-the-earth people who only went out to lunch after church on Sundays and rarely made it to the city.
Being the oldest sister, Aunt Ann also recalled enjoying delicious ice cream and remembered one bowl cost $1, which at the time was quite expensive. To a little girl, that meant the ice cream was very special. The tea room was always a place to learn life lessons: manners, proper table etiquette and the value of a dollar – and of that delicious ice cream.
My mom took me to the tea room with my paternal grandmother. She is the one who taught me how to properly polish a silver tea set and the importance of having beautiful tea cups to use when entertaining guests. Not only do I remember my tea room experience as fancy, but one that allowed us to spend time in an enchanted place that was reserved for nice things, good manners, traditions and delicious food. It was a time to sit and enjoy the moment in all the chaos of the holidays or life in general.
My mom recently reminded me that one of my last trips to the tea room as a little girl really had another mission – to ride the famous train. A similar train now exists at the Indiana State Museum: the Santa Claus Express, which families can ride together.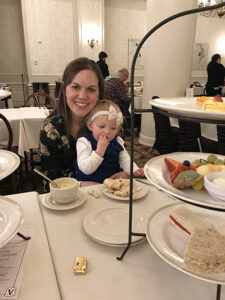 Today when I talk about tea or ask my daughter if she wants to have a tea party, she perks up, gasps, claps and shouts, "Tea! Tea! Tea!" It's just so natural for her, and tradition dictates that we immediately stop what we are doing to have a tea party. So it's natural for us to make our reservations at the L.S. Ayres Tea Room™ at the Indiana State Museum and carry on the tradition five generations in the making.
We hope to see you there soon, sipping your tea with your bowl of ice cream and a great big smile.
***
Katie Glick grew up on her family farm in Martinsville, and now lives with her husband and their daughter on their family farm near Columbus, where they grow corn, soybeans, wheat and raise cattle and have a private seed company and milling business. She is a graduate of Purdue University and has worked in Indiana politics. She now works in the agriculture industry within our state. She shares her personal, work, travel and farm life stories on her blog, "Fancy in the Country".