By Mike Linderman, site manager of Angel Mounds State Historic Site and southwest regional director of the Indiana State Museum and Historic Sites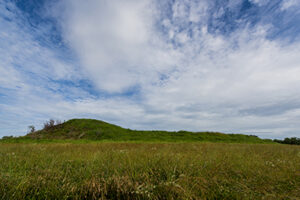 In 1939, a crew of 277 Works Progress Administration (WPA) workers arrived at Angel Mounds to begin what would become the longest archaeological excavation in the state's history.
The 277 workers – under the direction of Glenn Black – began digging for items left behind in an ancient metropolis that was located on the property more than a thousand years ago. Black served as the archaeologist for the Indiana Historical Society in the 1930s, and with the support of Eli Lilly – grandson of the founder of the Eli Lilly Company, the two men would create the modern science of archaeology in Indiana.
The work of those WPA workers began the largest and longest archaeological investigation in Indiana's history. These archaeological excavations completed by the WPA constitute the bulk of work done on the site with the recovery of more than 2.5 million artifacts.
Since 1945, the site has been the official field school location for archeology at Indiana University.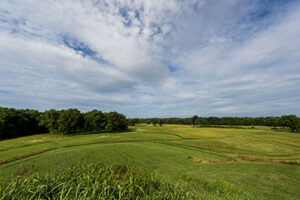 Still, only about 3% of the site has been excavated since 1939.
Through the work of the WPA and IU, we've learned a lot about the lives of the thriving community of Native Americans known as the Mississippians who lived at Angel Mounds. Through the excavations, we've learned the Mississippian culture was innovative and the first to have an extensive agricultural society, as well as build permanent communities and more.
Black worked at the site until his death in 1964, having spent the last 25 years actually living on the site to oversee work and protect it from the ever-encroaching Evansville. After Black's death, Lilly continued to be the biggest promoter and advocate for work at the site, eventually building the original portion of our current visitor center in 1971.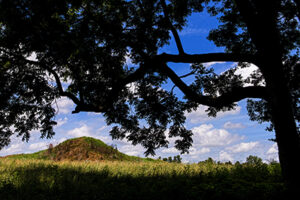 Since this year marks the 80th anniversary of the start of excavations, Angel Mounds State Historic Site will be hosting a birthday party to honor this milestone on Aug. 24.
Join us from 10 a.m. to 5 p.m. for a day of learning about Angel Mounds, its archaeological history, Glenn Black, Eli Lilly and the hundreds of workers who helped to make these digs possible throughout the years.
We will have talks throughout the day about the excavations and what was discovered, plus presentations from actors with the Indiana Historical Society's You Are There 1939: Angel Mounds exhibit and more. There will even be birthday cake as part of the festivities!
Learn more about Angel Mounds State Historic Site and plan your visit at https://www.indianamuseum.org/angel-mounds-state-historic-site