Published April 18, 2021
Guest blog: Norman Norell's fashion successes can be traced back to his Indiana roots
By Meghan Smith, Indiana State Museum and Historic Sites conservation lab manager
Though Indiana is far from the fashion meccas of New York, Paris and Milan, several designers have their roots here in Indiana. One of the first and most influential lights in America's fashion pantheon was Norman Norell, whose elegant and masterfully-tailored creations were worn by celebrities, socialites and fashionistas all over the country.
Norman's fashionable sensibilities did, in fact, run in the family. Born Norman David Levinson on April 20, 1900, in Noblesville, Indiana, Norman's father Harry ran a successful men's clothing store there. In 1905, Harry decided to move to bustling Indianapolis, opening a haberdashery – a men's clothing and accessories store – on Pennsylvania between Washington and Market streets.
While Norman and his older brother Frank helped out in the shop, Norman was not particularly enthusiastic about the work. He preferred attending the theater and sketching sets and costumes.
Frank took over the family business – eventually expanding it throughout the state – while Norman set out for the bright lights of New York City at age 19. With the move he opted to reinvent himself, adopting the professional name of Norell, a combination of his first name and last initial.
After graduating from the Pratt Institute in Brooklyn with a degree in fashion illustration, Norman was hired to design costumes for silent movies. His creations were worn by the likes of Gloria Swanson and Rudolph Valentino. But soon the movie industry left the east coast for sunny California, and Norman slowly transitioned to the world of fashion.
For 12 years he worked with famed designer Hattie Carnegie, traveling with her to Paris to study and replicate the work of couturiers such as Chanel, Lanvin and Vionnet. Yet Norman felt that Americans could produce designs every bit as innovative as those produced in Paris, and the outbreak of World War II gave him the chance to prove it.
Cloth shortages brought on by decreased manufacturing meant designers were forced to turn to more minimalist styles. Norman's chemise dresses, produced with his new business partner Anthony Traina, proved to be a huge success in wartime America.
After that, Norman never looked back. His partnership with Traina ended in 1960, by which time Norman's chic, tailored designs were synonymous with American high fashion. He favored plain, unfussy necklines, sleek silhouettes, and impeccably-cut pattern pieces.
But even in their simplicity, his pieces still dazzled. His famous "mermaid" dresses, for example, were cunningly made of knitted silk jersey and then completely covered with sequins. The result was a fluid wave of color and shine that drew the eye and hugged every curve.
Even in his own time, Norman was recognized as a fashion revolutionary. In 1943, he was the first recipient of the Coty Award, which celebrated American fashion design. He was a founding member of the Council of Fashion Designers of America. He cared deeply about fostering new American designers and was on the board of trustees of Parsons School of Design.
In 1972, Norman Norell was set to be honored at the Metropolitan Museum of Art in New York with a special exhibition of his work. Sadly, he suffered a stroke the night before the gala opening and died a few days later, but his work lives on in museum collections all over the world and is beloved by fashionistas everywhere. We are lucky to have a rich collection of Norman Norell's designs here at the Indiana State Museum. They make regular appearances in our core galleries and temporary exhibits, and you can find a few below in photos.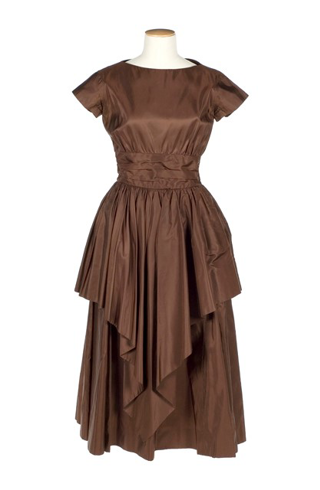 Brown taffeta cocktail dress, c. 1953. A dramatically-layered skirt is the focal point of this paper taffeta creation, offset by a simple bodice.
Cream and black suit, c. 1957. This suit is very typical of Norell's daywear, with oversized double-breasted buttons and a drop waist. This ensemble was purchased at L.S. Ayres by Beverly Rice, who was a vice president with the store.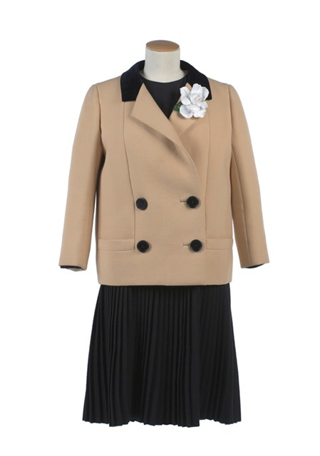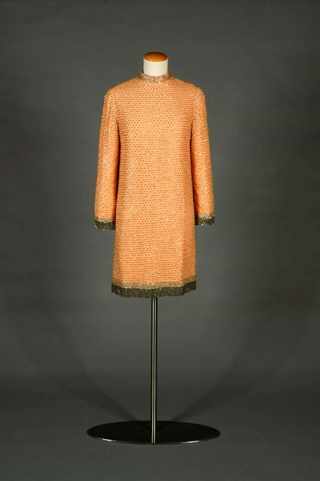 Peach sequined cocktail dress, 1966. A riff on Norell's signature "mermaid" dresses, this design features a sequined-covered net overlay atop a knitted peach dress, with silver beaded fringe at the cuffs and hem.
Beige coat, c. 1967. This coat is a textbook example of Norell's expert tailoring and couture sewing techniques. The structure is so precise that the coat almost stands up on its own, and details like the bound buttonholes were rarely seen outside the ateliers of Paris.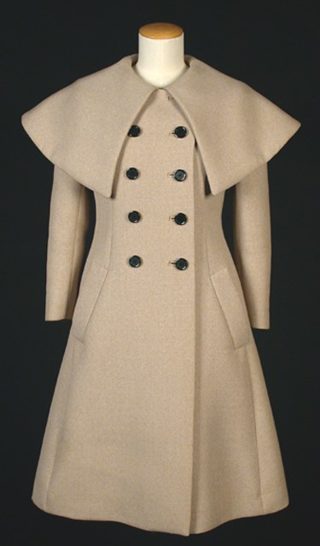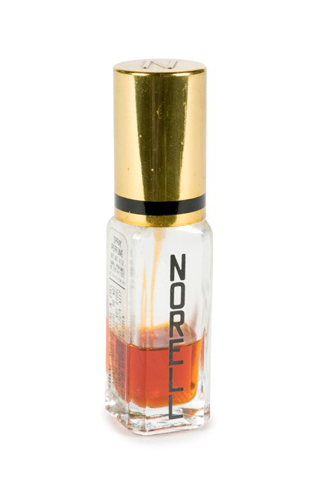 Perfume bottle, c. 1968. Norell worked with Revlon Cosmetics to develop a signature perfume, making him the first American designer to release a fragrance.
Orange knit day dress, c. 1969. A bright hue does most of the talking for this otherwise simple shift dress and belt. Little touches like zippers at the wrist make the cut even closer.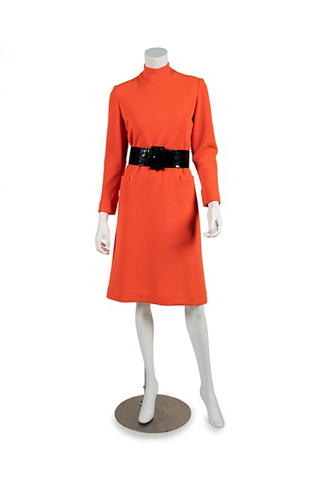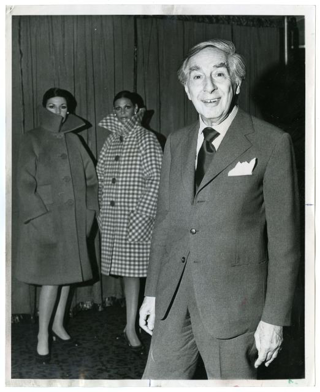 Photo of Norman Norell with models, 1972. This picture was taken not long before Norell's death.