Published May 21, 2021
Guest blog: The history of senior cords
By Katherine Gould, curator of cultural history
Senior cords were an Indiana tradition unique to this state. The trend likely originated at Purdue University in the first decade of the 20th century.
As the story goes, some Purdue seniors noticed a bolt of yellow corduroy fabric displayed in the window of Taylor Steffen Co., a tailor on Main Street in Lafayette, in the fall of 1904. The seniors decided to have trousers made from the material, and the corduroy pants soon became a fashion statement for the rest of the class.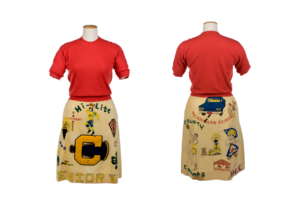 As early as 1912, the trend had spread to other Indiana colleges as well as high schools.
For most, senior cords represented a rite of passage into the adult world. As such, they were reserved for seniors only.
Early versions of cords were plain or listed only a few signatures from classmates. As time passed, however, new decorative themes were adopted: school mascots, cartoon characters, group and club membership, and sports themes. These items helped personalize senior cords for each wearer by showing off their activities, achievements and aspirations.
The trend reached its height during the late 1950s and mid-1960s. By this point, many students were purchasing undecorated cords from stores and having an "expert" personalize them.
The greatest variety of cords were seen from the late 1960s and early 1970s. This was not only in terms of artwork, but also fashion styles, which included shorts, vests, jackets and jumpers. Earlier on, most cords appeared as trousers for men and skirts for women.
Most people believe that the trend of senior cords died out during the 1970s, though attempts at a revival have been made by several Indiana schools throughout the years.
Some of the most unique cords in the Indiana State Museum and Historic Sites collection are shown below.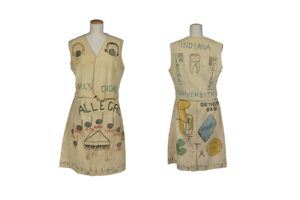 Flora Ann Leisure graduated from Carmel High School in 1961. While in school, she was involved with the girl's chorus and played piano for the group in practice and concerts. She also played baritone (sax?) in the school marching band. She was involved with 4-H, Rural Youth, Future Teachers of America (FTA) and the Sunshine Society (SSS).
Flora graduated from Indiana Central College (now the University of Indianapolis) in 1965. She first studied music before changing her major to elementary education.
She started her teaching career in the Indianapolis Public Schools system before moving to Zenas, Jennings County.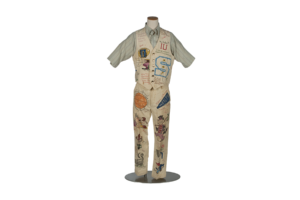 Several of the personalized images on these cords include a cartoon of a man eating food – dubbed "Martin" – a skunk called "Stinky," a "VARSITY" megaphone, a cap and diploma and several signatures from his classmates.
On the back of the vest there is a drawing of three Native Americans with "SANDCREEK INDIANS" written in blue paint. Clearly visible at the upper left of the vest is "My Future??" followed by a red IU logo.
After high school, he attended Indiana University, graduating in 1972. That same year, he joined the Health and Hospital Corporation of Marion County as an inspector in the food section. In July 1976, Mark assumed the position of sanitarian in the General Sanitation Department, which was part of the Bureau of Environmental Health (now known as the Department of Health).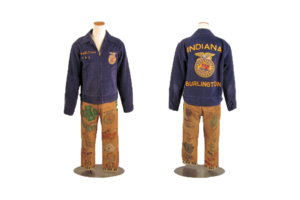 Ron Crain graduated in the last class of Burlington High School in Carroll County in 1961 before it was replaced by a consolidated school.
He painted his own senior cords and 20 other pants and skirts for classmates. He personalized his cords with images of pop culture icons of the time, including portraits of "Phil" and "Don" of the Everly Brothers. Ron met them at an early performance at Indiana Beach as they were getting live performance experience in front of kids. Ron also included a drawing of starlet Sandra Dee and a reference to Dick Clark's American Bandstand.
As the quality of these cords testify, Ron was quite the artist. In the absence of a dedicated art teacher, he actually taught an art class for two years in the high school before entering Herron Art School.
After graduating from Herron, he spent 25 years as an artist for Eli Lilly/Elanco Division.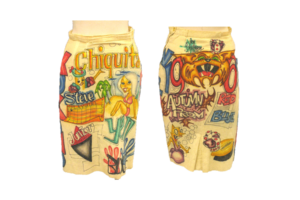 The air-brushed images on these cords show some of the activities Chiquita Meyers was involved with as a senior at Kokomo High School, including Junior Achievement, Yell Block, and The Red & Blue, which was the student newspaper.
The "Steve" on the front is a reference to her future husband, whom she dated on and off during high school. According to her, the calendar on the skirt highlights the exact date that they got back together as a couple.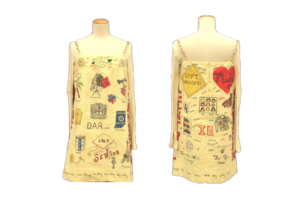 These cords were handmade by Sue Marsh's mother. Many of Sue's senior year accomplishments and activities appear on her cords. She was the class valedictorian, a member of the National Honor Society, was in choir, and was co-editor of the yearbook.
On the back of the jumper is a bookshelf with "Library Science" drawn beside an IU logo. Following high school, she attended Indiana University and received her Bachelor's degree and Master's of Library Science in 1973.
Afterward, she became a children's librarian in Richmond, Indiana. She was a member of the Indiana Library Association and served on the Indiana University Library Board.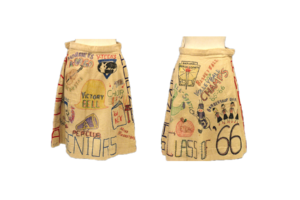 As these senior cords illustrate, Marilyn McBride was quite busy while a student at Angola High School. She was part of the National Honor Society, played saxophone in the All State Band, was a member of the Future Teachers of America, and was a member of the Pep Club and Senior Girls' Barbershop Quartet. She was also part of the 1965-66 Intermural Championship teams for basketball and volleyball.
After high school, she attended Butler University on a music scholarship, later becoming a teacher of band and choir. Her teaching career was spent in Indianapolis, including 15 years at Manual High School. She retired from Howe High School in 2004.