By Traci Cromwell, director of collections
The flowers of spring are in bloom, warm weather is returning, trees are blooming and the grass is turning lush green, which means it's wedding season again.
The Indiana State Museum has an amazing collection of wedding-related artifacts from as far back as the early 17th century, all the way to contemporary times. These unique artifacts offer us a view of wedding traditions throughout time and provide insight into the time periods in which these weddings took place.
This wedding season, we thought we'd show you some of the wedding highlights from our collection – and talk about how some customs have changed (or not!) over time.
Why white?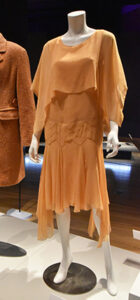 Tradition plays a very important part in most weddings, and the bride wearing white is just one example. This tradition dates to Queen Victoria choosing to wear white for her marriage to Prince Albert in 1840. Since then, brides have typically worn white dresses on their special days.
However, many women break that tradition, too.
Two dresses in the ISMHS collection are perfect examples of this. Catherine Guion (Conarroe) wore a lovely peach chiffon dress at her marriage to Harry Coble Conarroe on Sept. 12, 1929, at Bethel Methodist Church. Peach was a popular color to wear in the late 1920s, so this bride decided to wear a wedding dress in the "it" color, rather than opting for traditional white.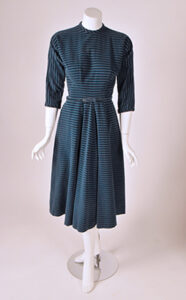 Another bride in Indiana made a similar decision. Sue Green wore this simple blue-green, velveteen striped dress when she married Joe H. Conarroe on Oct. 24, 1954. This beautiful, simple gown was probably worn many times after the wedding to get more use from the dress. And yes, Joe Conarroe is a descendant of Catherine and Harry Conarroe, mentioned above. We have five generations of wedding dresses donated by the Conarroe family in our museum's collection.
Passing dresses down
Another common tradition for brides is to pass their dress to a daughter or granddaughter to wear at her own wedding. Several dresses in the museum's collection include this tradition as part of their story.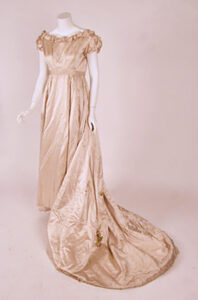 Clara Mahan wore a beautiful silk, ivory dress at her wedding to John William Bradshaw on Oct. 18, 1869, in Fremont, Nebraska. 30 years later, daughter Martha Bradshaw Nevin wore her mother's wedding dress at her Oct. 18, 1899, wedding to Robert Peebles Nevin, Jr., at the Second Presbyterian Church in Indianapolis. The simple dress worked for both brides, even though they married many decades apart.
Another example of this tradition is a dress that was first worn by Gertrude Spann at her Nov. 4, 1908, wedding to Justin Raymond Lynn. The same dress was worn by her daughter Marjorie Lynn at her wedding to Kenneth F. Griffith on May 20, 1937, even though style – or at least personal preference – had changed. Marjorie Lynn chose to remove the original high, stand-up collar with boning and add new net sleeves and a net neck. Although the second bride altered the original dress, the tradition was still carried on for this mother and daughter.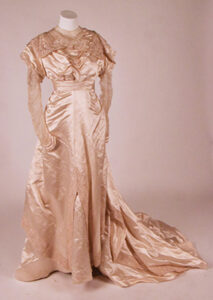 Veils to complete the ensemble
A third tradition that is well represented in the ISMHS collection is the wedding veil. Historically, brides wore veils in churches as a symbol of respect and modesty. So, many of the weddings dresses donated to the museum also have veils as part of the ensemble. Two beautiful examples of such veils are Angeline Caito's and Elizabeth Marie Rolley's. Both of these brides chose very traditional veils to wear with their bridal dress.
Angeline Caito married Philip Milto on April 30, 1950, in the Holy Rosary Catholic Church, which at that time was the Italian church in Indianapolis. They were married on Sunday because both families were Italian and were involved in the produce business – everyone worked on Saturday.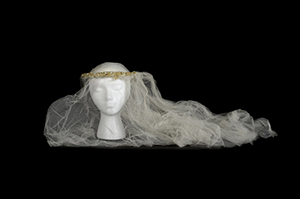 Elizabeth Marie (Betty) Rolley married Valentine Joseph Strebel on May 27, 1939, at Sacred Heart Catholic Church in Indianapolis. Elizabeth was a seamstress when she was younger, but there is no documentation that she made her wedding dress or this veil.
Explore the collection for yourself
No matter what season a wedding is held, traditions are always a part of the occasion. And although those traditions change over time, remembering such a special day is part of any wedding celebration.
Check out just a few of the more than 100 wedding dresses in our costume collection during a visit to Color of Style, now open at the Indiana State Museum. Or view other wedding dresses in our collection on the ISMHS online database.