Published August 4, 2022
Here Come the Judges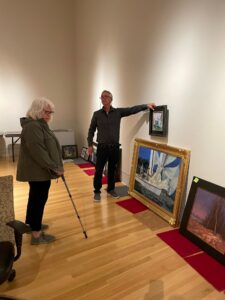 Judging has begun for the 98th Hoosier Art Salon competition, and for Dawn Whitelaw and David Mueller – the judges – that meant scurrying around the Indiana State Museum's Ford Gallery to get their first in-person look at the 155 artworks selected for the show.
Whitelaw, a Tennessee-based artist, and Mueller, an artist who lives in the Cincinnati area, have already reviewed the selections virtually. But art can look remarkably different in person.
"Scale and presentation, framing and the whole package is important," Mueller said. "You're not just buying the image; you're also buying the window into the image."
The 98th annual Hoosier Salon, Aug. 27 through Oct. 23, will feature work by 129 artists in eight categories – figure, still life, abstract, three-dimensional work, watercolor, portrait, landscape and original work or print on paper. Twenty-three artists are being featured for the first time and seven former Best of Show winners have work in the exhibit.
In judging the art, Whitelaw said she was looking for imagination, originality, means of communication and skill – in whichever materials they use.
"If you have a group of paintings and sculpture like we do now – and they're all at a very high skill level – then you turn to the idea of imagination, ability of the artist to communicate an idea to you," she said.
"And an unspoken sophistication," Mueller added. "Skillset, creativity, depth, atmosphere, mood. And when a piece comes together with all of those things to it, then it's hard to choose."
Whitelaw and Mueller, both veteran artists and judges, had not met before they arrived at the museum on Aug. 1. But they communicated easily, with rapid-fire exchanges.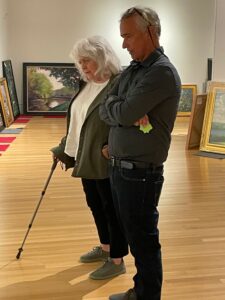 Mueller: "This particular artist, I could pick both of these pieces for prizes easily. I like them both equally. Have you touched this? Feel this. It's unreal."
"Whitelaw: "I like it. I liked it online. I like it here."
And later:
Mueller: "I have a feeling the Best of Show is not in this category."
Whitelaw: "I could agree with that."
Ultimately, they chose the top four winners in eight categories, plus Best in Show. Their selections will be revealed on Aug. 24 at the opening reception and awards ceremony at the Indiana State Museum.
The judges said they liked a lot of what they saw.
"It, like most shows, is a mix of outstanding pieces, inspiring ones, but also some not yet up to a certain professional level," Mueller said.
And judging it, well, that's a partly subjective process.
"One can't completely remove oneself from the process, but the goal is to be as objective as possible and award on the merits of skill and aesthetic," Mueller said. "You are trying not to be just about yourself and your style and your taste. It's inevitable that some of that's in there, but you're definitely trying to be diverse, you're definitely trying to mix up things and appreciate what other artists do that's different than your own style. We did that a lot today."