By Kelsey Cook

Lois Main Templeton was 51 years old when she dove head first into the art world and left her mark on the Hoosier art scene.
"I was in my 50s and 60s, and by that time, you're not going to learn an instrument," Lois said in a documentary for WFYI. "And I'm a klutz so I wasn't going to dance. So what have you got? You've got paint. And it was just for me."
Now at age 90, she remains a creative force, and the Indiana State Museum and Historic Sites is celebrating her life and achievements in "Lois Main Templeton: A Reinvented Life." Visitors can see it for themselves March 10 through August 5, 2018.
"We are honored and thrilled to present the work of this important Indiana artist as she celebrates her 90th year," said Mark Ruschman, senior curator of art and history at the Indiana State Museum and Historic Sites. "Lois Main Templeton has been a fixture on the Indiana art scene for 40 years, and her contributions as an artist and arts activist have touched lives across the state."
Lois is a well-known contemporary artist, and her artwork often combines two of her passions – writing and painting. These impressive – and often quite large! – canvases are a sight to see.
Thirty paintings are included in this special experience, including those from the 1980s following her graduation from Herron School of Art at age 51 up to present day.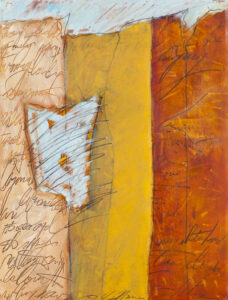 "For many, contemporary abstract art can be a bit unapproachable," Mark said. "With her paintings and personal journals, this exhibit takes you step-by-step through the artist's working process, providing insight into how she makes her work."
"I look for very much what the paint asks for," Lois explained to WFYI. "And the paints get out, and they begin moseying around. And then the composition says, 'I want some orange in this corner.' And I say 'You can't have orange in that corner. That is not going to look good.' And then I say, "Okay.' And it wanted orange in that corner."
Lois thinks of herself as an action painter, and visitors will be able to see the large sweeping motions she uses to paint when they view the paintings on display. She's even been known to switch to her non-dominant hand when she needed a new perspective.
"Lois' work has never been about capturing the likeness of something or someone," Mark said. "Her work is about digging deep inside oneself and expressing human emotions and ideas."
Museum visitors can also use their own creativity in the gallery. They can write poetry and create their own artwork – activities that combine Lois' love of art and literature.
On March 15, the museum is celebrating Lois at an opening reception for "Lois Main Templeton: A Reinvented Life." She'll greet guests at the event, and there are still tickets available.