Published June 30, 2022
Made of limestone, glass, and stories
The Indiana State Museum is made of limestone, glass, steel, brick, aluminum. And stories. So many stories.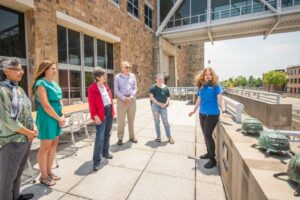 Gallery Program Manager Rebeccah Swanson will be telling some of those stories when she leads the 92-County Walking Tour: 20th Anniversary Edition on Aug. 20. (This outdoor walking tour takes place from 11 a.m. to noon and costs $8 a person, with a 25 percent discount for members. Make a reservation here for Aug. 20.)
The tour showcases the sculptures that are imbedded in the exterior walls of the museum building, which turned 20 years old in May. Each icon represents one of the state's 92 counties, and each has a story.
"One of the counties (Newton) has a national landmark – the Kentland crater site – that has shatter cones from that site that turn into two figurines that hug each other," Swanson says. "The figures are Adam and Eve and they're covered with peppermint leaves because they grow peppermint in Newton County. So they show a lot of the quirkiness of the counties as well as things that make them important to Indiana."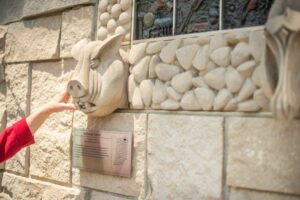 Swanson will highlight 10 counties as well as talk about the history of the Indiana State Museum and how the building at 650 W. Washington St. was designed.
She also makes sure that visitors see their county sculpture.
"We may not talk about their county," says Swanson, who's originally from St. Joseph County in north-central Indiana, "because we don't have time for all 92 – that would take about nine hours. But I want to point it out to them either during the tour or after the tour."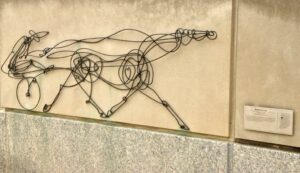 The Indiana State Museum has offered the 92-County Walk for several years, but the tour has changed. Six counties on the 20th anniversary edition are new to the tour. Swanson says she chose to highlight 10 of the most easily visible sculptures ("Some of the counties are at the top of the building and they're very hard to see") that have the best stories.
She advises that because it's a walking tour and there's no place to sit, participants should wear comfortable shoes and bring sunglasses, a hat and sunscreen.
"You don't have to know anything about your county or even be from Indiana to enjoy the tour," she said. "You can learn something."