Published November 1, 2021
Ninety-nine percent adorable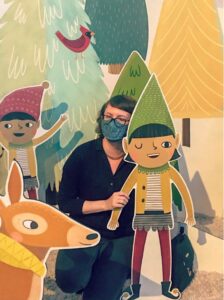 When Indiana State Museum visitors ride the new Snowfall Express train, they'll get an up-close look at the 99 percent adorable/1 percent impish style of Indianapolis artist Candice Hartsough.
"Ninety-nine percent adorable and 1 percent impish – that's a good description," she says with a smile. "I've been working on my style for a long time and just developing it. I've also been getting a lot of inspiration lately from mid-century illustrations. The museum was interested in that look."
The museum contracted with Hartsough to provide the artwork for more than two dozen scenes that Snowfall Express riders will see on their 4½-minute journey. Visitors will see animals participating in human endeavors like cooking, playing games and preparing for the cold as fall changes to winter. Mice ice-skate (mice-skating – get it?), beavers bundle up.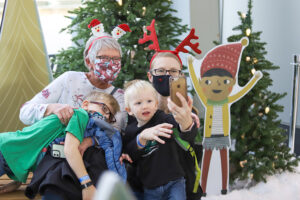 Chief Officer of Engagement Brian Mancuso said that when the time came to develop the scenes for Snowfall Express, "we needed something special. We were asking who could participate in that magical realism of animals doing human things. Of the people we knew, Candice popped to the top and she was the only name on the list. There's a warmth to her work and the tools that she uses to render those animals give them such personality."
Mancuso met Hartsough at a local art fair, which he attended both for his own enjoyment but also with business cards because "we want local community creators to be part of the experience at the museum and historic sites." He was taken by her watercolor gouache technique (watercolor is transparent; gouache is opaque), its look and its vibrancy.
"It doesn't feel hyper-childlike," he said. "So there's space for a whole family. Just like our new train has space for the whole family, her art supports that."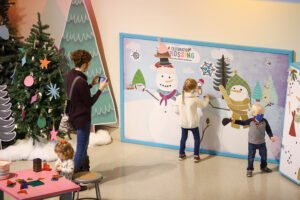 Hartsough's first project was designing a board game for the T.C. Steele Historic Site in Nashville. Last year, she created the backdrops for Celebration Crossing, the state museum's annual holiday festivities, including Santa's house, the reindeer and the snowman with interchangeable parts.
Hartsough was given instructions on what pieces were needed at the 26 scenes for the train ride, each a different part of the Snowfall Express story. The look and the colors were her choices. She drew her creations on an iPad and sent the finished designs to the museum for printing.
"I really love her watercolor/gouache style of art," Mancuso said. "She can do realistic animals but also whimsical stuff, so there's a lot of magical realism built in."
Hartsough grew up outside of South Bend, always planning to be an artist. "I can remember saying I want to be a librarian, but maybe that was my backup plan," she said. She moved to Indianapolis for college at the Herron School of Art + Design and never left. She and her husband, Andy, have three children – Virginia, 11; Hank, 8; and Emerson, 3 – who appreciate her whimsical style.
She sells her work online mostly, through her website and Instagram. She's done relatively few art shows – "I feel like I don't have a lot of incentive to do it because I feel like I don't make very many sales" – but she does have one in January at Taylor University. She's illustrated children's books and specializes in family portraits. And she just signed with an agent in hopes of getting work like designing toys and packaging.
In the meantime, she can admire her work at the museum.
"I really hope she's proud of this because it's just amazing," Mancuso said. "I can't imagine what it's going to feel like for her to feel like she's inside her own work. And I'm happy we can provide that opportunity for her and for visitors."