Published April 19, 2021
Nurturing the Garden at T.C. Steele – and at Your House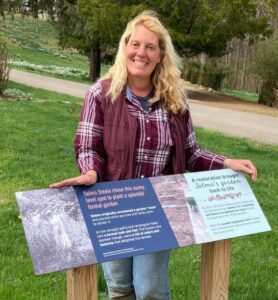 Lori Willis, the regional landscape manager at the T.C. Steele State Historic Site in Nashville, is a third-generation master gardener with 30 years of experience. She earned her Master Gardener degree from Purdue University in 2000 and worked as an account manager at Designscape Horticulture in Nashville, Indiana, for almost 15 years before joining the Indiana State Museum and Historic Sites staff last December.
In other words, she's a great person to ask for gardening tips. So, we did. Here's what she said:
Gardening never stops.
Willis is always gardening at least two seasons – and sometimes two years – ahead. That means, among other things, that most of the spring bulbs about to bloom or already blooming at T.C. Steele were planted last fall. But just because you didn't start your garden work six months ago doesn't mean you can't start now. Go to a garden center now and get spring bulbs that are in a pot. Since spring bulbs need to acclimate with the environment – they need to be cold – put them in the refrigerator for 3-4 weeks before taking them out and putting them in planters. Then give the bulbs a week to acclimate to the outdoor weather before planting them outside.
D'oh! A Deer.
Are deer eating plants in your yard? Willis recommends a product called Liquid Deer Fence. Another option is a peppery systemic. She likes Repellex systemic tablets. Crush one up at the base of a plant and it will soak in through the roots and come up tasting bitter to the deer. "But this takes a little while," she says. In the spring, workers at T.C. Steele apply the peppery mixture to plants, but they also spray Liquid Deer Fence. Another option: Pick plants that are more deer resistant, like Angelonia, heuchera, anemone and ferns.
You've got to mulch. You've got to.
"I like mulch aesthetically, but people put it on way too heavy, especially around the trees," she says. "I don't like 'tree volcanos.' That's what they look like to me, and it's terrible for the tree." Keep mulch away from the trunks of your trees and don't let it pile up. It should be a nice, smooth mound. Otherwise, you're going to rot your trunk. Also, before you put down the mulch, place old newspaper down and wet it. Then put the mulch on top. Worms love the paper – especially the sports section (kidding) – and it's great for the soil. Cardboard can be used too.
Nothing says fertilizer like …
Dehydrated chicken poop. Willis uses a product called Replenish, which doesn't burn plants when you apply it. "It seems to give everything a big boost and it's organic."
That said …
Willis prefers to not use chemicals, if possible. But sometimes – like when she's trying to remove honeysuckle that's invading the wisteria at T.C. Steele – she will. What she'll do in that case is cut the honeysuckle 1.5 to 2 inches from the soil and apply an eyedropper's worth of Tordon herbicide to the stump. "When you put that on your cut, it will kill it from the root. It doesn't leach into the soil. I want to make sure I'm not doing more harm than good."
Looking for heirloom plants?
Old House Gardens is her favorite website. Plants in the formal garden at T.C. Steele were restored using plants from that site.
Respect the weather.
"I've been a gardener my whole life, and some of the biggest mistakes I've ever made were being too anxious for spring – buying annuals, putting annuals out, filling up the pots, filling up the urns," Willis says. "That is not going to happen anymore." You can buy now, but wait until Mother's Day to plant outside. Plants need to get accustomed to the wind and sunlight, so put them on the porch or in a planter that you can move inside and out.
Save the tulip.
The best way to handle tulip bulbs is to dig them up every year and store them in sawdust, in a garage, so they don't get mushy. Put a tarp over the tray to keep critters out. Keeping critters from eating planted tulip bulbs is another issue. You can create a couple of different kinds of barriers. One is to put a chicken wire box in the soil, fill it with compost, put bulbs in there and cover. Or, if you have access to mattress springs, put the bulbs in the springs and plant them.
---
Have a gardening question? Contact Lori at [email protected]