Published June 12, 2018
One-Tank Trips: Angel Mounds State Historic Site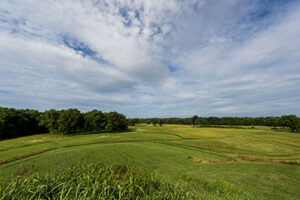 Summertime means one thing: Road trips.
This summer, why not explore what's in your own backyard by traveling to all the places you've driven past but never been to – or falling in love again with old favorites?
Need some inspiration? We've got you covered with our One-Tank Trip series – today featuring Angel Mounds State Historic Site.
"Mom, I'm bored!"
At this location, you'll become immersed in 1,000-year-old Native American culture at this incredible site featuring earthen mounds built by a Mississippian society. Updated experiences inside the Visitor Center provide an interactive walkthrough of the history of the site and other cultures that lived in the area over time, with casts of real Native American artifacts that visitors can touch. Never-before-seen artifacts that were found at the location are also on display for the first time.
NOTE: Angel Mounds State Historic Site is on Central Time, so plan accordingly!
Hours: Open Tuesday through Sunday, 10 a.m. to 5 p.m.* Closed on some holidays – check website for details. 
Admission: Adult – $7; Senior (age 60 and older) – $6; Student – $3; Youth (ages 3-17) – $4; Children (under age 3) – free.
"Are we there yet?"
8215 Pollack Ave., Evansville, IN  47715 OR about 165 miles (2 hours 45 minutes) from downtown Indy
Angel Mounds has a distinctive Visitors Center that looks like pyramids, so you'll be able to see it from the road once you reach Pollack Avenue.
 "What are we going to do?"
Wind your way through the interactive Visitors Center to orient yourself to history of the site, touch casts made from real Native American artifacts, and learn about the archaeology at the site.
See several new experiences within the Visitors Center, including a recreation of historical archaeologist Glenn Black's office.
Hike and explore the mounds that make this site so famous, or even take a longer walk on hiking trails that run around the property.

"Dad, I'm hungry!"
Hungry? Be sure to find great local restaurants to explore and places to stay if you'd like to make it an overnight trip. All of that info can be found here.
"We want to do more!"
If exploring one culture isn't enough, journey north about 45 minutes to New Harmony State Historic Site, where you can learn all about the Harmonists and Owenists – two utopian societies that lived right here in Indiana!