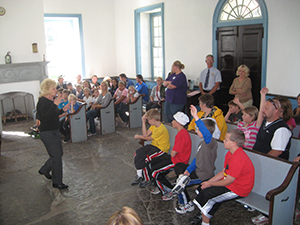 Summertime means one thing: Road trips.
This summer, why not explore what's in your own backyard by traveling to all the places you've driven past but never been to – or falling in love again with old favorites?
Need some inspiration? We've got you covered with our One-Tank Trip series – today featuring Corydon Capitol State Historic Site.
"I'm bored!"
You can learn all about Indiana's first state capital at Corydon – and can still tour the state's first Capitol building, built from limestone and logs from 1814 to 1816! Exploring the governor's mansion gives you a look at what life was like in the 1820s, both for a family as well as for political leaders of the time. Plus, fun events like a the summer concert series most Friday nights in June and July, the Murder Mystery Dinner in August or the Capitol Ball in September provide an opportunity for you to enjoy an evening out as a family.
Hours: Open Tuesday through Sunday, 10 a.m. to 5 p.m.* Closed on some holidays – check website for details. 
Admission: Adult – $6; Senior (age 60 and older) – $5; Youth (ages 3-17) – $3; Children (under age 3) – free
"Are we there yet?"
202 E. Walnut St., Corydon, IN OR 132 miles (2 hours) from downtown Indy
Corydon Capitol State Historic Site is located on the town square. Find the state historic site by traveling south on State Road 135 from I-64, then take State Road 62 (also known as the Ohio River Scenic Byway) about 1.2 miles to State Road 337.
"What are we going to do?"
Tour the original state Capitol building, which served as Indiana's government center from 1816 to 1825.
See a copy of the 1815 Census that helped officials prove the territory's population – a requirement for statehood.
Take a walk to see the preserved trunk of the Constitution Elm about a block away from the Corydon Capitol State Historic Site! It's believed to be where the original 43 delegates to the Indiana Constitutional Convention gathered on a hot June day to draft the state's first constitution.

"I'm hungry!"
Looking for a bite to eat after learning all about Indiana's journey to statehood? Be sure to go here to find a list of restaurants in the area!
"We want to do more!"
Want to learn even more about Indiana's early days? Continue traveling about 121 miles northwest to Vincennes and explore Indiana's history before it became a state! Vincennes State Historic Sites are about a two-hour drive from Corydon.