Published June 12, 2018
One-Tank Trips: Culbertson Mansion State Historic Site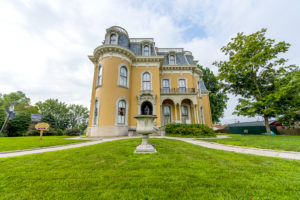 Summertime means one thing: Road trips.
This summer, why not explore what's in your own backyard by traveling to all the places you've driven past but never been to – or falling in love again with old favorites?
Need some inspiration? We've got you covered with our One-Tank Trip series – today featuring Culbertson Mansion State Historic Site.
"I'm bored!"
Featuring fantastic architecture and gorgeous ceilings and walls, this picture-perfect mansion is ideal if you love or want to learn more about art, architecture or incredible stories about real people who have impacted their communities. William Culbertson was extremely wealthy – and he had the house to prove it. But he also gave back to the local community in New Albany, funding the construction of a widows' home, founding an orphans' home and serving in civic affairs. In fact, his endowment still funds local programs today, continuing his charitable ways long after his death.
Hours: Open Tuesday through Sunday, 10 a.m. to 5 p.m.* Closed on some holidays – check website for details. 
Admission: Adult – $10; Senior (age 60 and older) – $8; Youth (ages 3-17) – $5; Children (under age 3) – free
"Are we there yet?"
914 E. Main St., New Albany, IN 47150 OR 116 miles (less than 2 hours) from downtown Indy
Guided tours begin at the front door of the mansion, which is located on the corner or East Main and East 10th streets. Just ring the bell and wait for a guide to assist you!
 "What are we going to do?"
Learn about William S. Culbertson and his rise from a dry goods clerk to the wealthiest man in Indiana, as well as his many charitable contributions to New Albany.
Tour the 20,000-square-foot mansion with 25 rooms, hand-painted ceilings, a carved staircase, marble fireplaces and elaborate plasterwork.
If you're lucky, your tour guide may even tell you stories of the ghosts who may – or may not – still call the residence home.

"I'm hungry!"
Need brunch or a midday snack? Be sure to look here to find local restaurants or other locations with sweet treats in Clark and Floyd counties.
"We want to do more!"
If you're looking for inspiration from another mansion, travel about 50 miles northeast of New Albany to the Lanier Mansion State Historic Site, where you'll find the home of James F.D. Lanier, which was built by architect Francis Costigan. The Lanier Mansion is about an hour away in Madison.