Published June 12, 2018
One-Tank Trips: Gene Stratton-Porter State Historic Site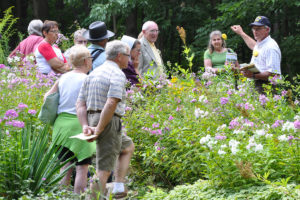 Summertime means one thing: Road trips.
This summer, why not explore what's in your own backyard by traveling to all the places you've driven past but never been to – or falling in love again with old favorites?
Need some inspiration? We've got you covered with our One-Tank Trip series – today featuring Gene Stratton-Porter State Historic Site.
"Mom, I'm bored!"
This location offers a stunning natural setting with views of Sylvan Lake, the vibrant Wildflower Woods and special gardens started by Hoosier author Gene Stratton-Porter herself. Visitors can tour her cabin and learn about how she used nature as her laboratory while studying and writing about birds, plants and more. A woman ahead of her time, this site tells the story of Gene's career, independence and innovation at a time when women were expected to fulfill only certain roles.
Hours: April 1 through Nov. 30: Open* Tuesday through Sunday, 10 a.m. to 5 p.m.; Dec. 1 through March 31: Historic buildings closed to the public, grounds remain open. *Closed on some holidays – check website for details.  
Admission: Adult – $7; Senior (ages 60 and older) – $6; Youth (ages 3-17) – $4; Student – $2; Children under 3 – free.
"Are we there yet?"
1205 Pleasant Point, Rome City, IN 46784 OR about 156 miles (2 hours 30 minutes) from downtown Indy
From E 850 N, turn onto Pleasant Point. Follow the road for about a half mile, then the site will be on your right.
"What are we going to do?"
Explore the Carriage House Visitor Center to learn about moths, wildflowers, woodpeckers, carnivorous plants and other nature topics. Pull the drawers out from a large cabinet to see different types of rocks and wildlife found throughout Indiana.
Walk through Gene's cabin, which she specially designed herself.
Sit along the lake or in the gardens and enjoy the day.

"Dad, I'm hungry!"
Be sure to check out some local eateries when you visit – or local coffee shops if parents need a pick-me-up. You can find a list of options here.
"We want to do more!"
One site not enough? Travel about an hour and a half south to learn more about Gene Stratton-Porter's life at Limberlost State Historic Site, her home before she moved to Rome City. At Limberlost, visitors can explore the Loblolly Marsh, as well as step inside the actual cabin where Gene lived. Nature programs throughout the summer also offer visitors a chance to enjoy guided tours of the land surrounding the site with an on-staff naturalist.