Published June 12, 2018
One-Tank Trips: Indiana State Museum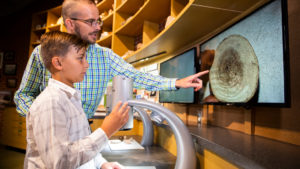 Summertime means one thing: Road trips.
This summer, why not explore what's in your own backyard by traveling to all the places you've driven past but never been to – or falling in love again with old favorites?
Need some inspiration? We've got you covered with our One-Tank Trip series – today featuring the Indiana State Museum.
"Mom, I'm bored!"
This summer, why not make a day trip to a location right in Indianapolis? The Indiana State Museum is located in beautiful White River State Park, and it offers two floors of permanent experiences and one floor of changing experiences, where you can immerse yourself in Indiana art, culture, history, science and more. Kids will enjoy the hands-on science in the newly renovated R. B. Annis Naturalist's Lab before winding their way through a chilled ice tunnel and marveling at real mastodon bones in one of the newest experiences, "Frozen Reign: A State of Change." You can get up-close with original Hoosier art in the temporary experience "Lois Main Templeton: A Reinvented Life," open through Aug. 5, or enjoy a beautiful walk along the outside of the building to see unique art representing all 92 Indiana counties.
Hours: Open Tuesday through Sunday, 10 a.m. to 5 p.m.* Closed on some holidays – check website for details. 
Admission: Adult – $14.95; Senior (ages 60 and older) – $13.95; Youth (ages 3-17) – $9.95; Children (under age 3) – free.
"Are we there yet?"
650 W. Washington St., Indianapolis OR about 1 mile from Monument Circle in downtown Indy
The Indiana State Museum is located in the heart of downtown, at the corner of West Street and West Washington Street. Paid parking is available at the on-site underground parking garage.
"What are we going to do?"
Explore three new permanent experiences: "Frozen Reign: A State of Change," "The R.B. Annis Naturalist's Lab" and "First Nations."
Be inspired by the work of a Hoosier artist in "Lois Main Templeton: A Reinvented Life" and create your own scratch art or poetry in response to her artwork.
Try your hand at ongoing demonstrations and crafts that change daily throughout the museum galleries.
Learn how Indiana's past influences its present and future by exploring galleries with real artifacts that tell the story of Hoosiers, past and present.

"Dad, I'm hungry!"
Visitors to the Indiana State Museum can enjoy a delicious meal or snack right in the museum itself at the Farmers Market Café. The café features a full menu from 11 a.m. to 2:30 p.m., with a grab-and-go cooler available until 5 p.m. The menu has something for everyone, from soups and salads to signature sandwiches or wraps. Learn more and find the full menu here.
"We want more to do!"
If you loved all of the artwork on display at the Indiana State Museum, you'll love T.C. Steele State Historic Site, where you can see original work from famous Hoosier artist T.C. Steele, along with getting a tour of his house and exploring gardens on the property.