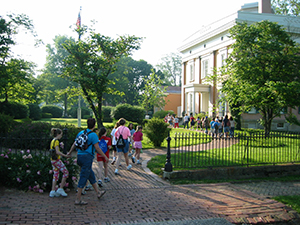 Summertime means one thing: Road trips.
This summer, why not explore what's in your own backyard by traveling to all the places you've driven past but never been to – or falling in love again with old favorites?
Need some inspiration? We've got you covered with our One-Tank Trip series – today featuring Lanier Mansion State Historic Site.
"I'm bored!"
Lanier Mansion, considered to be the "crown jewel" of Madison's Historic District, is one of the best examples of Greek Revival architecture in the Midwest. The mansion features ornate gardens outside the home, as well as a spectacular spiral staircase inside the front entrance which winds its way up to windows that let in natural light all the way from the top floor. Kids especially will enjoy the top floor, which has extremely low ceilings as it was intended only for children's bedrooms and servant corridors. In fact, the handprint of one of the Lanier children can still be seen in the paint in one of the bedrooms!
Hours: Open Tuesday through Sunday, 10 a.m. to 5 p.m.* Closed on some holidays – check website for details. 
Admission: Adult – $10; Senior (age 60 and older) – $8; Youth (ages 3-17) – $5; Children (under age 3) – free
"Are we there yet?"
601 W. First St., Madison, IN 47250 OR 102 miles (less than 2 hours) from downtown Indy
Lanier Mansion is located just north of the Ohio River between Vine and Elm streets. All guided tours begin at the Visitor Center, which is just west of the state historic site with an entrance facing Vine Street. Parking is available near the Visitor Center.
 "What are we going to do?"
Tour the Greek Revival home of James F.D. Lanier, a former clerk of the Indiana General Assembly and businessman who worked in banking and finance. The home was designed and built by architect Francis Costigan.
Look at the beautiful architecture of the home. In addition to the spiral staircase, be sure to notice the Corinthian columns on the south portico, the Ionic columns separating the double parlors on the first floor and even a curved door near the stairs!
Walk in the formal gardens south of the mansion, which includes plants and flowers popular in the second half of the 19th century.

"I'm hungry!"
Looking for lunch or need an afternoon treat? Be sure to go here to find local restaurants or coffee and candy stores in the area.
"We want to do more!"
If you're looking for inspiration from another mansion, travel about 50 miles southwest of Madison to the Culbertson Mansion State Historic Site, where you'll find the three-story, 25-room mansion built by a man who was once considered the wealthiest in Indiana. The Culbertson Mansion is about an hour away in New Albany.