Published June 12, 2018
One-Tank Trips: Levi and Catharine Coffin State Historic Site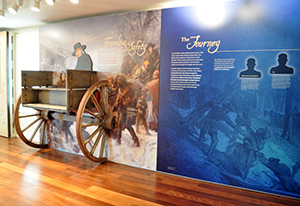 Summertime means one thing: Road trips.
This summer, why not explore what's in your own backyard by traveling to all the places you've driven past but never been to – or falling in love again with old favorites?
Need some inspiration? We've got you covered with our One-Tank Trip series – today featuring Levi and Catharine Coffin State Historic Site.
"Mom, I'm bored!"
For those looking for a visit that will make an impact, this location is perfect. Here, visitors tour the home known as the "Grand Central Station" of the Underground Railroad, and they can even explore the hidden chambers where freedom seekers may have hidden during raids. During their time in the home, the Coffins helped hundreds of freedom seekers make it to freedom. The story of the Coffins is one of standing up for what's right even in a time when it was not popular, and visitors will leave with a heightened awareness of this significant time in the nation's history.
Hours: Open* Tuesday – Sunday, 10 a.m. – 5 p.m.* Closed on some holidays – check website for details. 
Admission: Adult – $10; Senior (ages 60 and older) – $8; Youth (ages 3-17) – $5; Children under 3 – free.
"Are we there yet?"
201 U.S. 27 North, Fountain City, IN 47341 OR about 76 miles (1 hour 15 minutes) from Indianapolis
On U.S. 27, look for a small white building with a ramp in front. Parking is available behind the Visitor Center.
"What are we going to do?"
First, explore the Visitor Center and learn about the history behind the site in an orientation video. Afterward, you can tour the building to learn even more about the Coffins' role in helping fugitive slaves seek freedom.
Lay your head in a mock false-bottom wagon to hear sounds of what it would have been like hiding in one of these escape tools. Try to lift a cotton bale, and learn about how slaves worked about one week to pick enough cotton for one bale.
Enjoy a guided tour of the actual home where the Coffins housed so many freedom seekers.
See unique features like a basement kitchen and indoor well that allowed the Coffins to provide food and water to freedom seekers – even when they arrived at all hours of the day or night.

"Dad, I'm hungry!"
Be sure to check out some local eateries when you visit – or local coffee shops if parents need a pick-me-up. You can find a list of options here.
"We want to do more!"
One site not enough? Travel about an hour south to Whitewater Canal State Historic Site in Metamora. Ride on the Ben Franklin III – a real working canal boat that offers rides throughout the summer season. At the site, visitors can also find the Metamora Grist Mill, which visitors can explore for free.