Published June 12, 2018
One-Tank Trips: New Harmony State Historic Site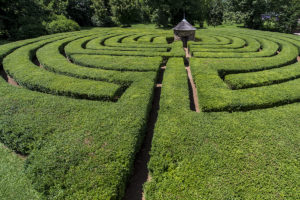 Summertime means one thing: Road trips.
This summer, why not explore what's in your own backyard by traveling to all the places you've driven past but never been to – or falling in love again with old favorites?
Need some inspiration? We've got you covered with our One-Tank Trip series – today featuring New Harmony State Historic Site.
"Mom, I'm bored!"
This unique town will take visitors back in time. Around every corner you'll be amazed by its history. Learn about two early-American utopian societies, the Harmonists and the Owenites. New Harmony was once home to Thomas Say – the man who discovered Say's Firefly, recently named Indiana's official state insect (and there's even a special event for that on July 2!). Guided tours of the historic buildings provide a glimpse of what it was like to live in these societies, which in many ways were ahead of their time.
NOTE: New Harmony State Historic Site is on Central Time, so plan accordingly!
Hours: The Atheneum/Visitor Center is open every day* year round, 9:30 a.m. to 5 p.m., with guided tours during the summer every day at 1 p.m. *Closed on some holidays – check website for details.
Admission: Adult – $15; Senior (ages 60 and older) – $12; Student – $5; Youth (ages 7-17) – $5; Children (under age 7) – free; Family Ticket – $30; New Harmony residents (with ID) – free; University of Southern Indiana students & staff (with ID) – free
"Are we there yet?"
401 Arthur St., New Harmony, IN  47631 or 181 miles (3 hours) from downtown Indy
All guided tours start at the Atheneum/Visitor Center at the above address, and tickets for the tour are purchased there. It's a distinctive building, white with modern architecture and many windows.
 "What are we going to do?"
Check out an exhibit on Hoosier artist Leota Loop and see her original work, which features still life paintings and landscapes.
See a special exhibit on Frances Golden of New Harmony, a professional actress who entertained troops during WWI.
Take a tour of several historic buildings, and even get a look at the innovative approach behind the original insulation and construction built by the Harmonists.
"Dad, I'm hungry!"
Be sure to check out some local eateries when you visit – or local coffee shops if parents need a pick-me-up. You can find a list of options here.
"We want to do more!"
One site not enough? You can explore another culture down at Angel Mounds State Historic Site, where you can learn all about the Mississippian society that built earthen mounds, which you can still explore today. Angel Mounds is located about 45 minutes south of New Harmony, in Evansville.