Published June 12, 2018
One-Tank Trips: T.C. Steele State Historic Site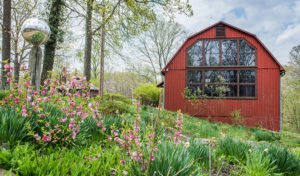 Summertime means one thing: Road trips.
This summer, why not explore what's in your own backyard by traveling to all the places you've driven past but never been to – or falling in love again with old favorites?
Need some inspiration? We've got you covered with our One-Tank Trip series – today featuring T.C. Steele State Historic Site.
"Mom, I'm bored!"
Beautiful artwork and gorgeous gardens are the focal points for this site. Here, you'll explore artist T.C. Steele's Brown County home and stroll through the gardens that gave him so much inspiration for his work. Plus, relax by lily ponds teeming with fish and frogs, or take a walk through the new historic garden, featuring plants that the Steeles would have grown while living there. Original Steele canvases are always on display in the  large studio and throughout his home at the site, known as  "The House of the Singing Winds."
Hours: Open Tuesday through Sunday, 10 a.m. to 5 p.m. Guided tours are offered on the quarter hour, with the first tour at 10:15 a.m. and the last tour at 4:15 p.m. * Closed on some holidays – check website for details. 
Admission: Adult – $7; Senior (age 60 and older) – $6; Youth (ages 3-17) – $4; Children (under age 3) – free.
"Are we there yet?"
4220 T.C. Steele Road, Nashville, IN 47448 or 70 miles (1 hour 15 minutes) from downtown Indy
Once you turn left on T.C. Steele Road in Nashville, you'll see T.C. Steele State Historic Site on your right, about 1.5 miles up the road.
"What are we going to do?"
Tour the Steeles' historic home, where T.C. Steele lived and worked as an artist.
Take a stroll around the gorgeous grounds to enjoy the sights – and smells – of the flowers and trees that make the property so beautiful.
Walk past the lily ponds and down a trail to the Steeles' family cemetery, and explore an original Brown County log cabin.
The historic site's hiking trail system includes a trail spur that connects the site to the Tecumseh Trail.

"Dad, I'm hungry!"
Food is half the fun when it comes to day trips! Be sure to check out this website to find great places to eat.
"We want more to do!"
Love Indiana art and want even more? You're in luck! Through August 5, come see "Lois Main Templeton: A Reinvented Life" at the Indiana State Museum, where you can get up-close with original artwork from Indianapolis artist Lois Main Templeton – and create some scratch art of your own. The Indiana State Museum is just an hour and 15 minutes north, in Indianapolis.