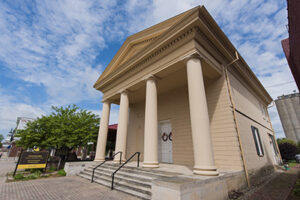 Summertime means one thing: Road trips.
This summer, why not explore what's in your own backyard by traveling to all the places you've driven past but never been to – or falling in love again with old favorites?
Need some inspiration? We've got you covered with our One-Tank Trip series – today featuring Vincennes State Historic Sites.
"I'm bored!"
Vincennes State Historic Sites explores Indiana's history as a territory. It's the home of Fort Knox II, the 1809 French House, Jefferson Academy and other historic buildings. Visitors can walk the same ground where Tecumseh and Benjamin Harrison once trod and learn what it was like to live on Indiana's frontier. Tours are offered of Elihu Stout Print Shop – the location where Indiana's first newspaper, the "Indiana Gazette," was printed – and visitors can explore Sugar Loaf Mound, a natural feature that Late Woodland Indians used as a burial mound around 900 A.D.   
Hours: Open Tuesday through Sunday, 10 a.m. to 5 p.m.* Closed on some holidays – check website for details. 
Admission: Adult – $6; Senior (age 60 and older) – $5; Youth (ages 3-17) – $3; Children (under age 3) – free.
"Are we there yet?"
1 W. Harrison St., Vincennes, IN 47591 or 127 miles (about 2 hours and 10 minutes) from downtown Indy
Vincennes State Historic Sites are located just yards from the Wabash River on Harrison Street. Parking is available on Scott Street or in the Vincennes University parking lot on First Street where there are parking places designated as "Historic Sites" parking. The 1830s log cabin serves as the sites' Visitor Center.
 "What are we going to do?"
Walk through Indiana's oldest city, where territory officials made decisions that changed the future of the entire Midwest.
Tour the original territorial capitol, which is considered the oldest major government building in the Midwest. Also see a replica of the Jefferson Academy, which was the first school of higher learning in Indiana – and the predecessor of Vincennes University.
Learn about Fort Knox II, an important military outpost used by the United States Army from 1803 to 1813. Also tour the Old State Bank, which helped Indiana move from a fur-trade to agricultural economy.

"I'm hungry!"
Are you looking for something to eat, but you aren't sure what's in the area? Be sure to go here to find area restaurants ranging from all-American and Italian to steaks and seafood.
"We want to do more!"
Want to learn even more about Indiana's early days? Continue traveling about 121 miles southeast to Corydon and explore Indiana's history as it became a state! Corydon Capitol State Historic Site is about a two-hour drive from Vincennes.