Published June 5, 2020
Guest blog: Promoting World War II war efforts through posters on the home front
Today – June 6 – marks the 76th anniversary of D-Day, the day when more than 160,000 American, British, Canadian and other Allied forces invaded northern France during beach landings in Normandy. The landings changed the course of World War II and marked the beginning of the end of the war in Europe.
By Katherine Gould, curator of cultural history at the Indiana State Museum and Historic Sites
During World War II, the American home front was asked to endure extraordinary circumstances and sacrifices to achieve victory.
Mobilizing for war was a massive undertaking that required the coordination of all government, military, industrial, agricultural and civilian matters. To help muster the American people to action, the government used posters as one of several forms of persuasion.
These posters produced during World War II were a powerful instrument for promoting the war aims of the U.S. government. The intent of the design and themes of the posters was to appeal to Americans' emotions in order to catapult the nation to action.
Posters were used to raise money through the sale of war bonds, to recruit soldiers for the military and labor for factories in defense production, to make appeals for volunteering and charity work, and to encourage sacrifice through rationing and food conservation, among other things.
A successful poster dramatically expressed its message using a combination of graphic images and text. They are startling, direct, simple and convincing. A poster sells its message by presenting stylized, idealized images that capture the viewers' attention.
They were successful tools for education and instruction, in part, because they were cheap to produce, easy to distribute quickly and could be found in all manner of public places, thus reaching a vast and diverse population.
Whether vilified as government propaganda or celebrated as patriotic art, these war posters represent a valuable source of information on the contributing efforts of the home front during wartime.
Here are just a few of the World War II wartime posters in the Indiana State Museum and Historic Sites collection.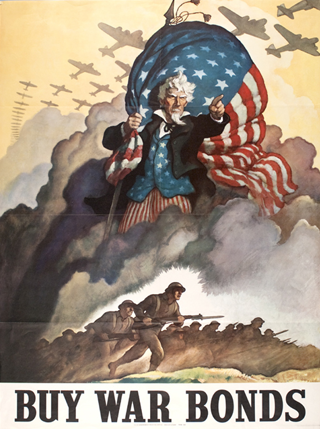 On Jan. 15, 1942, Indianapolis put on the nation's first bond rally of World War II. All totaled, Indiana sold over $500 million worth of bonds during the war.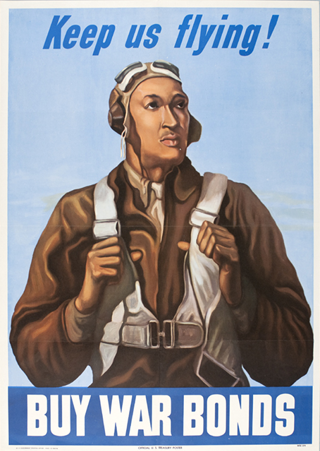 War bond campaigns appealed directly to communities that faced longstanding patterns of discrimination. These campaigns attempted to create a sense of universal ownership in the war effort despite ongoing racial violence and a segregated armed forces.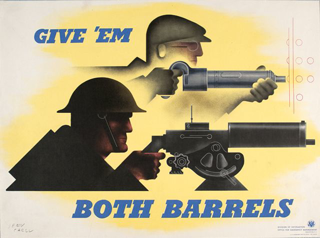 Posters reinforced the need for industry mobilization by linking production to patriotism. Workers became "production soldiers," often portrayed with heroic qualities and equated to the fighting man.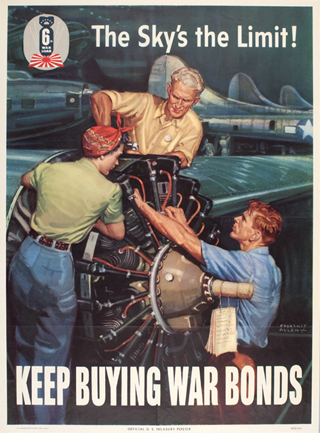 Women were asked to participate fully in the war effort, whether volunteering for charities, becoming nurses, joining wartime manufacturing or serving in uniform. More than six million women entered the workforce during World War II. More than 350,000 women served in uniform.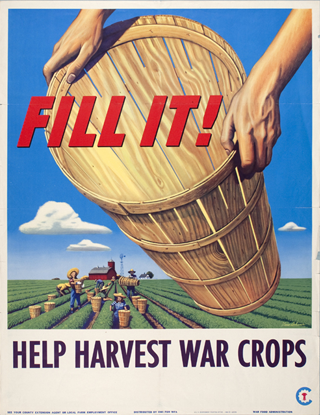 As male farm laborers left to join the military, women and children were called upon to work in the agricultural sector to replace the lost manpower.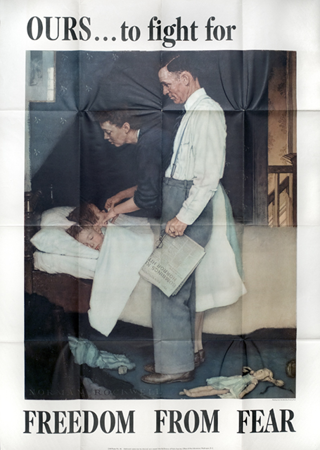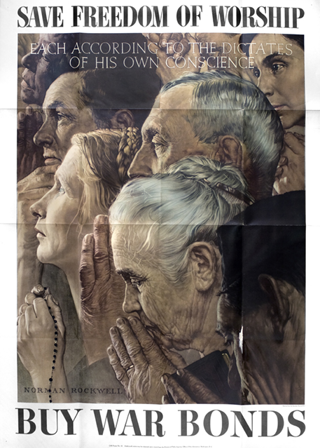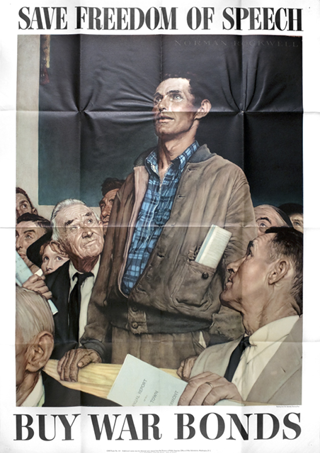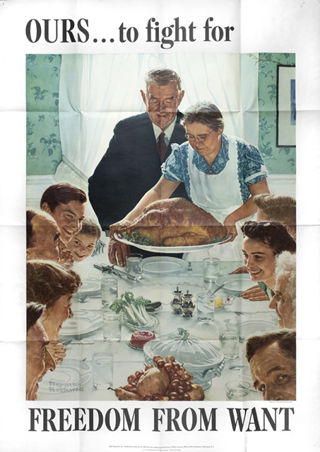 The Four Freedoms, Norman Rockwell, 1943
President Theodore Roosevelt's address to Congress on Jan. 6, 1941, outlining the four "essential human freedoms" – freedom of speech and religion and freedom from want and fear – was the inspiration for Norman Rockwell's Four Freedoms posters.
They first appeared as successive covers for the Saturday Evening Post in 1943. Each issue contained a commissioned essay speaking about one of the freedoms. Indiana author Booth Tarkington wrote the first essay, "Freedom of Speech," for the Feb. 20 issue.