Published April 6, 2020
Preservation process complete on mastodon bones discovered last year
You could say it's been quite a year for the 13,000-year-old mastodon bones discovered a year ago this month in Seymour, Indiana.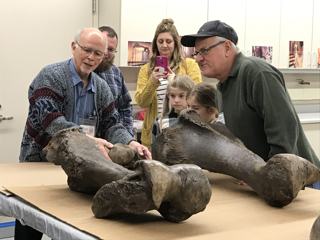 After being unearthed during work for a sewer project in April 2019 and accepted into the Indiana State Museum and Historic Sites collection about a month later, the bones from a mastodon – dubbed "Alfred" by the family who discovered him – have been preserved, and radiocarbon dating has determined how long ago the Ice Age mammal roamed the Earth.
Ron Richards, senior research curator of paleobiology, said the preservation process of the bones – which includes two limb bones and portions of a skull and tusk – went very well. Plus, researchers were able to learn quite a lot about the now-extinct mammal that lived during the Ice Age in Indiana.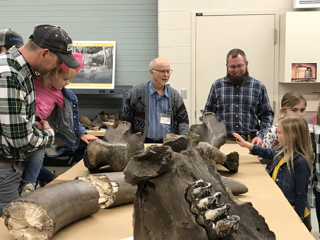 Thanks to radiocarbon dating, scientists determined the male mastodon, who likely stood more than 9 feet tall, died a little more than 13,000 years ago.
Researchers also believe the mastodon was approximately 43 years old, after comparing wear on the mastodon's tooth to wear on the teeth of African elephants. Richards noted researchers compare wear patterns to similar, yet still living, animals when determining age of an extinct animal like mastodons.
The tooth has a little more wear than other mastodon teeth in our collection, meaning Alfred was a little older than most of the other mastodons in the Indiana State Museum and Historic Sites collection.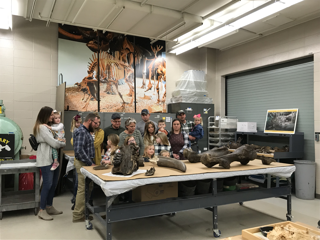 And that's quite significant since the Indiana State Museum and Historic Sites has more mastodons and mammoths from different locations than any other museum in the Midwest. Ice Age paleontology is one of the specialties of the Indiana State Museum.
Richards said most of the mastodon bones in the museum's collection are from mastodons that were in their 30s while a few others, like Alfred, are in their 40s. Some of the mastodons in the collection are thought to have lived into their 50s.
Although there aren't plans for Alfred to go into an experience for public viewing at this time, the bones will be invaluable to research for the museum. In fact, the mastodon bones are still a work in progress even though the preservation process has been completed. Alfred is still undergoing data collection and imaging so that he will be ready for online research opportunities.
---
Images: The Schepman family, who donated "Alfred" to the Indiana State Museum and Historic Sites, visited the Indiana State Museum in February to see the Ice Age bones discovered last year on the family farm in Seymour, Indiana.