Staff Report 
In honor of Martin Luther King, Jr. Day on Jan. 15, visitors to the Indiana State Museum will not only receive free admission with donation of a canned food item for Gleaners Food Bank: They will also have an exclusive opportunity to see copies of the Emancipation Proclamation and 13th Amendment signed by Abraham Lincoln.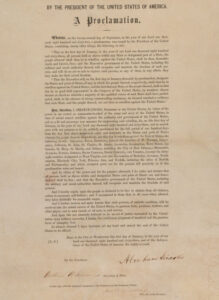 The Emancipation Proclamation announced the freedom of slaves in Confederate-held territory, and the 13th Amendment ended legal slavery in the United States.
These extremely rare documents are among the greatest treasures in the museum's Lincoln Financial Foundation Collection, and they are not often on display due to their delicate nature.
Visitors will see the Senate version of the 13th Amendment, one of only three copies signed by Lincoln, as well as senators who supported the amendment. The museum's copy of the Emancipation Proclamation is one of only 48 copies of what is known as the Leland-Boker edition of the Emancipation Proclamation, signed by Lincoln for the U.S. Sanitary Commission – a precursor to the American Red Cross – in order to be sold and raise money for wounded soldiers in 1864. Only 25 copies of that edition survive today, including the museum's copy.
Along with a chance to take a look at these rare documents, guests can also enjoy a variety of special programming, including interacting with roaming historical characters such as Abraham Lincoln and Madam C.J. Walker, watching videos of Dr. King's speeches, participating in Indiana Trivia and more.
The IMAX Theater will also be showing "Amazon Adventure (presented in 2D)" to guests for free as space permits throughout the early morning and afternoon. Guests should grab their tickets early for the show, since they are usually gone by noon. An additional donation of a canned good is required for the free showings.
The museum will be open from 10 a.m. to 5 p.m. on Jan. 15, with special programming happening throughout the day.