Published September 8, 2023
Reinventing the Wheel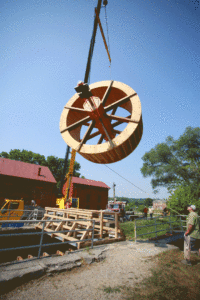 A new waterwheel recently began turning at Whitewater Canal State Historic Site, thanks to the efforts of the Indiana State Museum and Historic Sites' facilities team and Director of Construction Wes Jones.
Jones built the new wheel by hand using the plans from the existing waterwheel, which was constructed around 1972. Measuring 12 feet in diameter with 36 paddles, the new wheel is made of cypress and coated with a mixture of mineral spirits, linseed oil and melted paraffin that should keep it protected in the canal for decades.
"I volunteered to do this," Jones said. "I mean, what a privilege to do something like this. I'm the kind of guy who likes a challenge."
Jones also credited the hands-on help from Construction Manager Jim Crabb as well as support from Vice President of System Facilities and Restoration John Spicklemire that enabled him to complete the huge task.
A native of Bloomington, Jones grew up in a family of masons, carpenters and cabinet builders. His dad used to tell him, "You'll never be rich being a woodworker, but sometimes it's fun to look back and see what you did do."
Jones has done that throughout his career. At Indiana University-Bloomington, he took the old basketball floor from Assembly Hall and turned center court into a wall hanging. He remade the giant doors on the state Capitol building and has done work at the Governor's Residence as well.
Four years ago, he was working for Glenroy Construction in Indianapolis on the Singing Winds Visitors Center at the T.C. Steele State Historic Site when Spicklemire approached him about joining ISMHS.
"He started describing projects like (the waterwheel) and I couldn't pass that up," Jones said.
Jones said the new wheel is largely decorative — as was the old one. Originally, the mill was operated by a steel turbine in the water. So while the wheel does turn in the water, it will not power the mill.
Still, he said, visitors to the historic site are going to like what they see.
"This is a neat project," Jones said. "Every project I've done for the museum so far has been something to stand back and see."