Published March 12, 2021
Say "I Do" at the Museum
By Anna Delph, Facility Rentals Intern
Are you or someone you know planning to tie the knot? Venue selection is the most important decision for your wedding day. The venue sets the tone for the entire event, and especially nowadays, it must prioritize the health and safety of your guests.
Our facility rentals members are eager to help you make a STATE-ment on your unforgettable day.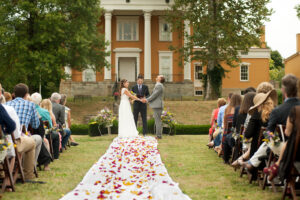 Outdoor spaces are a popular venue choice for couples this year to accommodate current health and safety guidelines. Did you know that the Indiana State Museum offers four unique outdoor spaces? Imagine saying "I do" on a summer afternoon nestled in our Redbud Grove or closing the evening with cocktails overlooking the canal and city skyline on our West Canal Terrace. You can check out more of our scenic outdoor options here.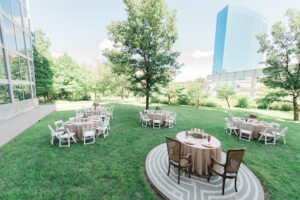 Couples may also consider an intimate wedding of fewer than 50 guests. Intimate events allow you to focus on quality over quantity. The museum offers different spaces that provide a distinctive atmosphere for your small ceremony and/or reception. Immerse your guests in Indiana history with a private ceremony in our Legacy Theater or the remarkable architecture of the Rapp Reception Hall. The spiral staircase surrounding the pendulum clock makes for the perfect photo op. You can create the exclusive experience of a lifetime for your VIP guests with our intimate wedding options.
Our 11 historic sites across the state of Indiana also provide extraordinary backdrops for a safe yet stunning event. Couples rave about the enchanting ambience of the Lanier Mansion grounds where they exchanged vows in front of the historic architectural masterpiece along the Ohio River. For the more "remote" couple, T.C. Steele in Nashville, Indiana provides a secluded woodland setting that combines nature with elegance.
The ISMHS's countless options for any wedding style will leave you wanting to explore them all. Luckily, you can. Couples who host their wedding with us receive a free one-year membership to the Indiana State Museum, all 11 historic sites, and 300 affiliate museums across the United States.
What are you waiting for? Plan with us today!

[email protected]